Pictures of buildings mentioned in the second edition "Suffolk" volume of "The Buildings of England" series by Sir Nikolaus Pevsner.
The pretty village of Botesdale is so named because it is St. Botolph's Dale. So it is pronounced with the Bots as in Botolph and not "boats". Some of the older locals call it Bots'dle.

Pevsner starts with the Chapel of St Botolph: "The chapel was built in c.1500 and later made a chantry by the generosity of John Sherife, his wife, and Bridget Wykys, as can be read in the damaged inscription over the door". A chantry is a place funded by a donor where praying (chanting) was said for the donor's soul. It was believed, really as a funding scam by the Church, that paid-for prayers would speed the movement of the dead souls from the mid-way Purgatory to the more comfortable heaven (Henry VIII did away with such scams along with the Catholic Church). The partial inscription can be seen here (part of the 'damage' referred to by Pevsner was building a window in the middle of it!):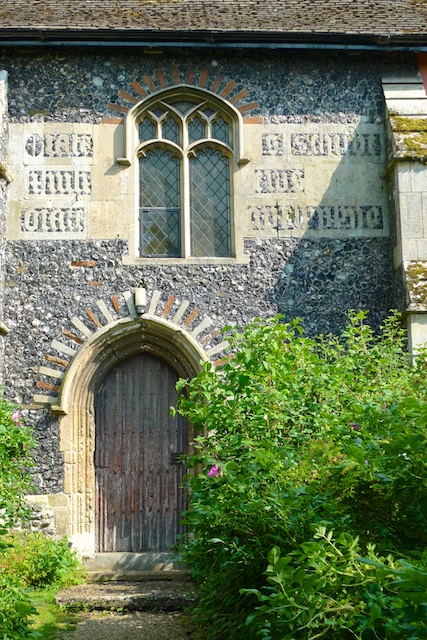 Pevsner continues: "It is a simple building without division between the nave and chancel. The windows are Perp." He then comments on the inside and goes on: "The chapel later became the Free School established by Sir Nicholas Bacon in 1576 ... and for the purpose of the school the house was added which is under one roof with the chapel." As seen here: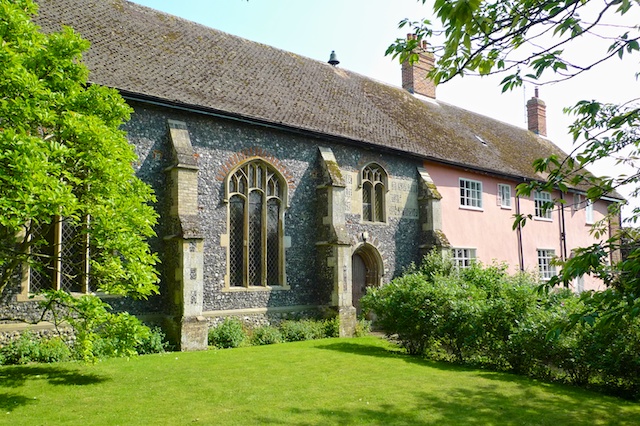 Pevsner then takes a tour of the village: "E of the chapel The Priory, red brick of five bays and two storeys with a Roman Doric doorway with metope frieze. The windows have Gothick casements." Seen here: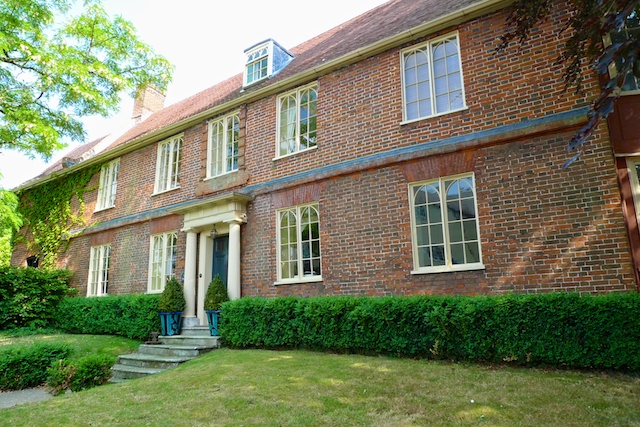 "To the W on the N side Honister House, with a Tudor facade of c.1830 ...":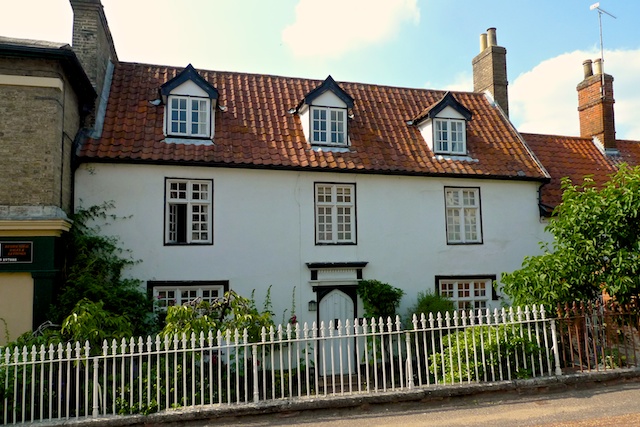 "..., on the S side Osmond House, Georgian of white brick, three bays wide, with a nice pedimented doorway.":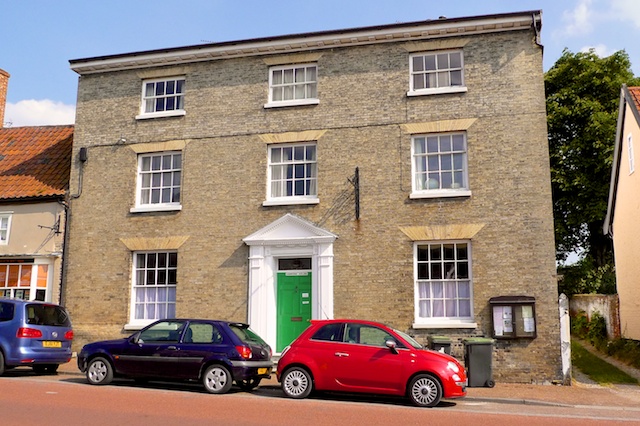 "Opposite a house dated 1637. It has an overhanging upper floor with carved corner posts and brackets." Two views of this here (the corner post/bracket can be seen better in the second view):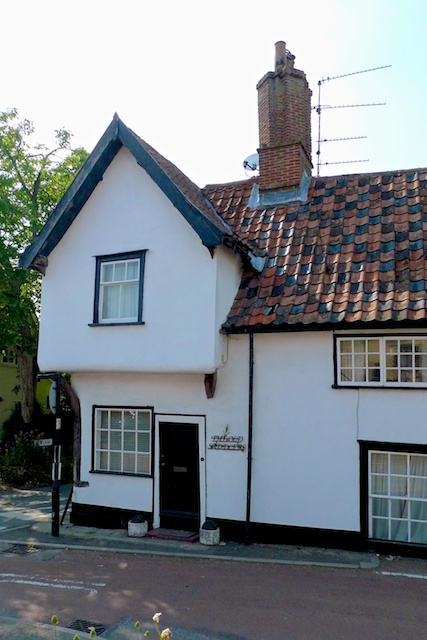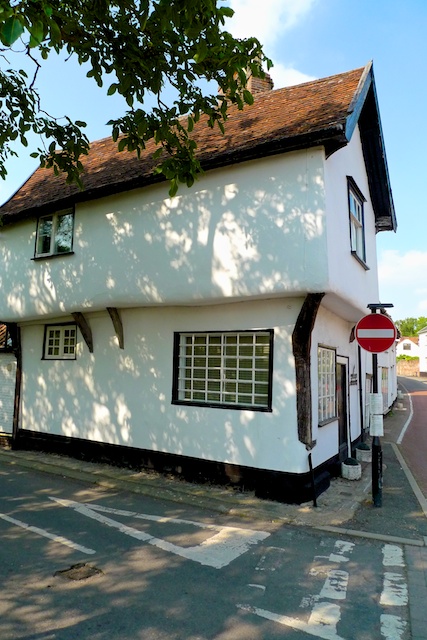 "This is followed by Hamblyn House; C17, with a shaped gable.":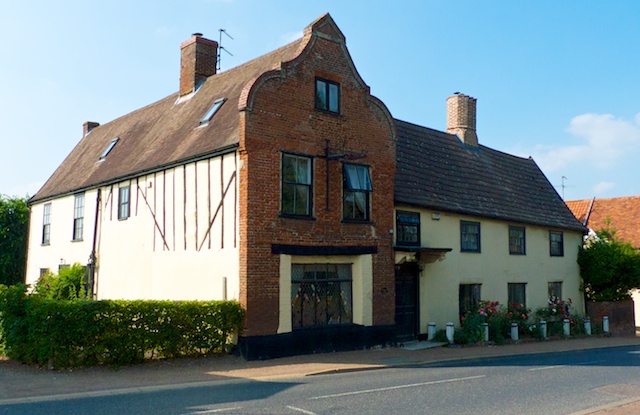 "Then on the S side The Ridge, a late Georgian five-bay house of grey brick, with a Roman Doric porch...". It is no longer visibly of grey brick: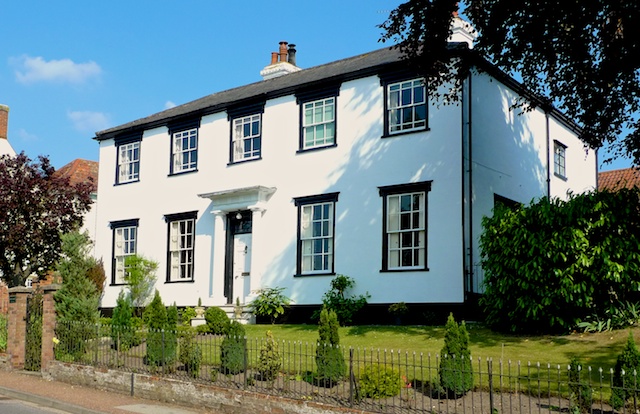 Pevsner then goes on to describe a terrace of eight bays and a good earlier Georgian house of seven bays but I was unable to find these: a modern development of flats in some keeping with the surroundings looking like the culprits. The boundary to Rickinghall also lies along the main street and it is not clear to me that Pevsner got the correct allocation between villages of one or two of the above (including those I could not find). Maybe the boundary changed since Edition 1.