Pictures of buildings mentioned in the second edition "Suffolk" volume of "The Buildings of England" series by Sir Nikolaus Pevsner.
After the church the Pevsner guide (p251 of second edition) first mentions Haughley Park, 1.25 miles WSW and says "The house built c1620 for John, the grandson of Sir John Sulyard who died in 1574 ... was badly damaged by fire in 1961 and has since been rebuilt. It was of red brick and had an impressive symmetrical E facade on an E-plan. Two angle pieces with tall stepped gables, the porch a smaller stepped gable. All three gables had finials. In the recessed parts two canted bays. The windows were mullioned and transomed, and all the more important ones had pediments. They were of three lights in the angle pieces and the porch, of two lights, i.e. the cross-type, in the bay windows. Doorway in the porch also with pediment. Two circular windows above it." The past tense does not do justice to the rebuild: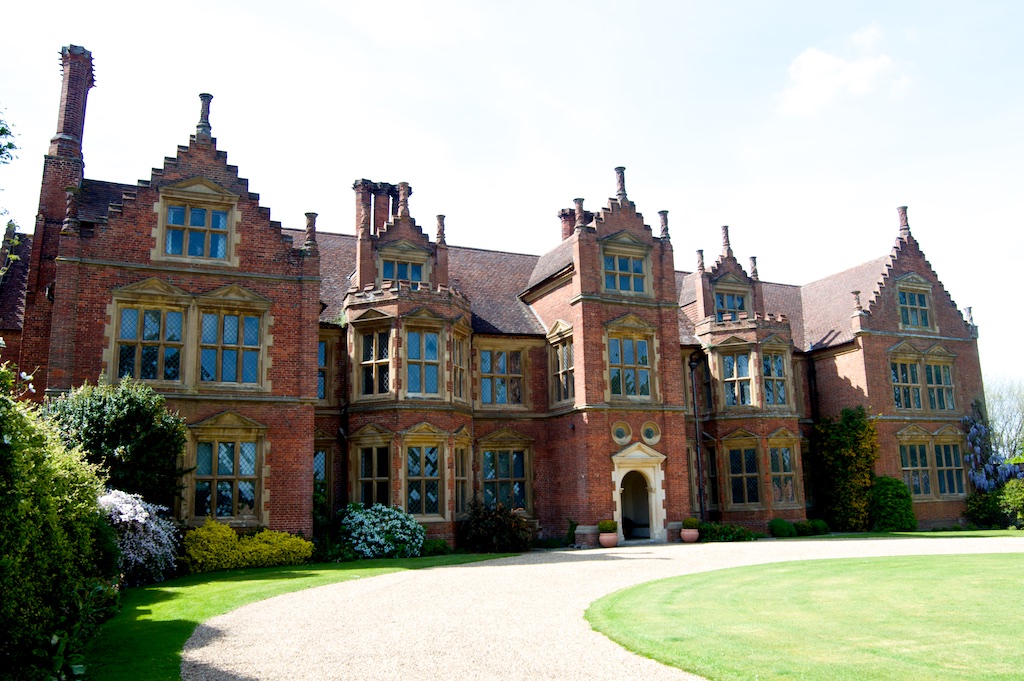 Pevsner continues: "Stepped gables to the back too. Star-topped chimneyshafts." Some are shown here: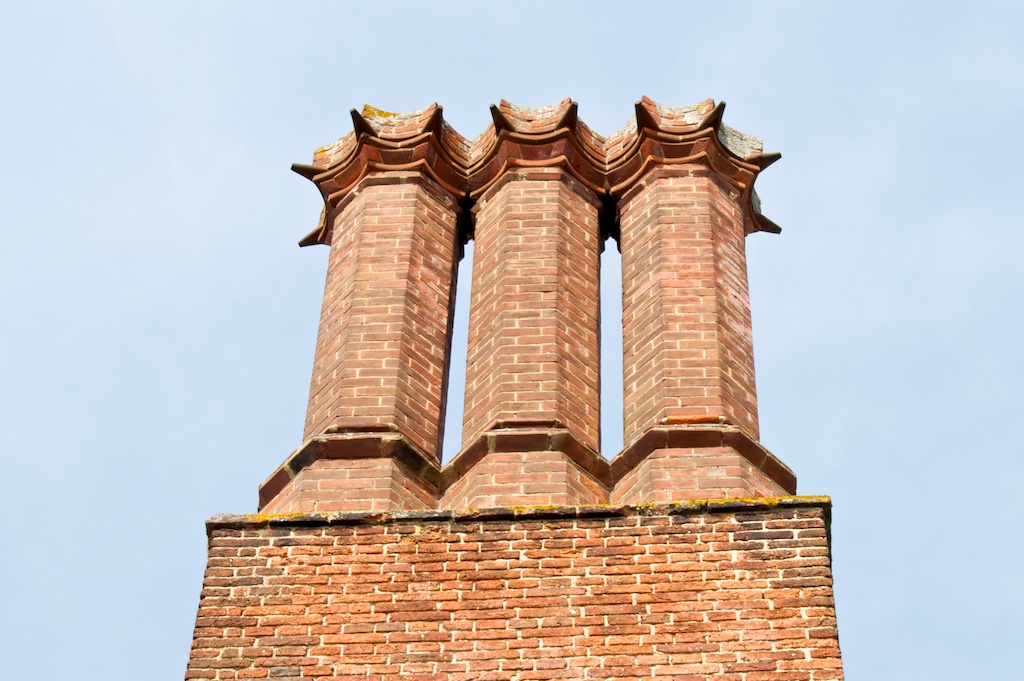 and concludes "The N front had two bow windows of c1820. The windows had Victorian alterations." N front seen here: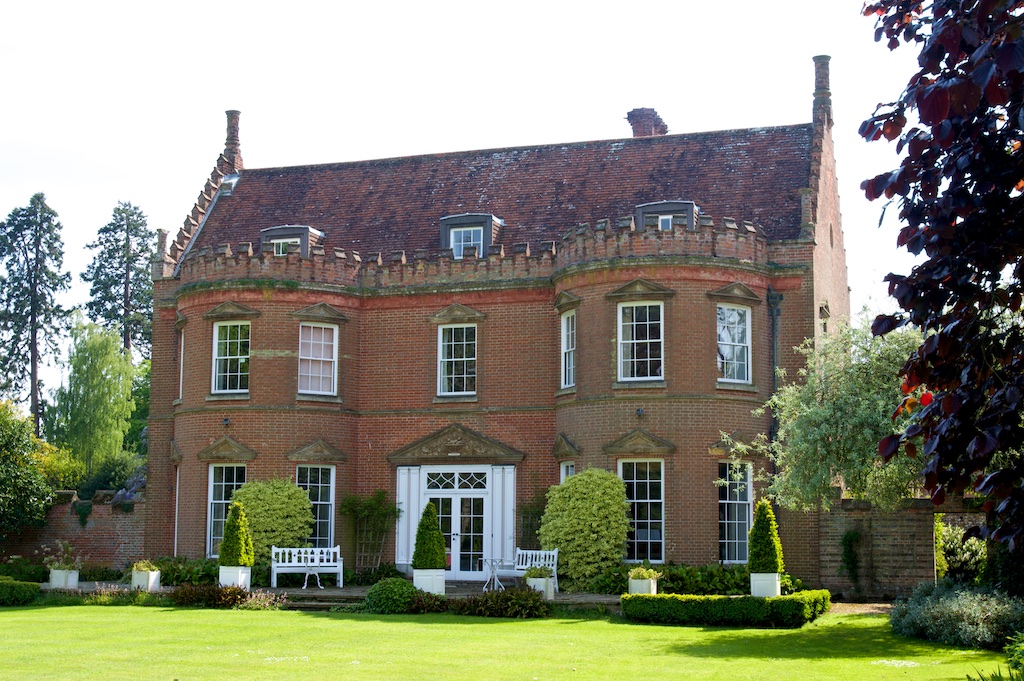 Haughley Park is also well known locally for its bluebell woods in Spring as shown here: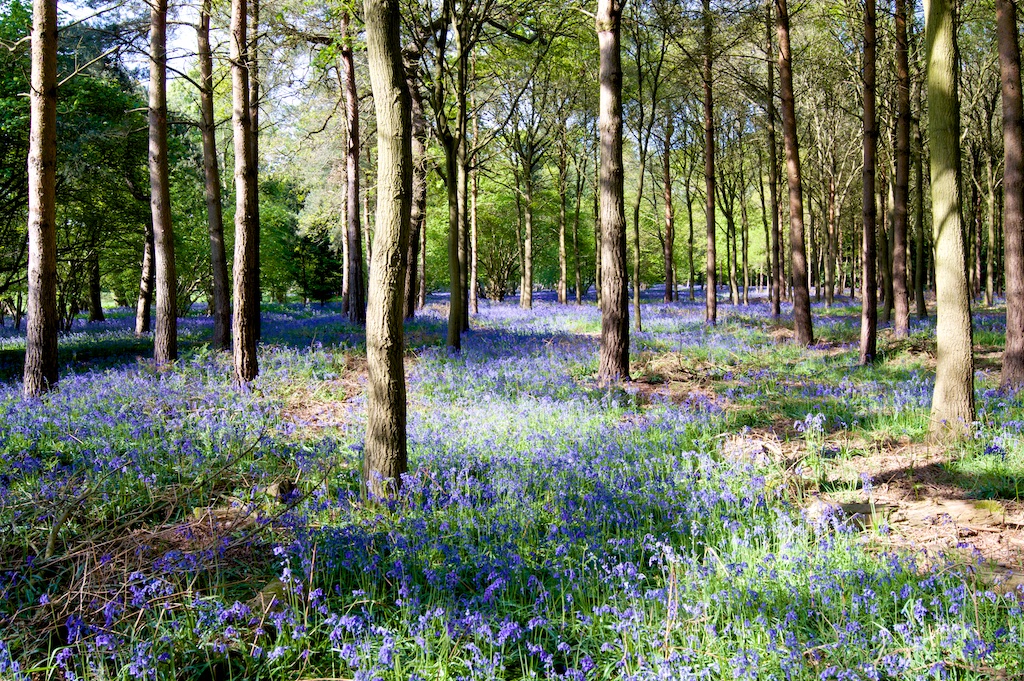 Moving on to page 252, the Castle (in a bracketed contributed entry for the second edition on page 252) is described as the "remains of an impressive motte and bailey castle near the church. It occupies 7 acres and the motte is 210ft at the base and 80ft high. The bailey is rectangular and has a well preserved moat. To the west of the bailey another moated enclosure. Built c. 1100 and taken in 1173".

There is a display board showing the extent of the moat and the two enclosed areas: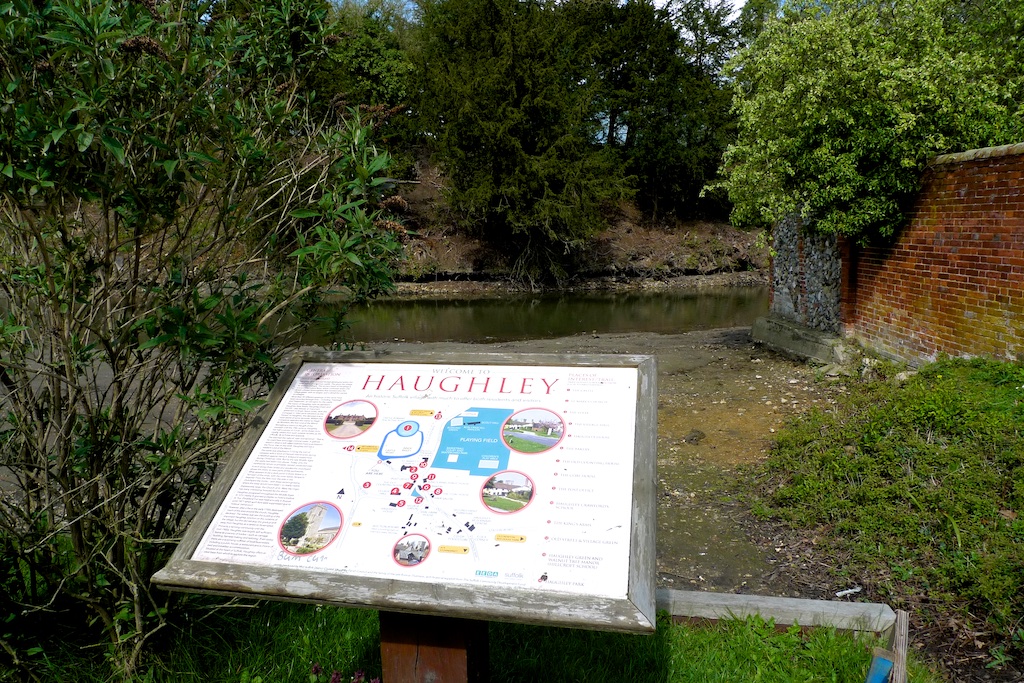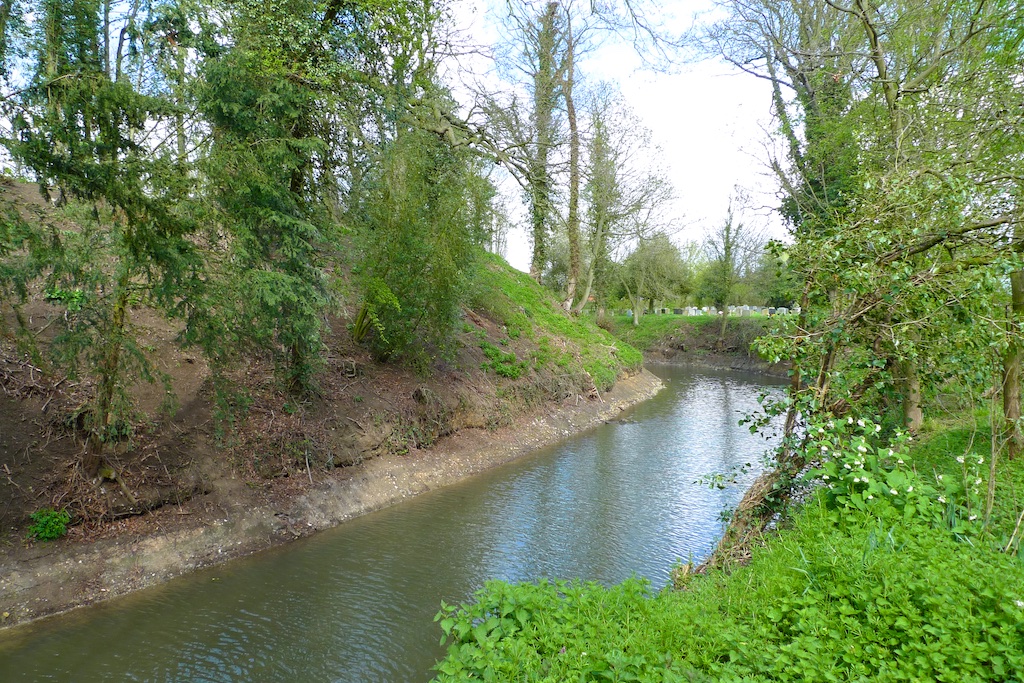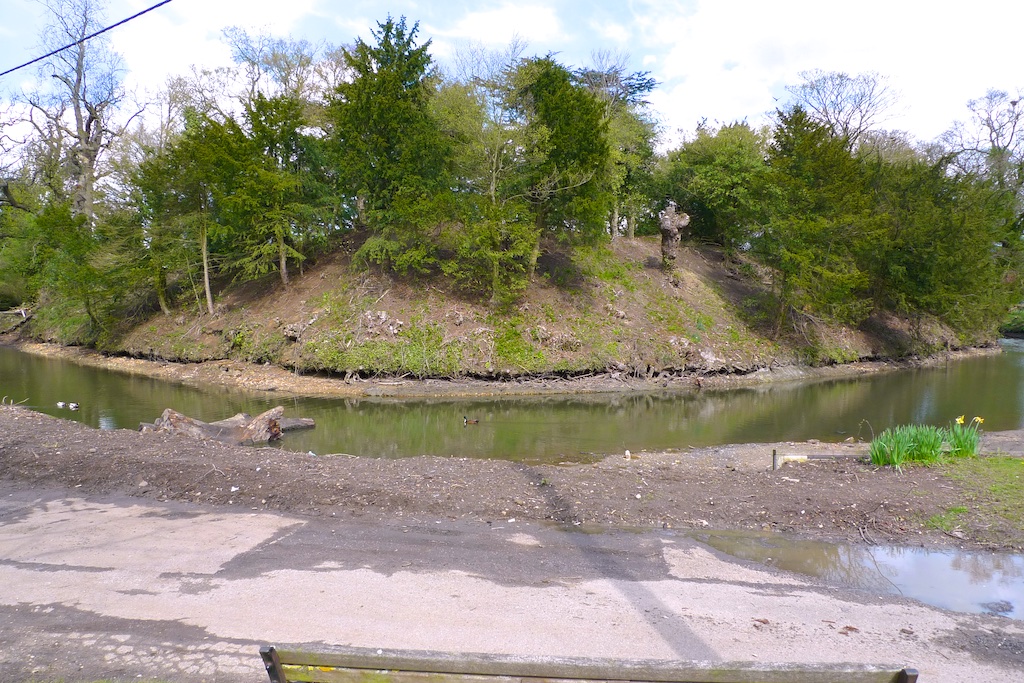 The larger area, also surrounded by a moat and connected to the moat is shown above. The layout of the two is just visible on the sign shown in the top photo (towards the top, just left of top centre).

Pevsner then mentions several attractive houses on the Green. He offers as an example, "Dial Farmhouse with a carved porch and a ceiling with moulded beams." :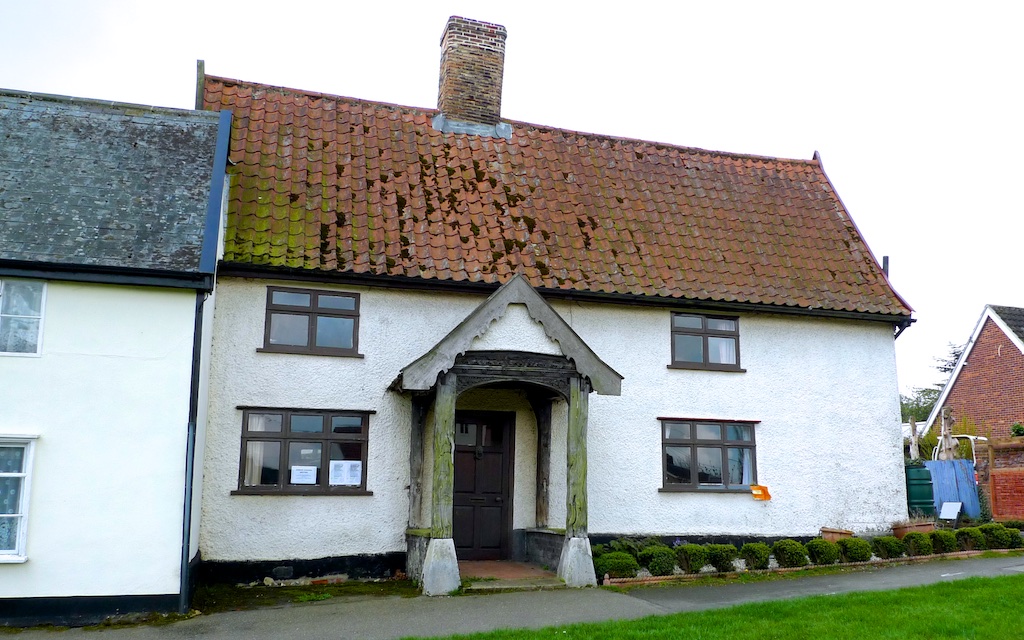 He then moves on to Haughley House which currently features in the excellent Invitation to View scheme but is for sale (May 2012) so may not feature in the future. The view from the road is seen here: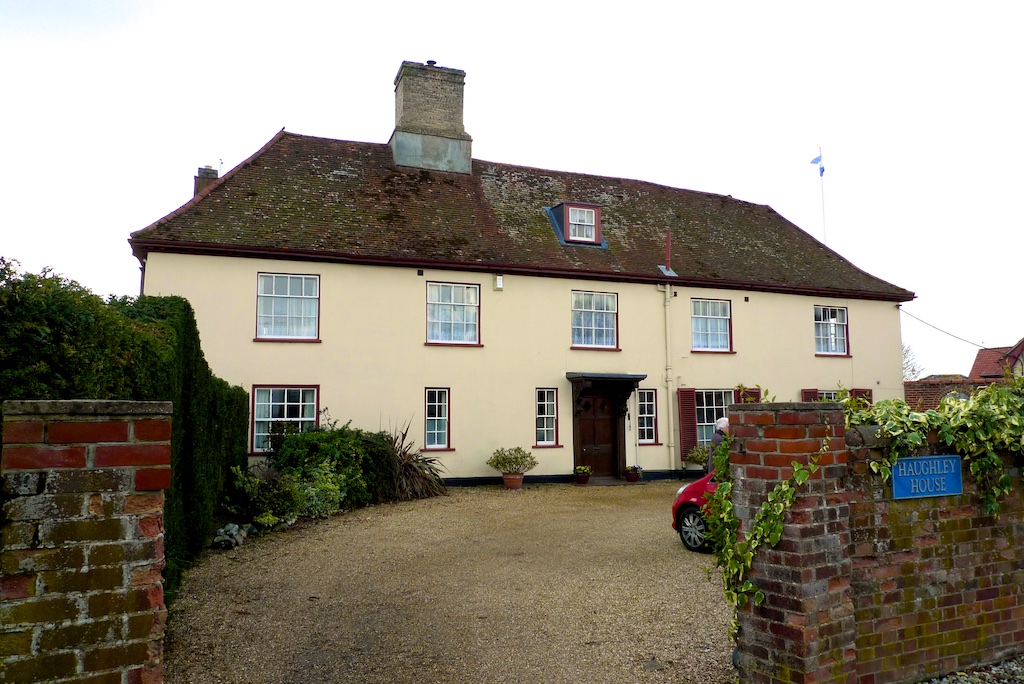 The view from the rear here: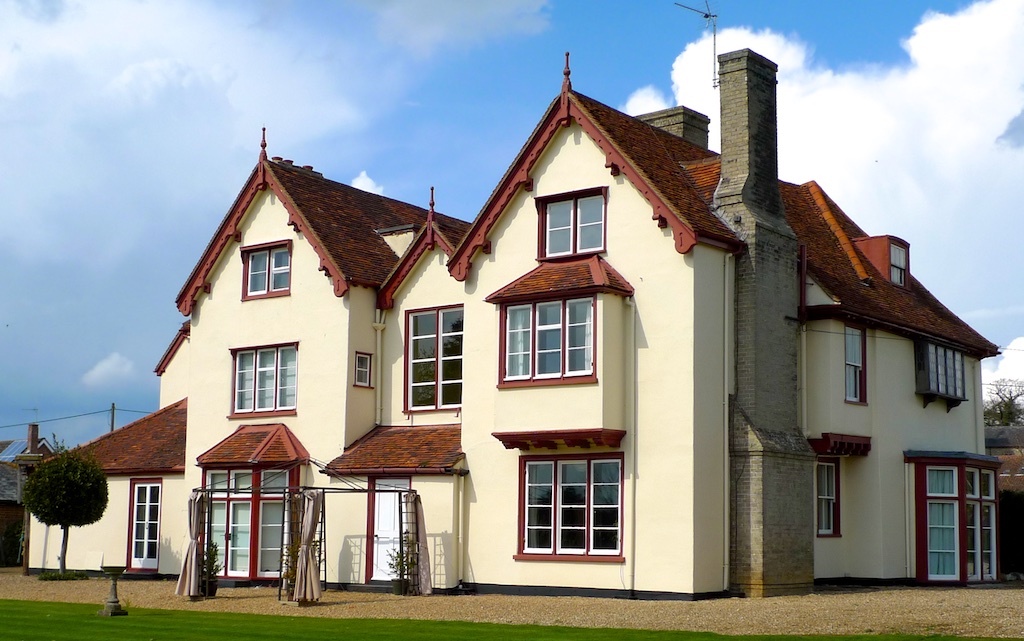 Pevsner goes on to Old Street where he describes "Chilton House and its neighbour, a pair of 5 bays with two doorways with Gibbs surrounds." Shown here: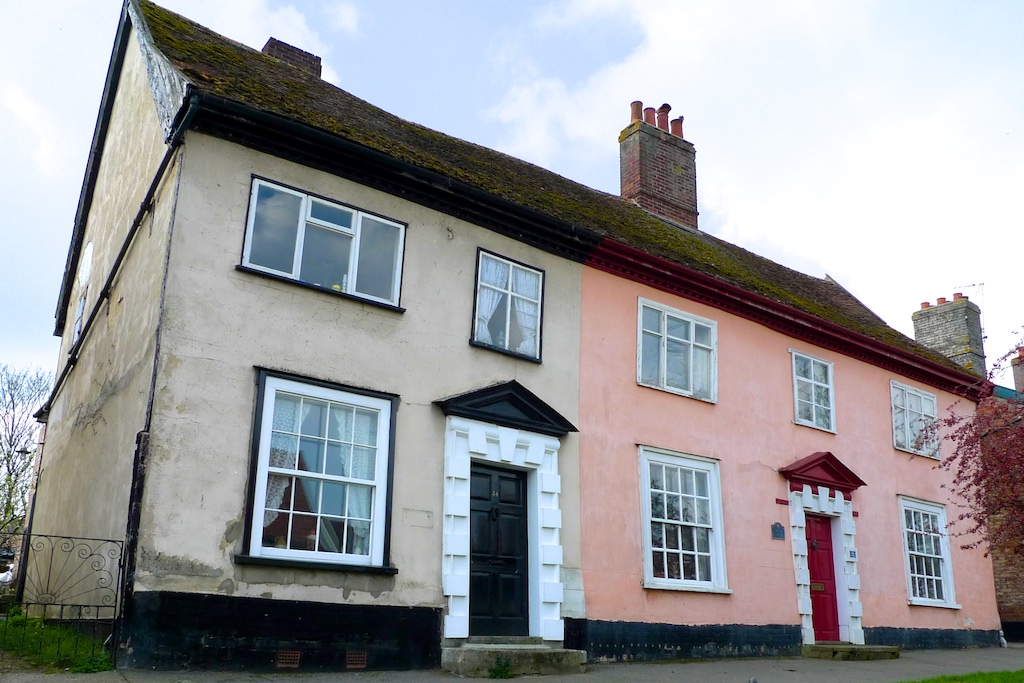 For more details of the guildhall and information on gilds and gildhalls in general, see
suffolkguildhalls.com
The Grain Dryer he mentions is some way out of the village and whilst not visible from the road seems to have been replaced by a more modern version.