Pictures of buildings mentioned in the second edition "Suffolk" volume of "The Buildings of England" series by Sir Nikolaus Pevsner.
Apart from the Church, the only building Pevsner mentions is Hintlesham Hall as shown below (the post-Pevsner edition also includes Hintlesham Old Hall as a bracketed entry).
Hintlesham Hall is now a hotel. Pevsner (page 273) says of it:

Though the facade is early Georgian the house behind it is - at least in its bones - Elizabethan. The facade then had the customary E-shape with wings projecting quite far. The porch can now no longer be identified, because Richard Powys, who bought Hintlesham in 1720, filled in the spce to its l and r. The facade now is of two storeys with quoins, parapet and hipped roof. The ground floor of the recessed centre is rusticated in the French banded way and has arched windows. Porch with coupled unfluted Ionic columns. First floor with rather curiously spaced Corinthian pilasters and a central Venetian window. Pediment against the parapet. The wings project four bays and have a pedimented doorway in the middle (sic). Of the Elizabethan part no more can be seen outside or inside than the big chimneybreasts on the S and E sides.

The wings can be seen below...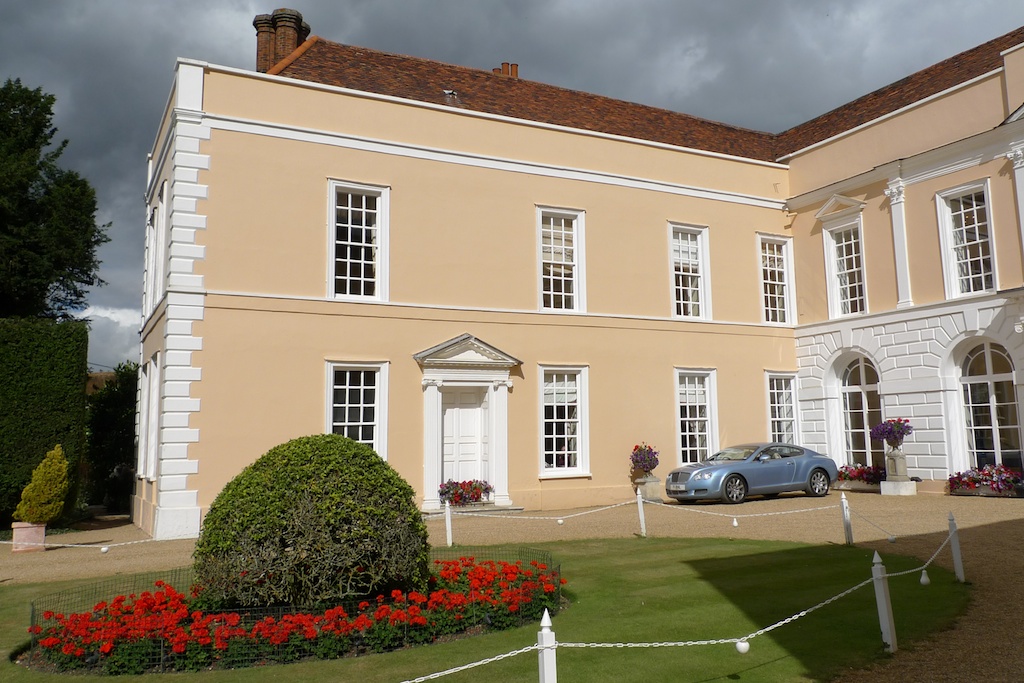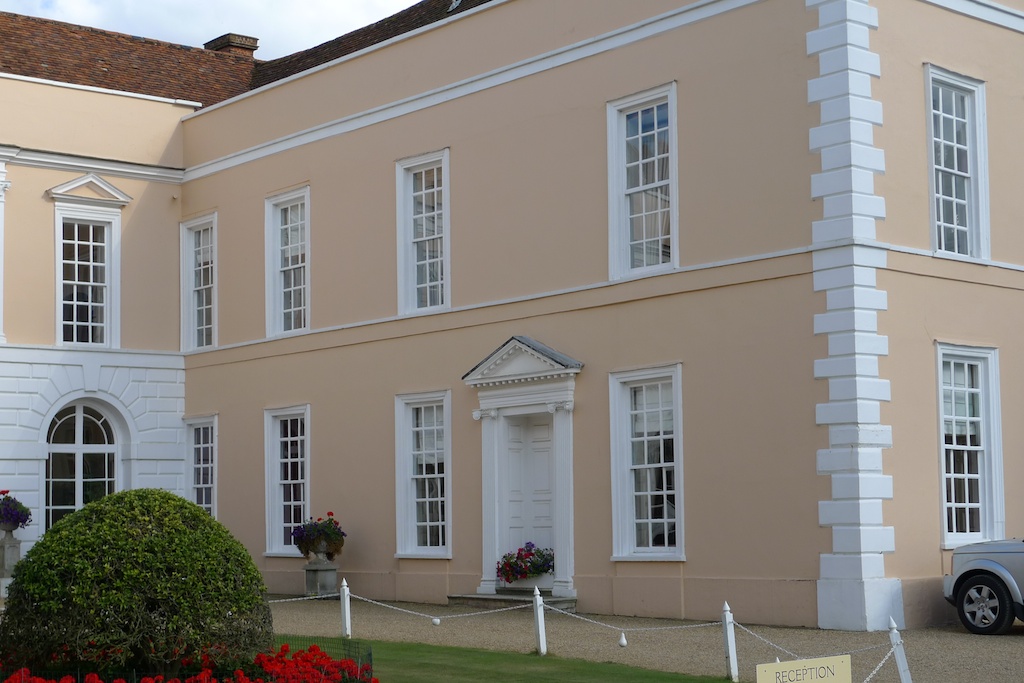 and the chimneybreasts on the rear here...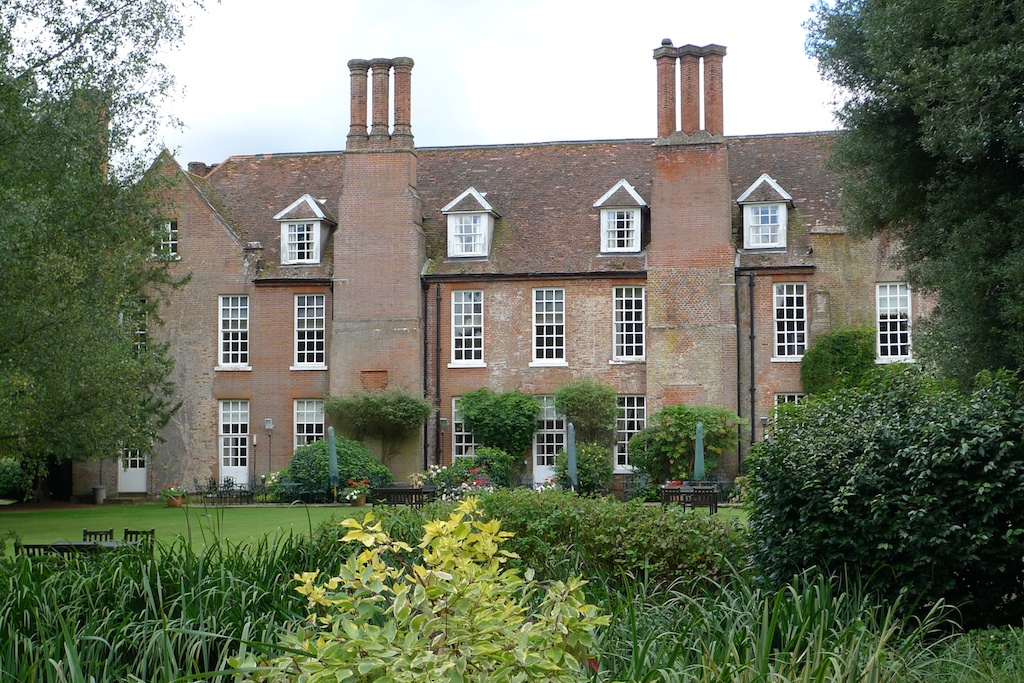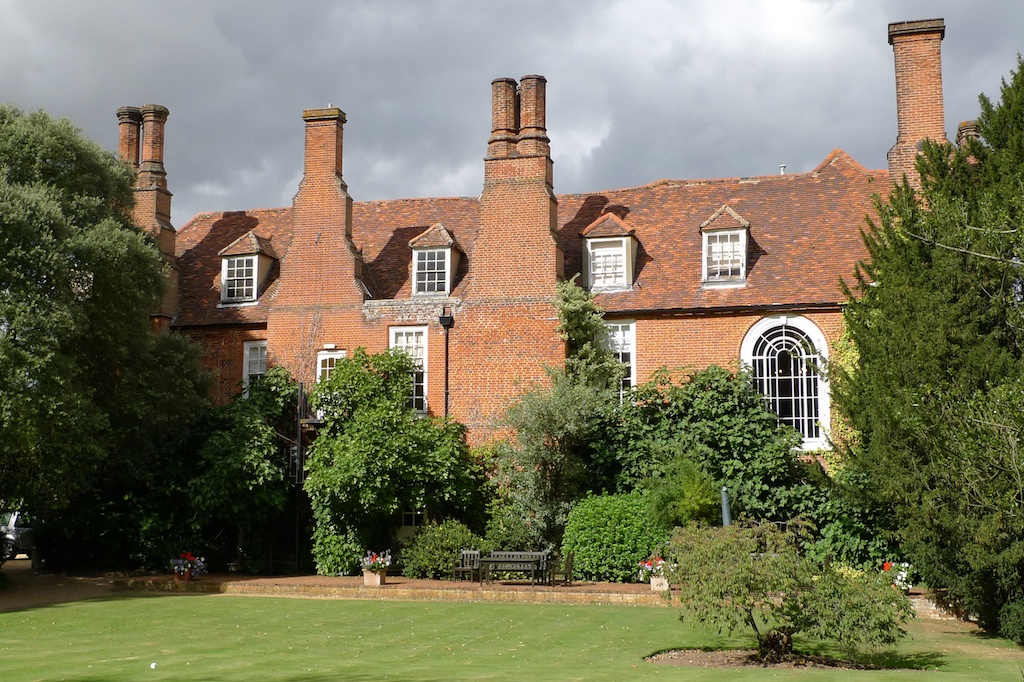 Pevsner also mentions on page 274 the "late 17C stables of red brick. Two storeys and a square bell-turret" as shown below and now containing bedrooms (one of them includes the clock mechanism that, for the benefit of a good night's sleep, is no longer working) ...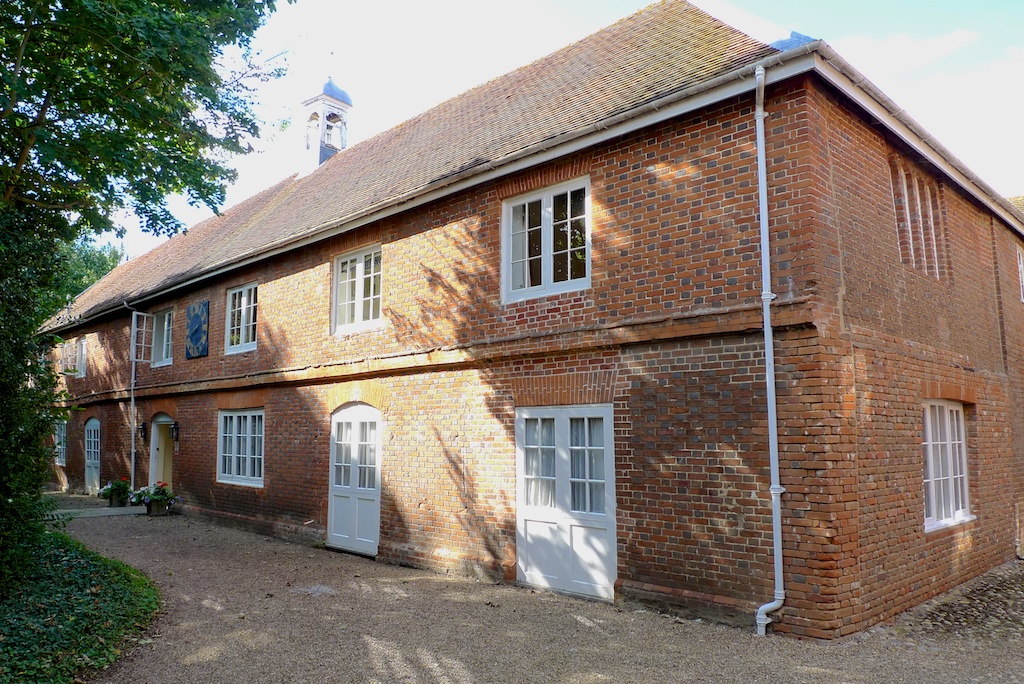 As a prestigious house its history is well documented well beyond the brief summary in Pevsner. The first owners from the early 15th century were the Timperley family who rebuilt it about 1579. In 1720 Henry Timperley sold everything to Richard Powys (as noted above by Pevsner) who gave the Hall its Georgian facade in the 1740s. In 1747 Powys's widow sold it to the Lloyd family who held it until the early 20th century. More recent owners include (pre-WWII) a director of the then large Ipswich engineering company Ransomes and Rapier, (post WWII) Robert Carrier, a food and cookery writer who turned it into a nationally renowned restaurant and then Ruth and David Watson who turned it into a hotel before leaving for the Orford Crown and Castle. It continues as a hotel allowing many people to enjoy the wonderful public rooms and a wide variety of bedrooms from medieval/Tudor to modern.