Pictures of buildings mentioned in the second edition "Suffolk" volume of "The Buildings of England" series by Sir Nikolaus Pevsner.
The section in the second edition, starting on p235 says "there is nothing in Suffolk to compete with the timber-framed houses of Lavenham" but in the introduction, on page 40, it more properly places it in a wider context. It says there "for houses in towns and villages there is nothing in England to beat Lavenham in numbers and variety." I don't think the other countries in the UK can equal it either. Lavenham ranks with many World Heritage Sites I have been to around the world.

Lavenham runs to six pages in the second edition and over eleven in the third edition so there will be limited quotes here. The photographs will not follow the 'perambulation' so we will start in the Market Place "which is dominated by the Guildhall of the Guild of Corpus Christi, built shortly after the foundation of the guild in 1529."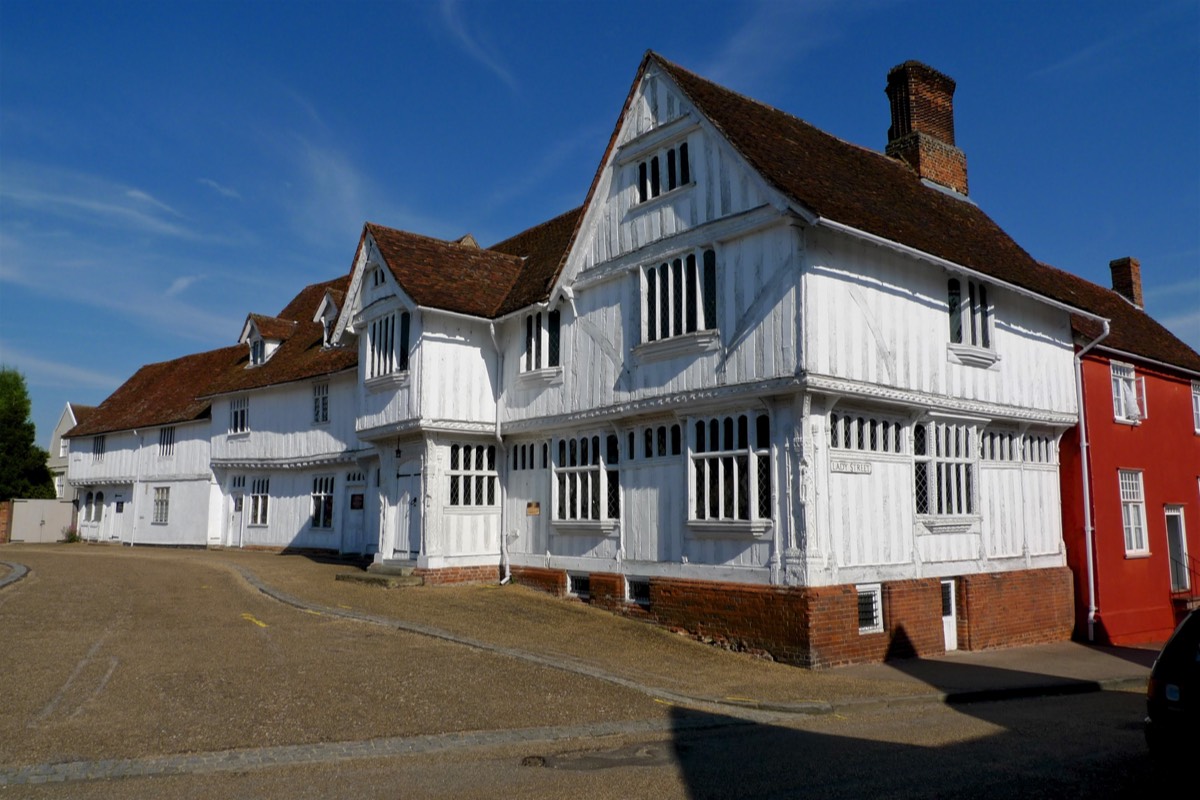 For more details of the guildhall and information on gilds and gildhalls in general, see
suffolkguildhalls.com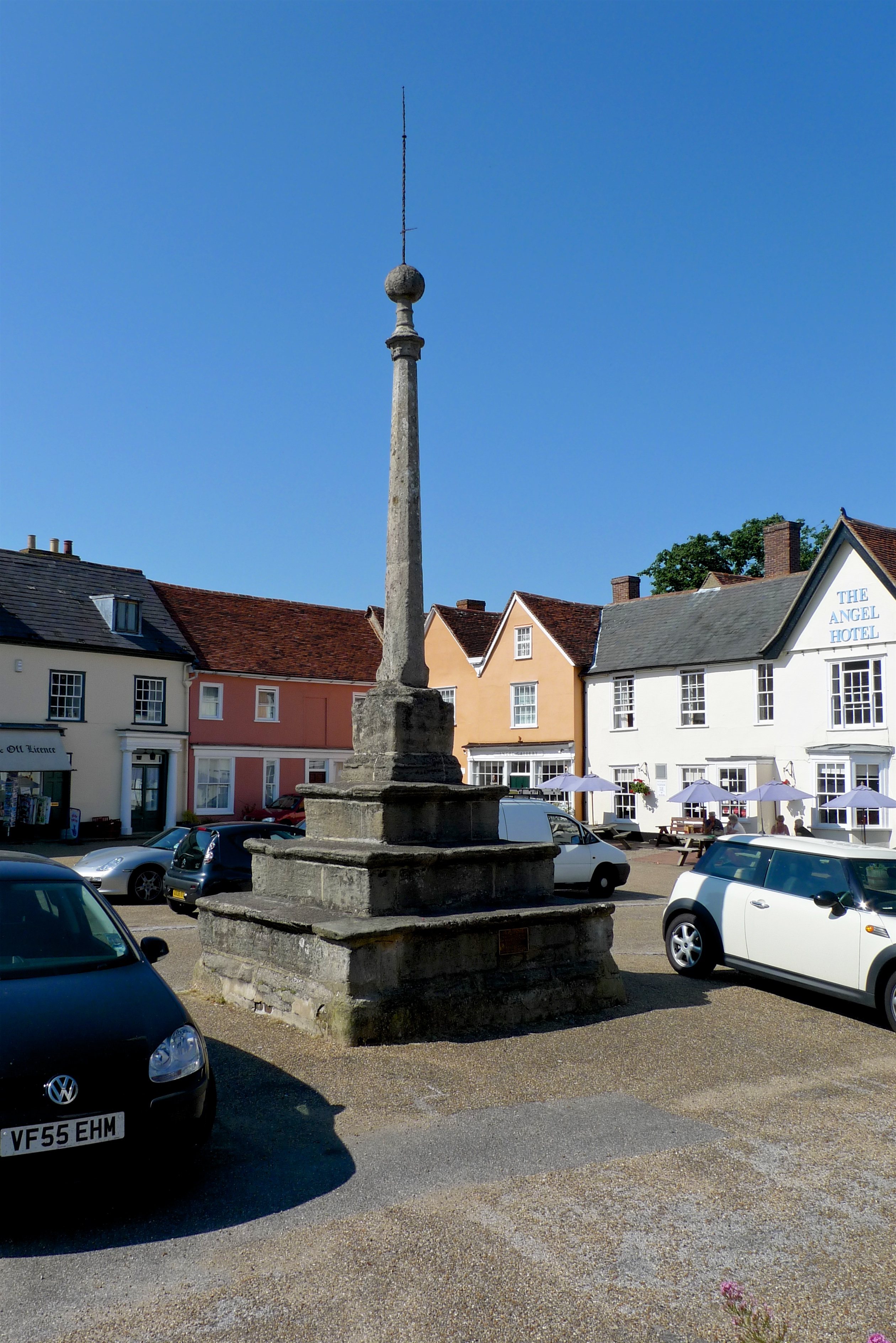 "In the Market Place the Market Cross, probably a former churchyard cross"
"The Little House is yet another C15 house, much reconstructed":
Next door to it "The Great House in the SE corner where Barn Street comes up, is Late Georgian with a Doric doorway.":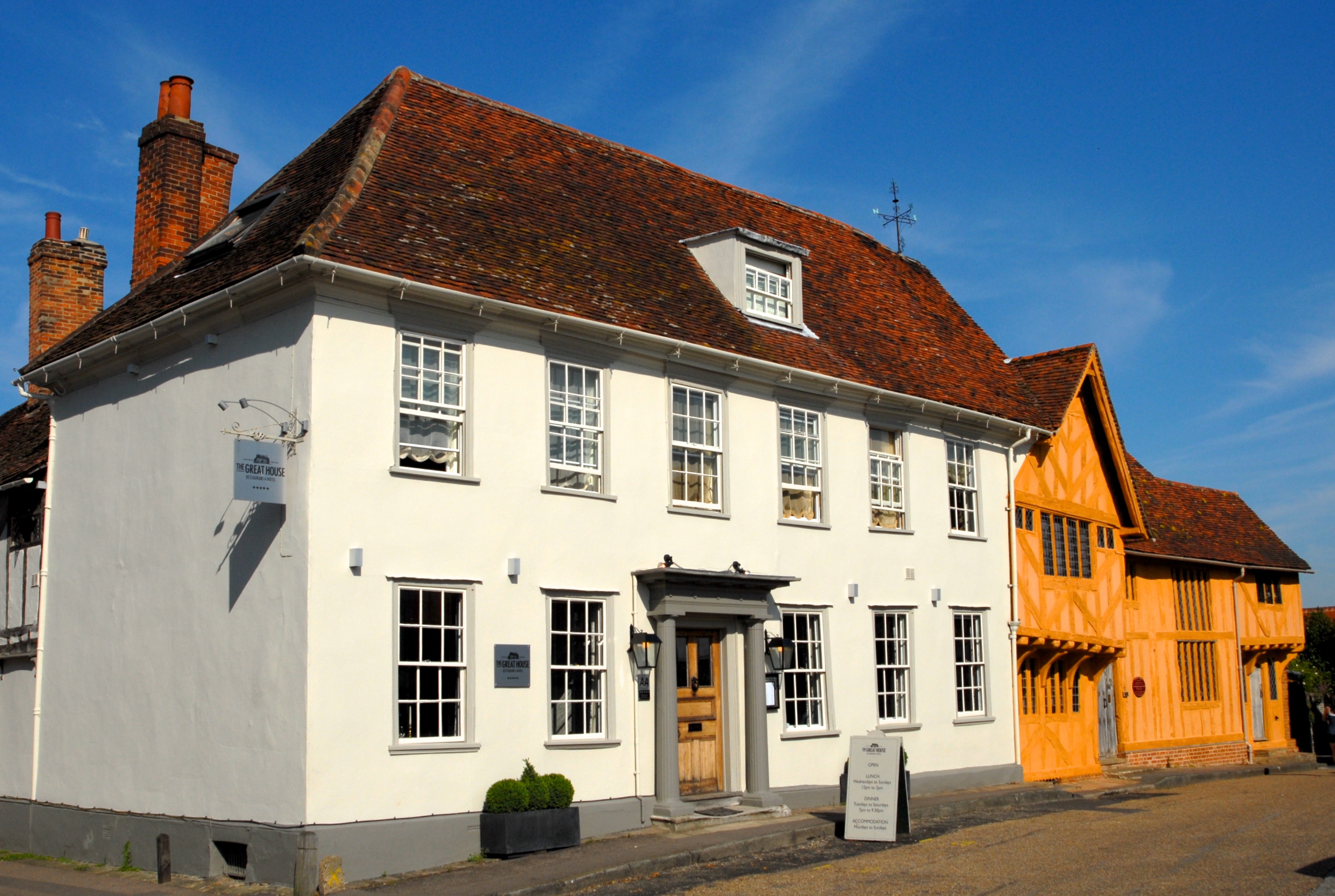 Then the Angel Hotel, just across the road from the above: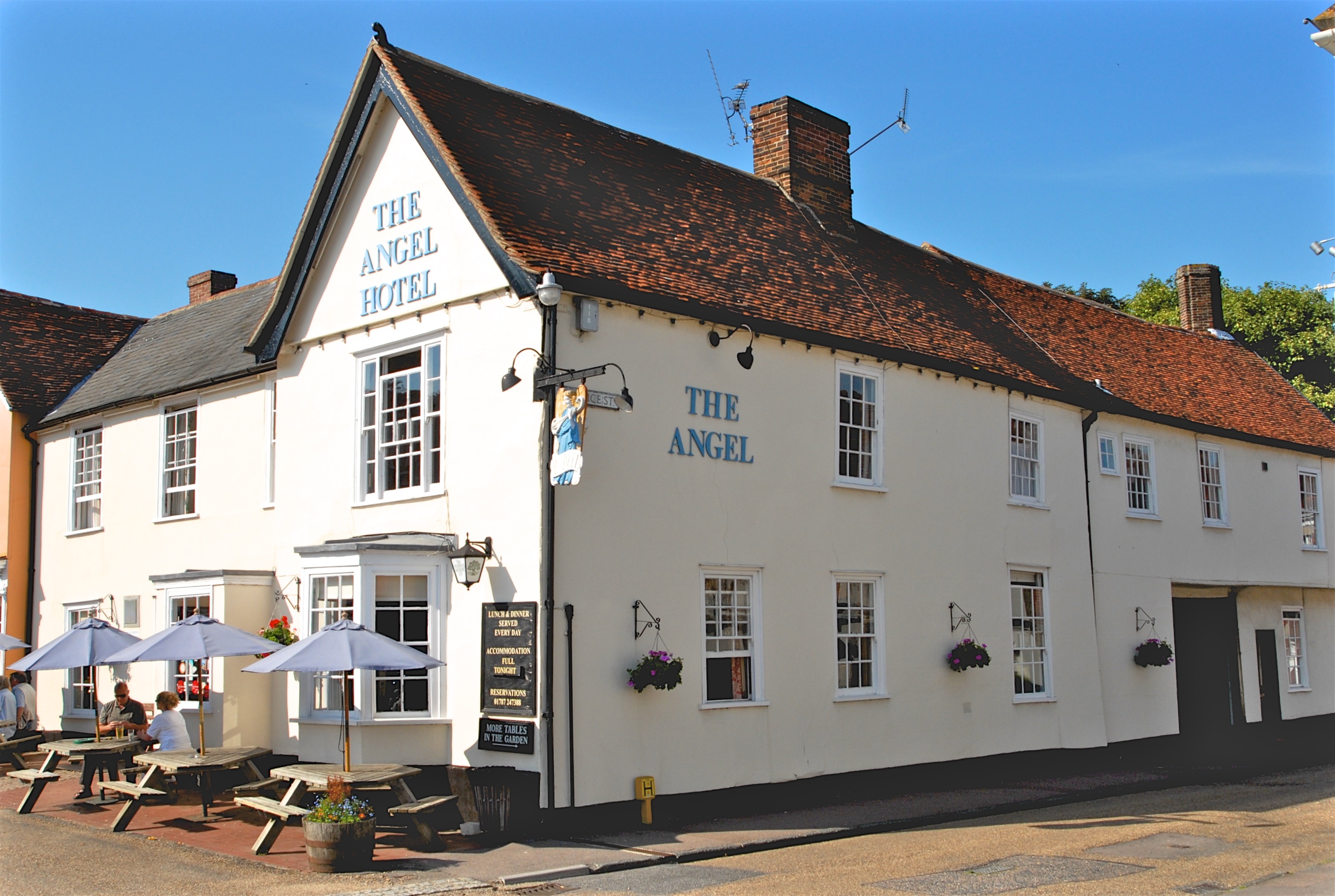 At the corner of Lady Street the Old Wool Hall and opposite 'Tudor Shops'". Tudor Shops has indeed the three small arches of a former shop, and also a W front with fourteen brackets and shafts with carved capitals.":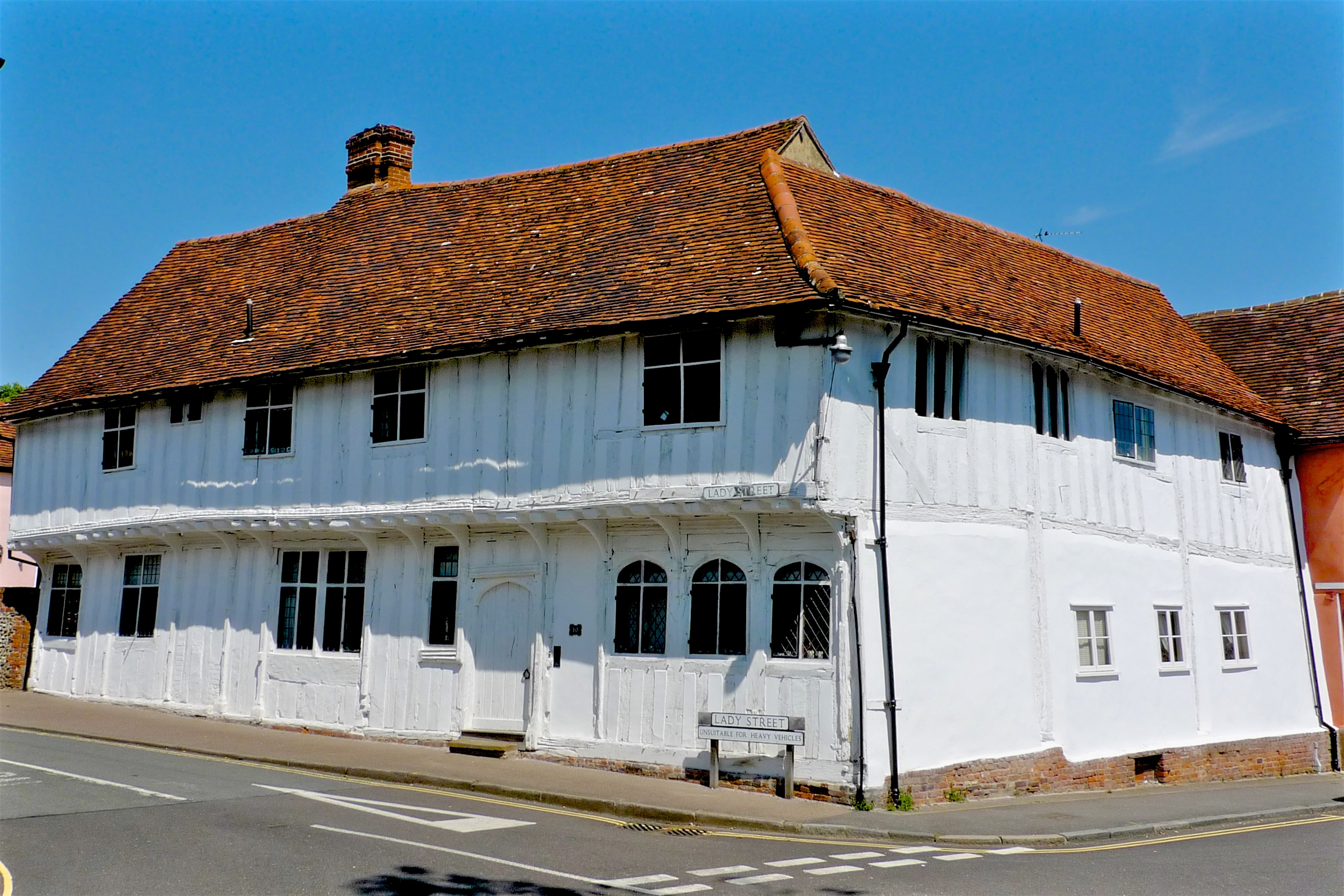 "The Old Wool Hall is a hall house of the C15. The hall is open to the roof and has a big six-light transomed window. It is now incorporated into the Swan Hotel." :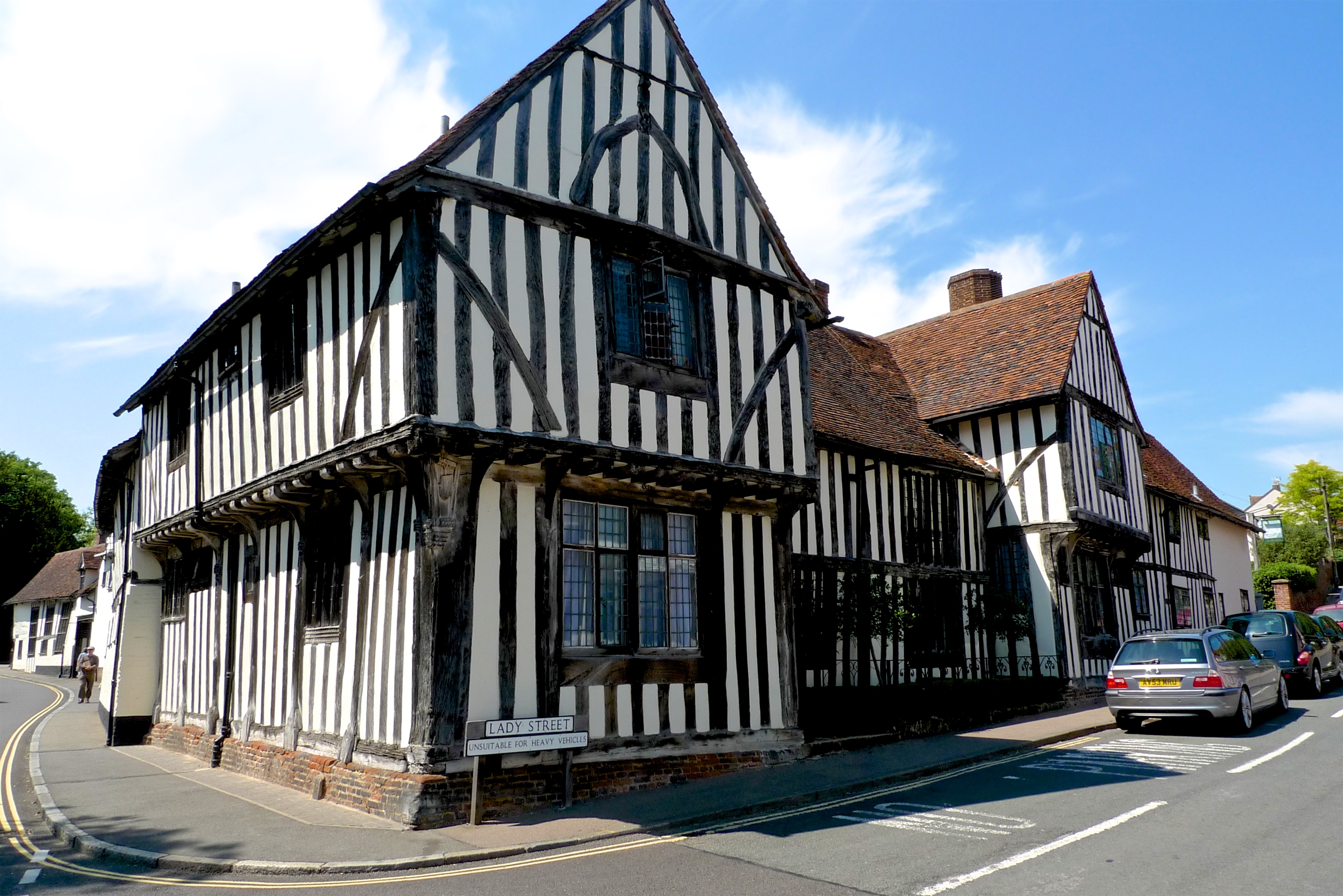 Around the corner from the Old Wool Hall and to the High Street it is all the Swan Hotel. "Its cellars are said to date back to the C14. Picturesque front, small rear courtyard." The frontage is shown here: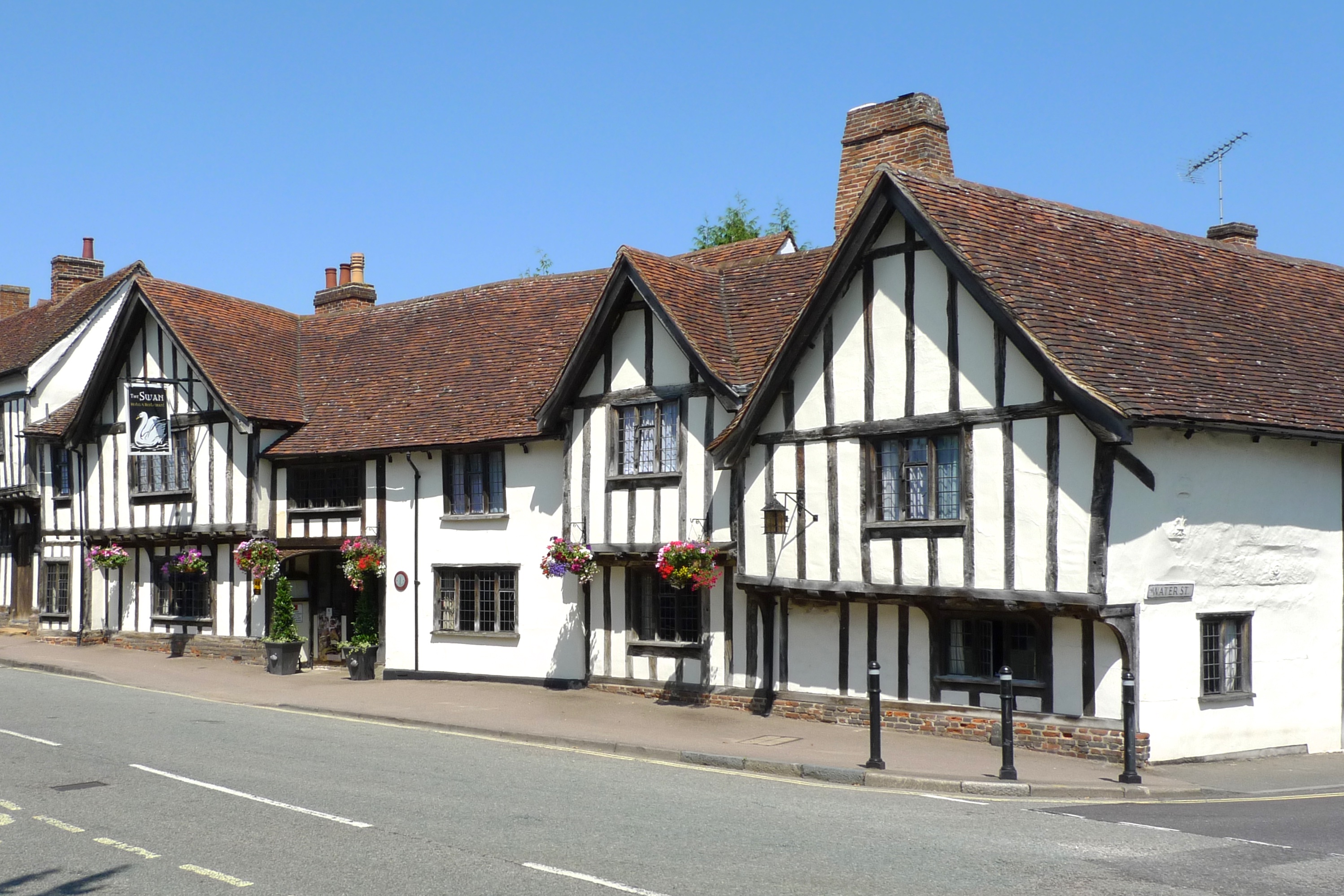 Some of the houses in Water Street "one of the most rewarding streets."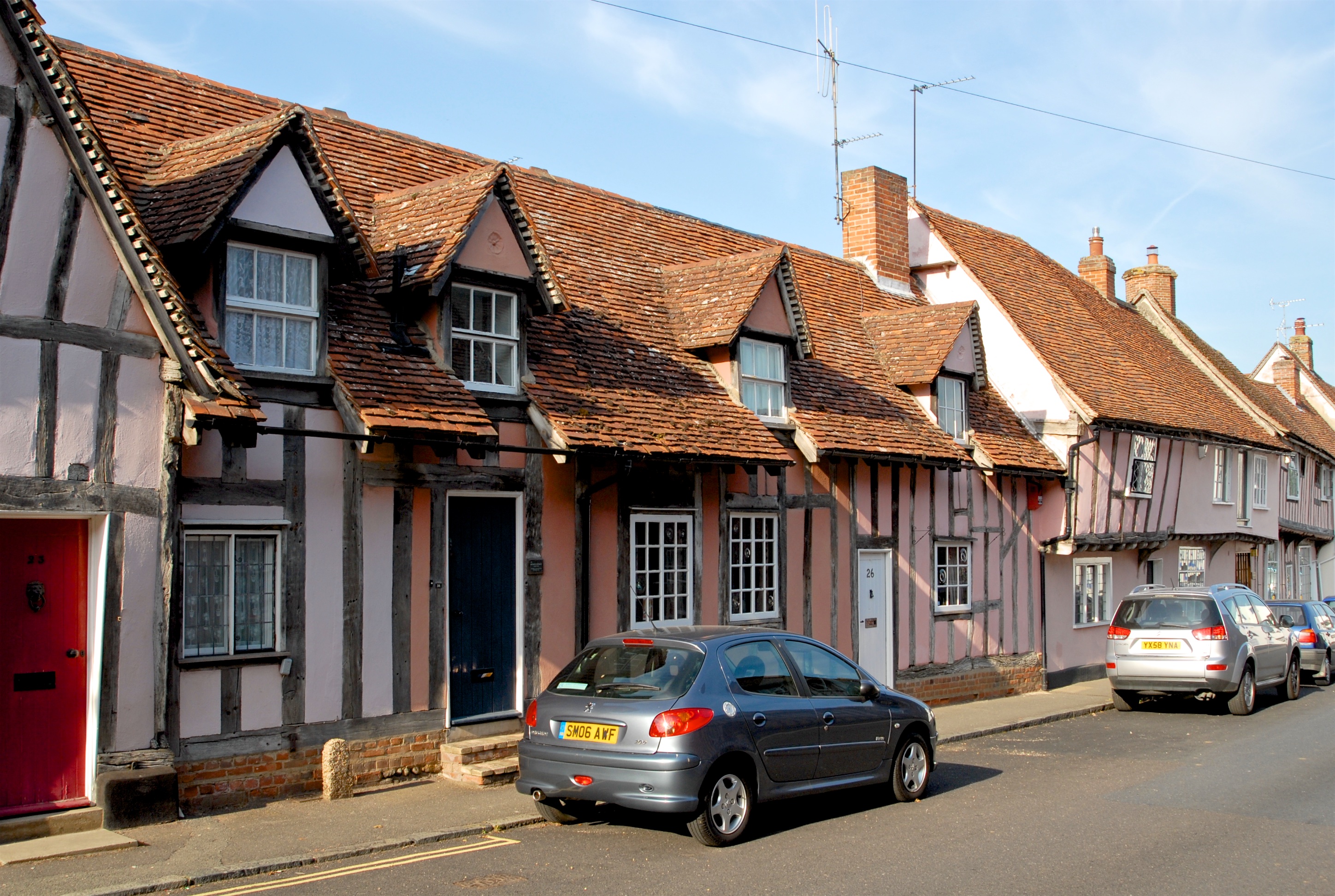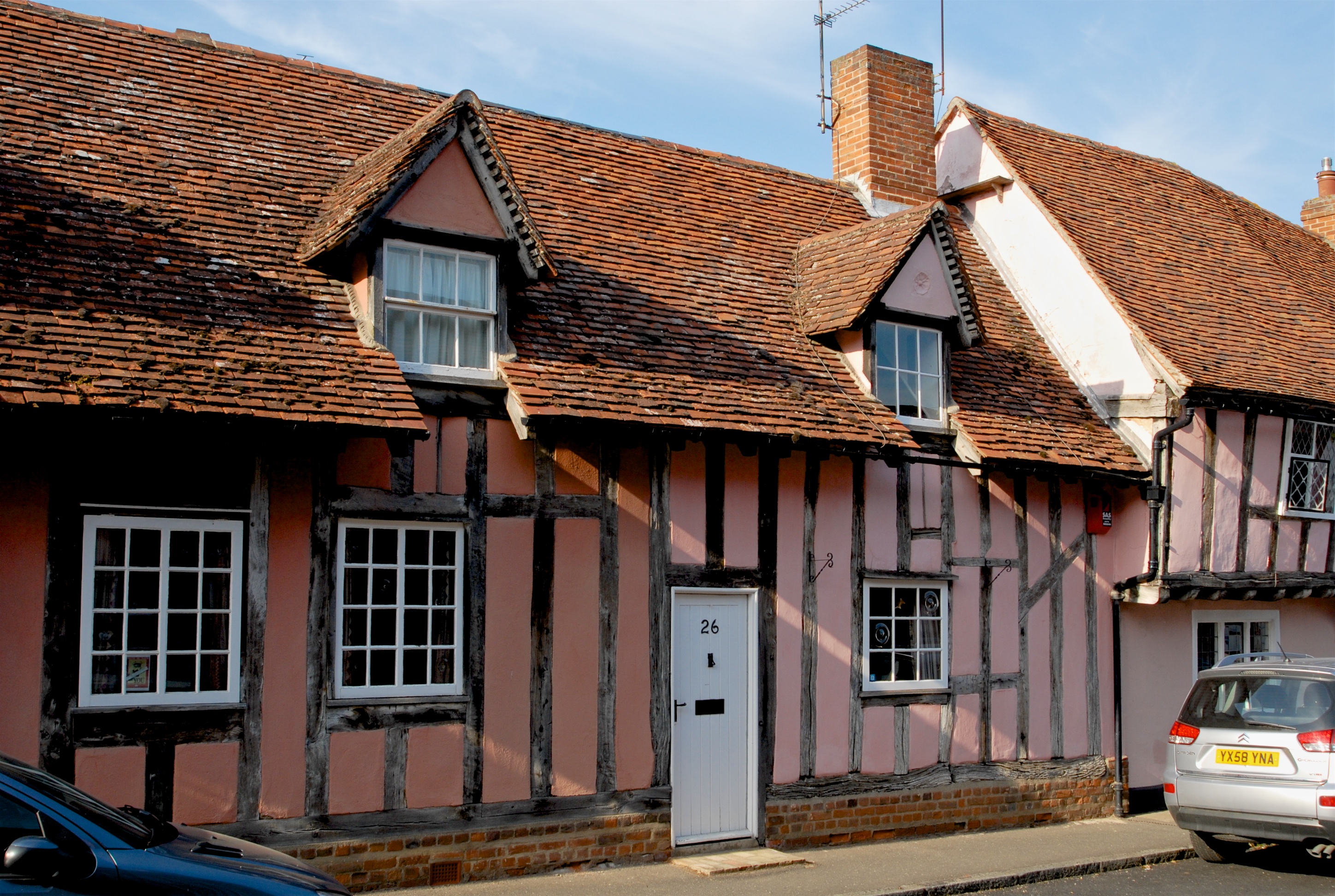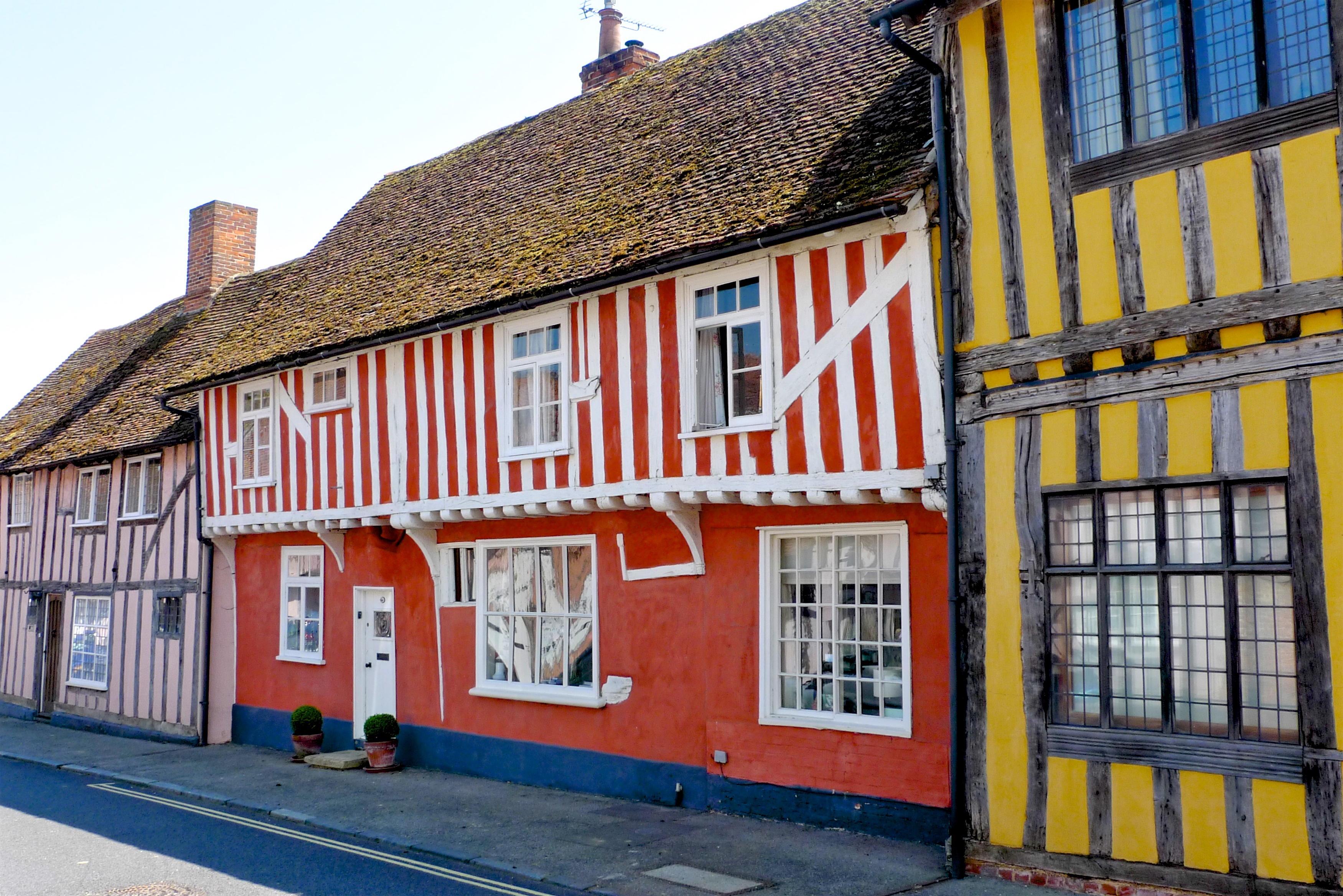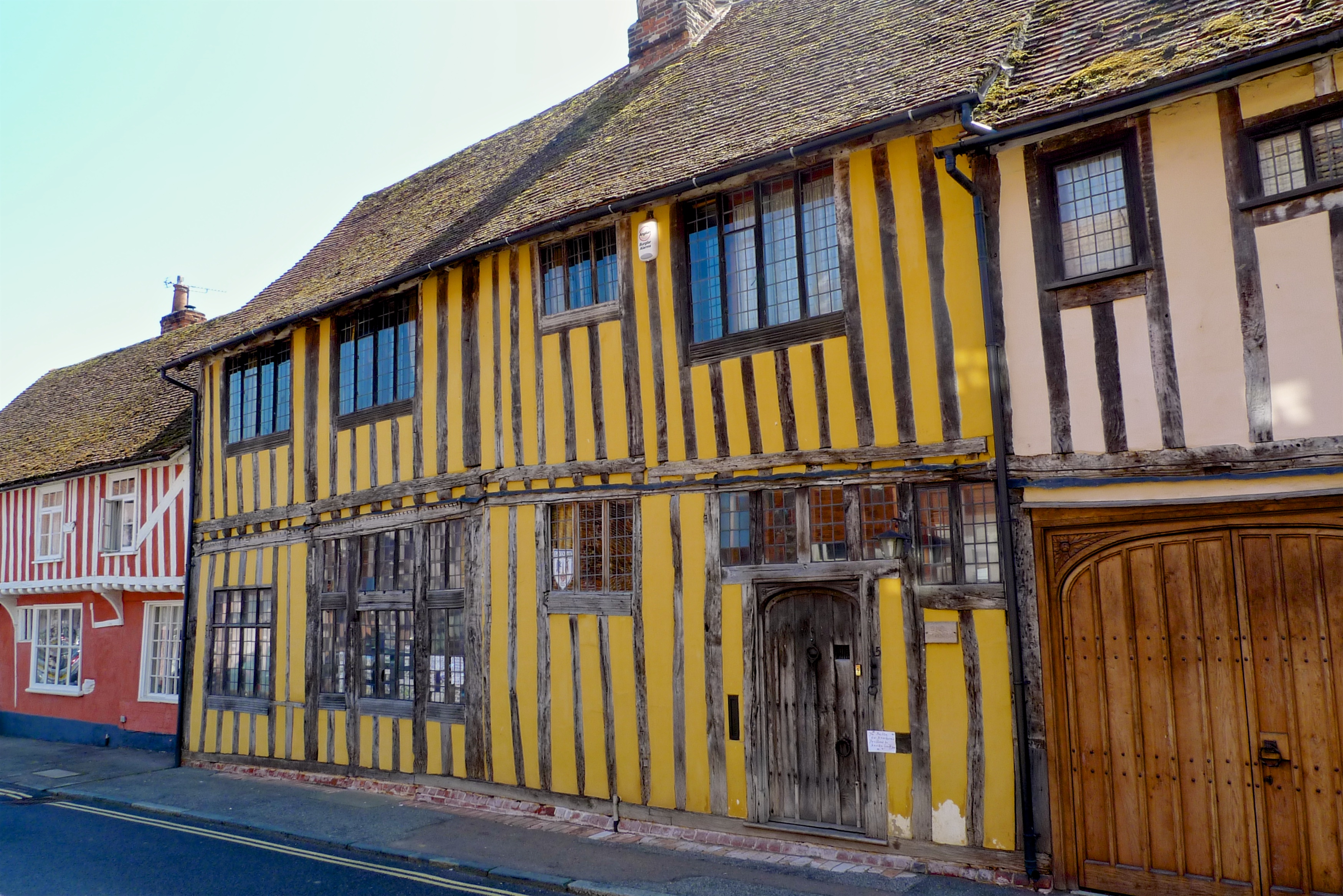 De Vere House (No 60) and No 58: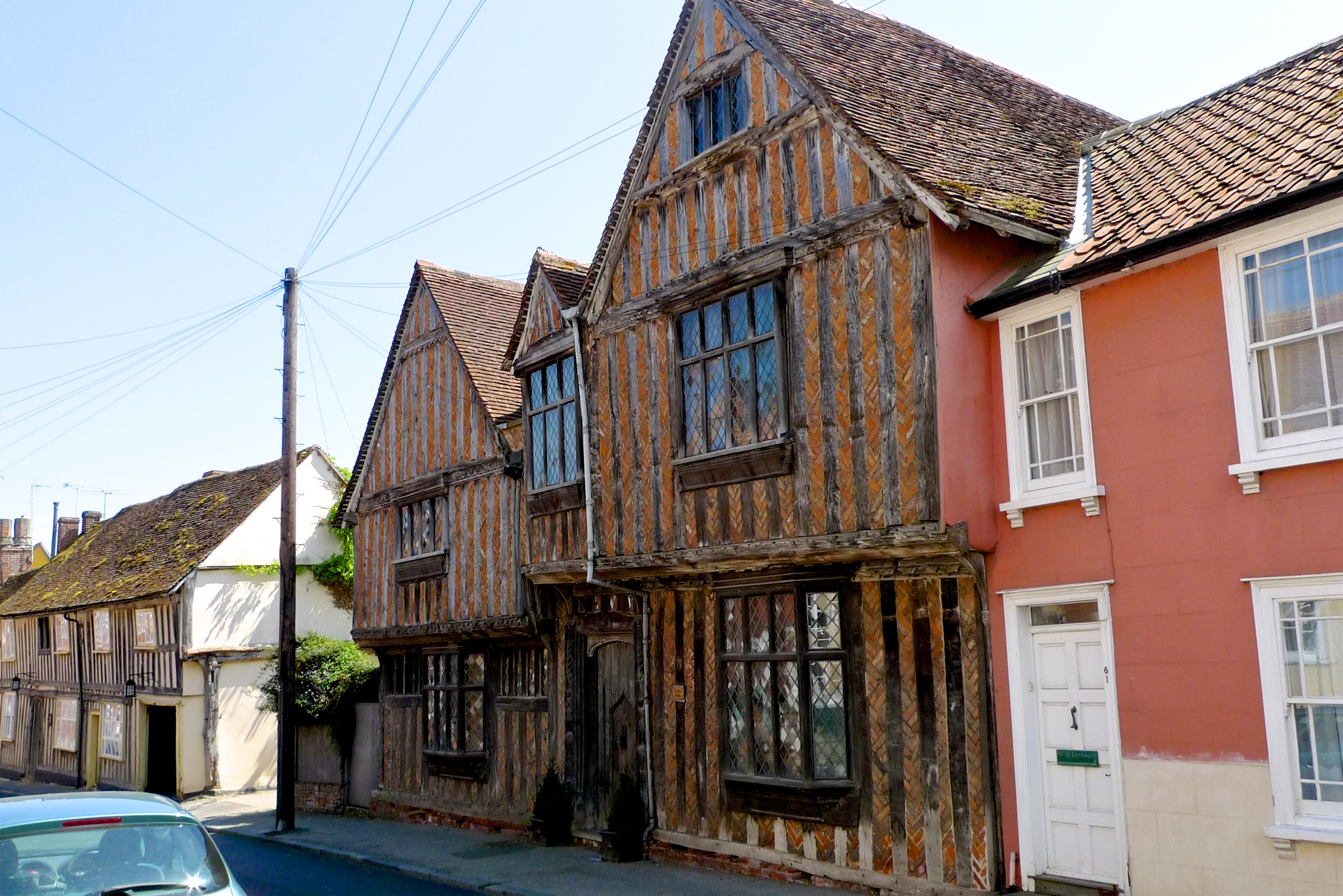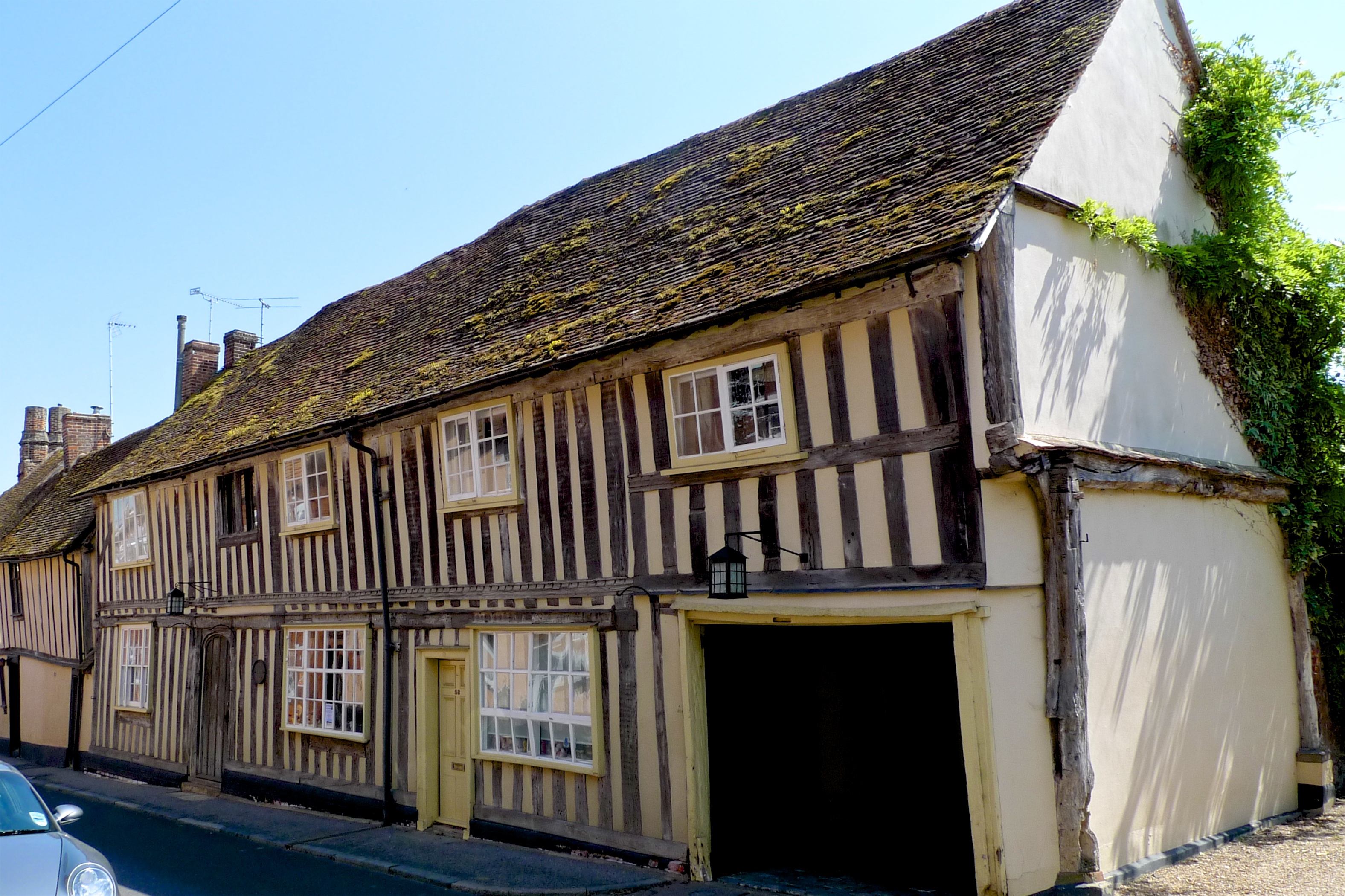 Church Street leads from the church towards High Street. First No 81, Georgian red brick with two canted bay windows: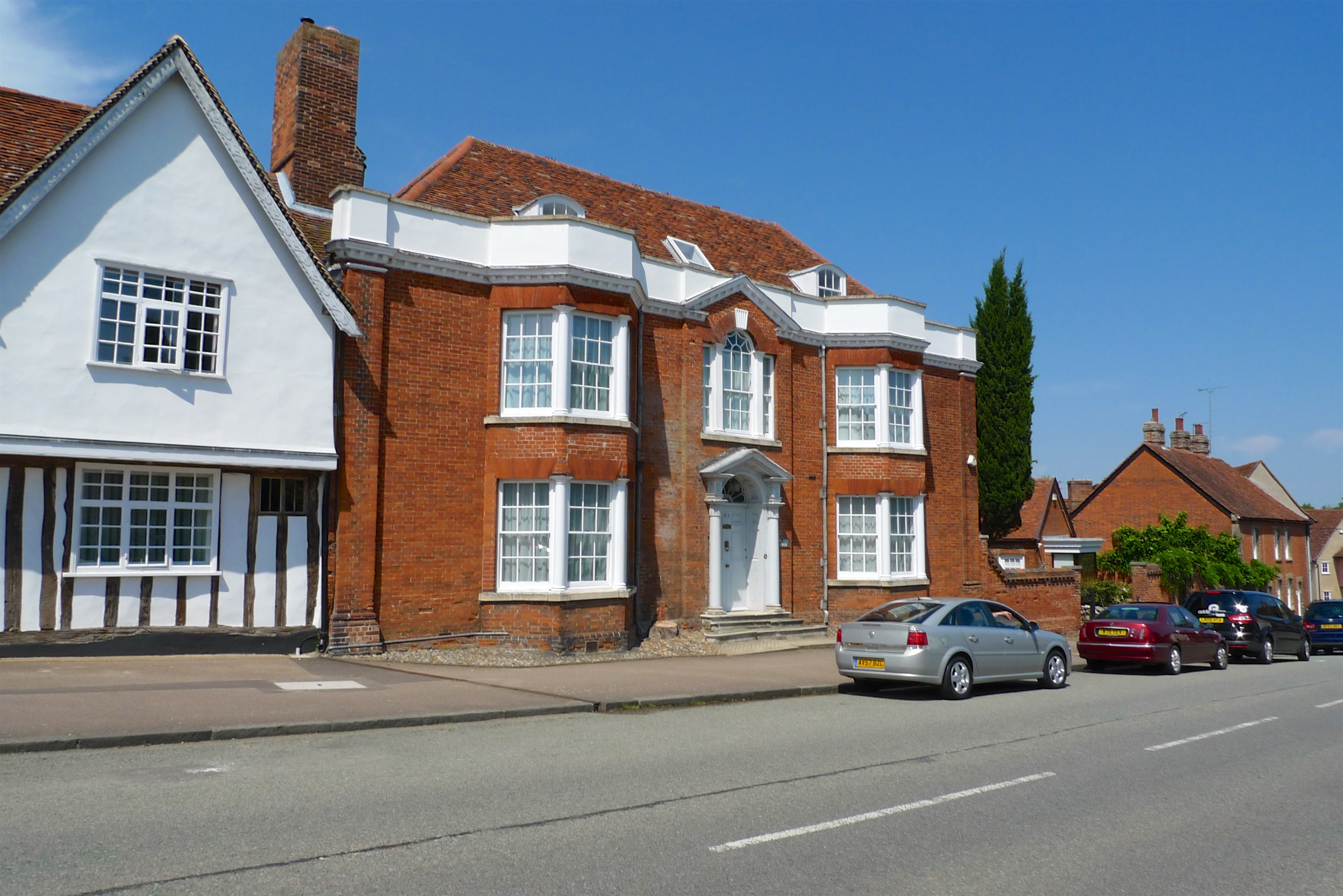 On the other side some interesting timber-framed houses.
Along High Street past the Swan Hotel "The best houses are Nos 61-63,":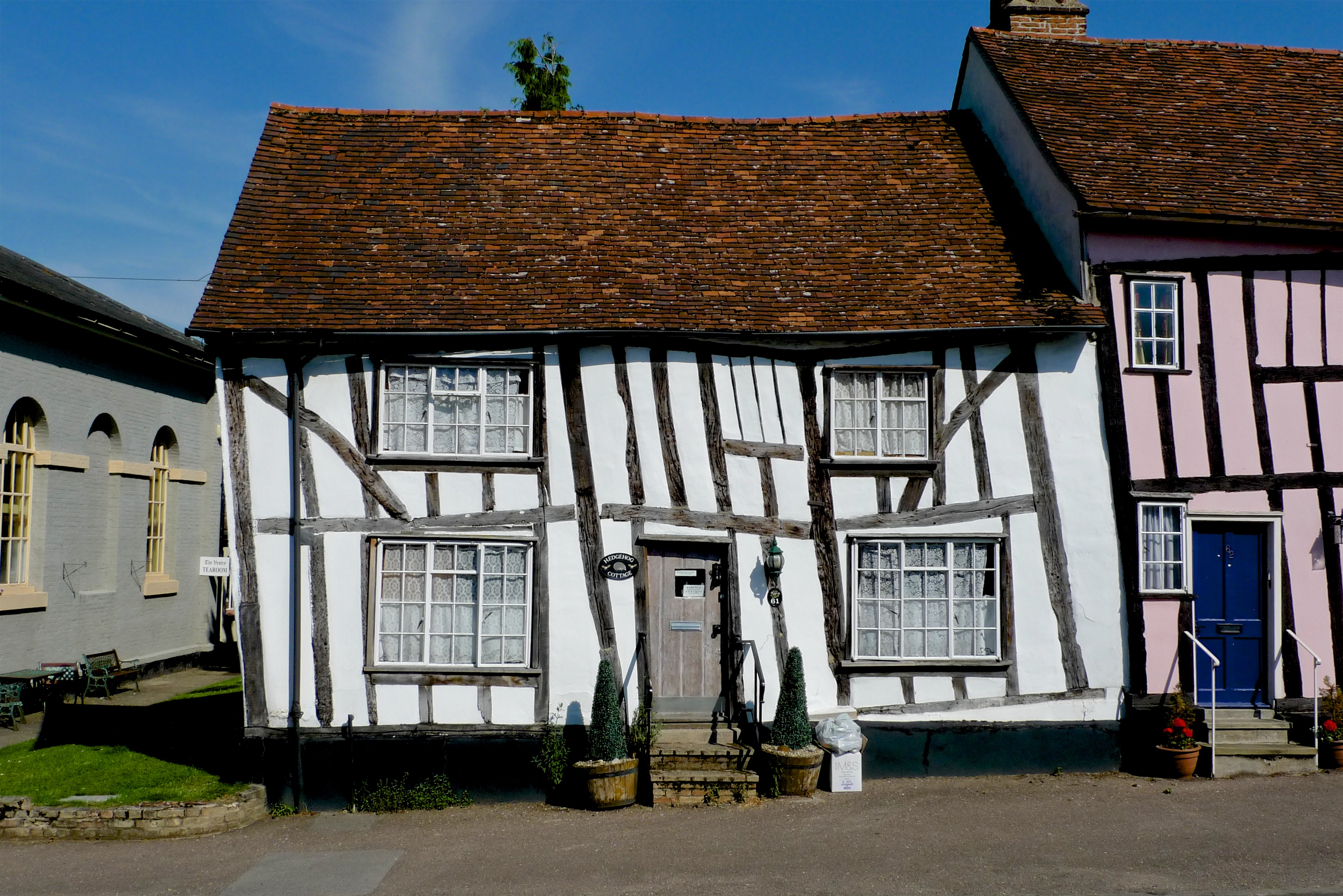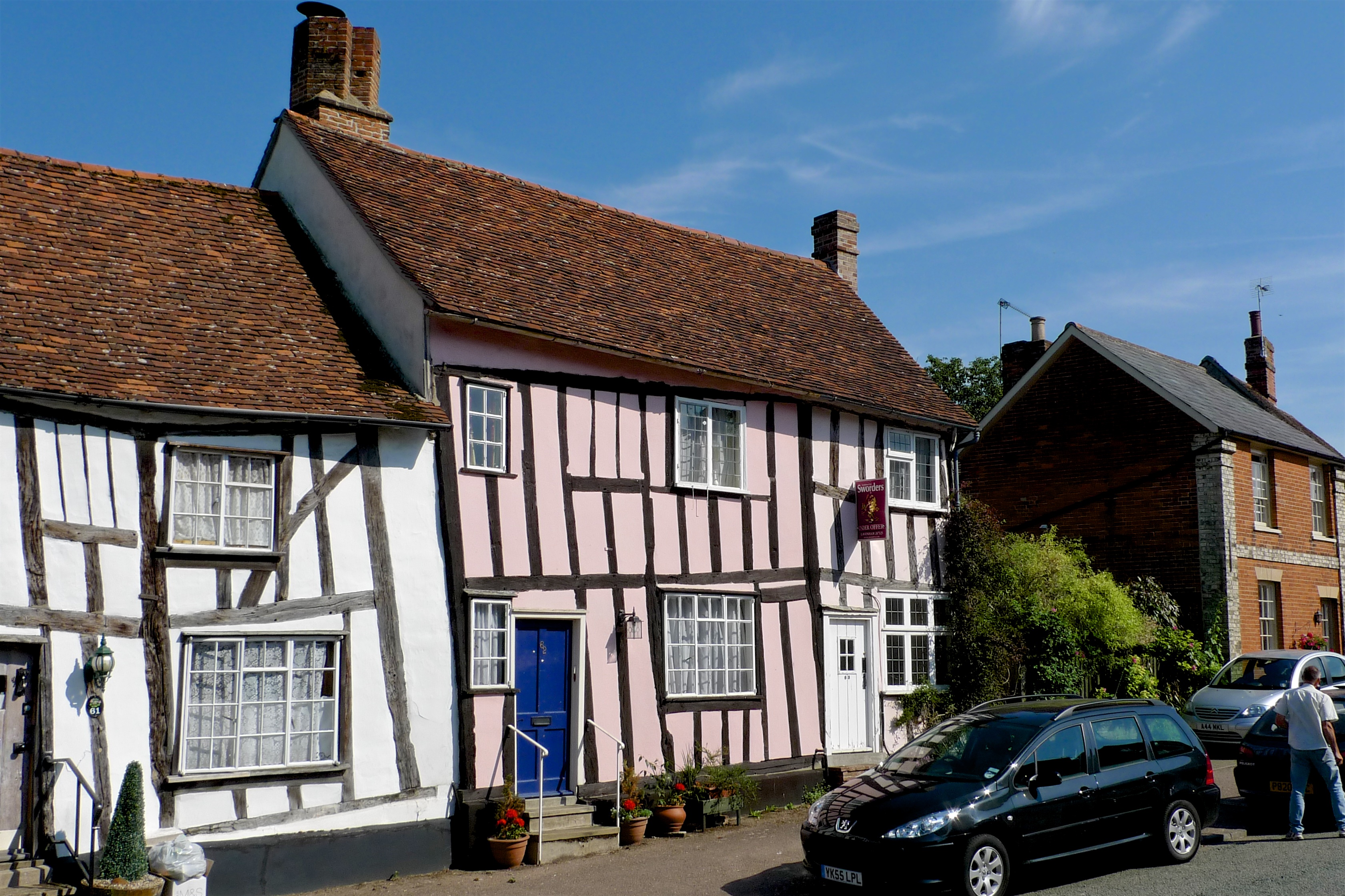 Somewhat out of sequence a couple of (former) factories. The first "probably c1800" in Barn St and the second the Baker's Mill "a good group of late C19 industrial buildings.":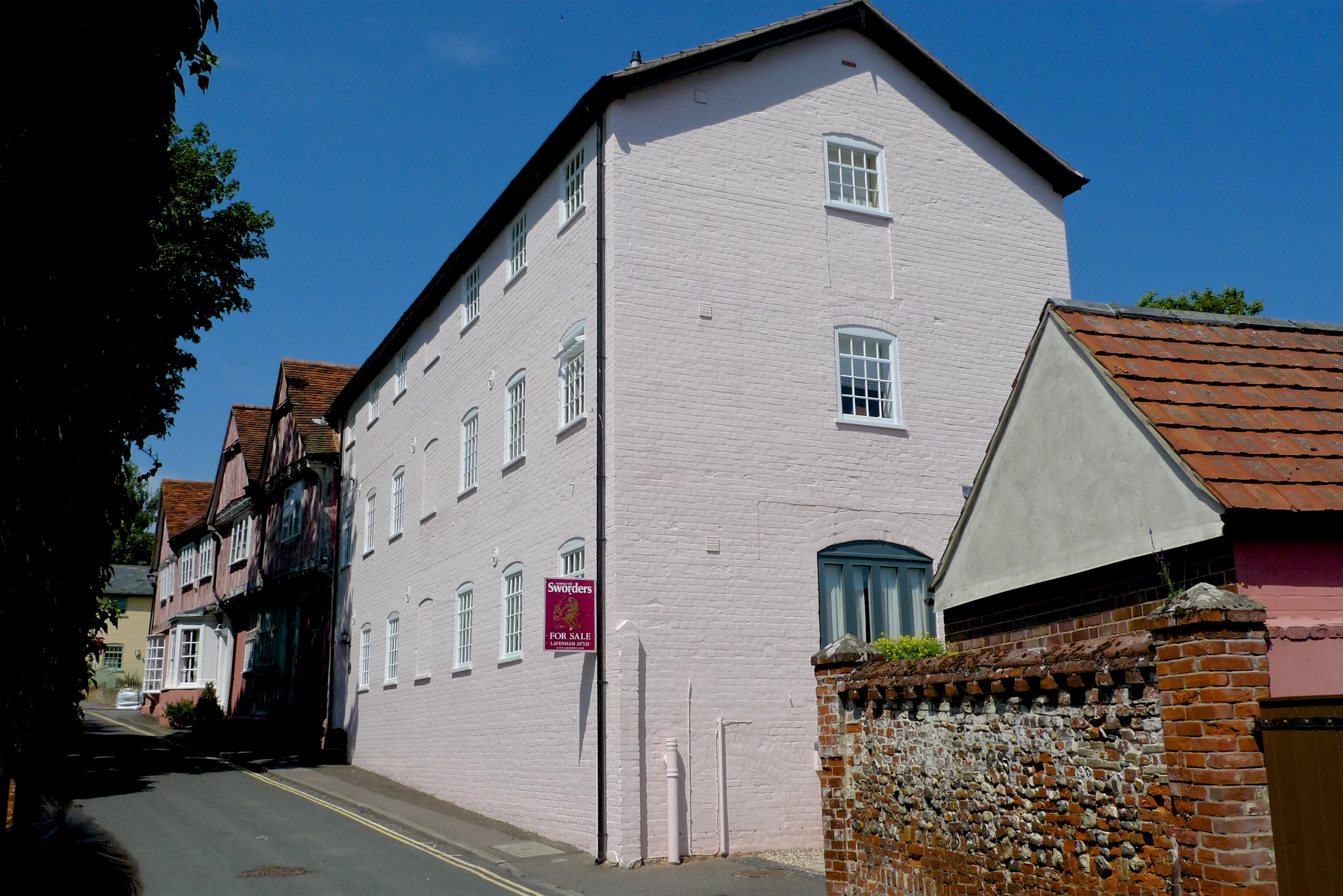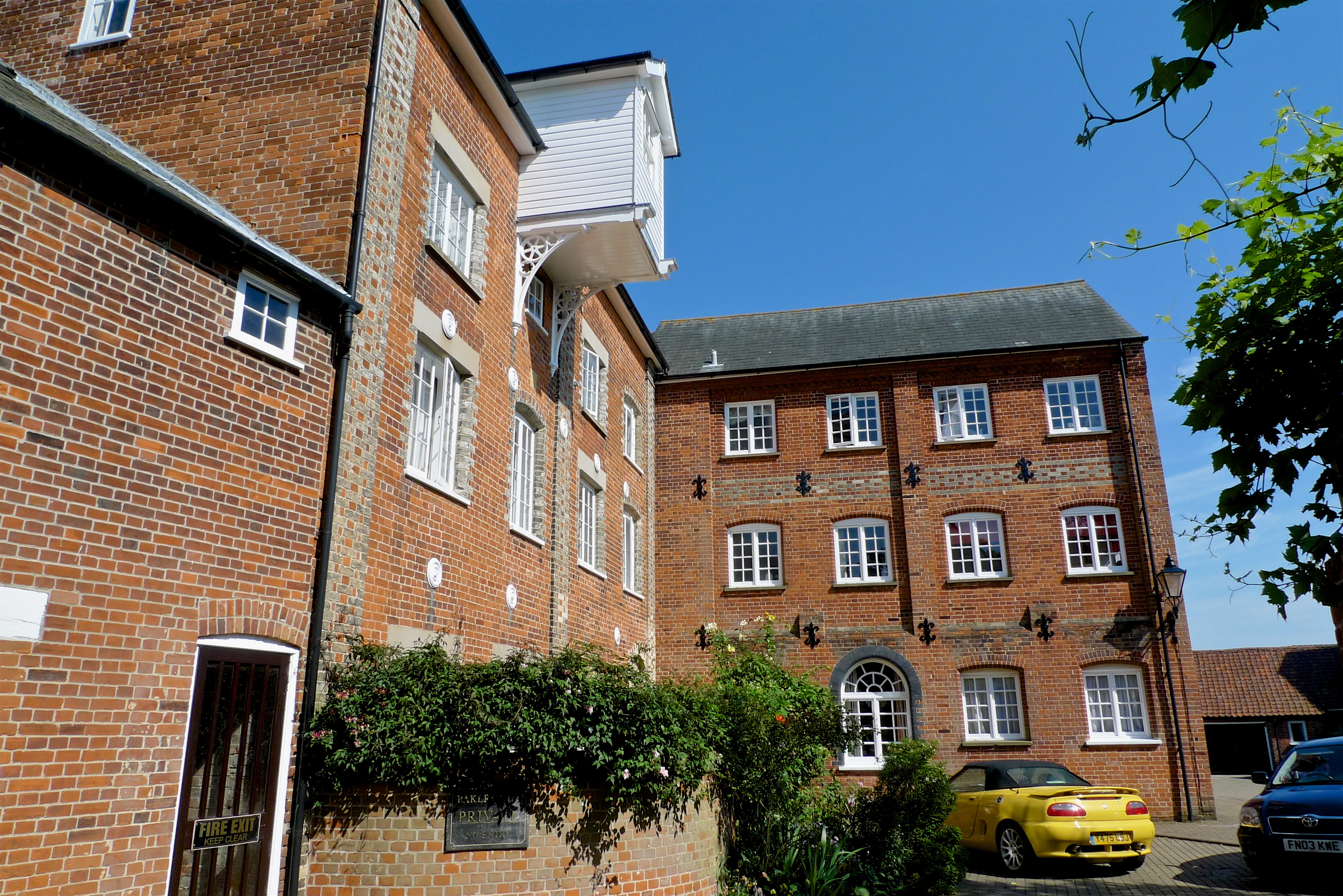 Shilling Street where we find Shilling Old Grange, a large C15 house, much restored.":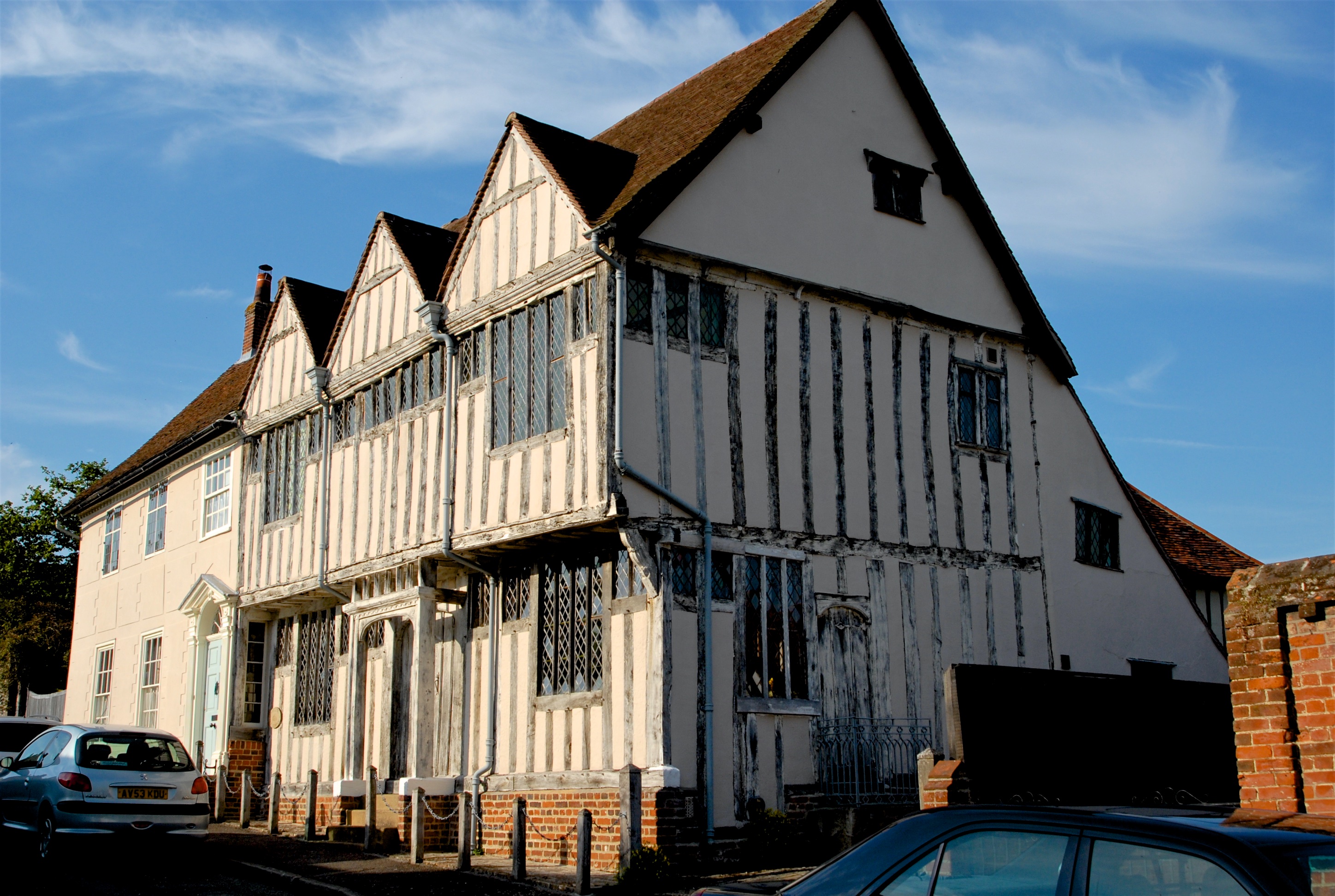 Prentice Street must in conclusion be visited because of Woolstaplers C15, with two different gables with carved C17 brackets: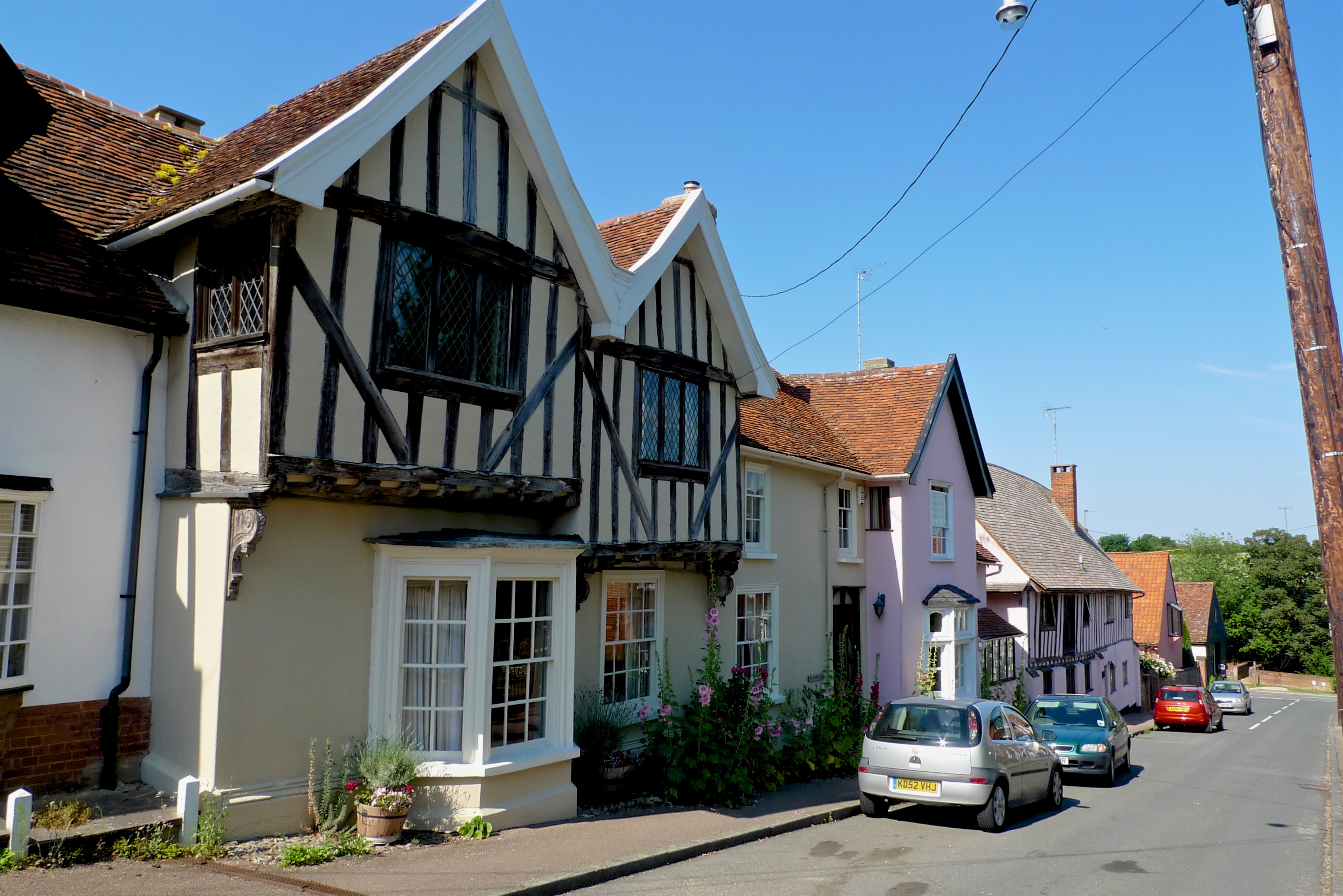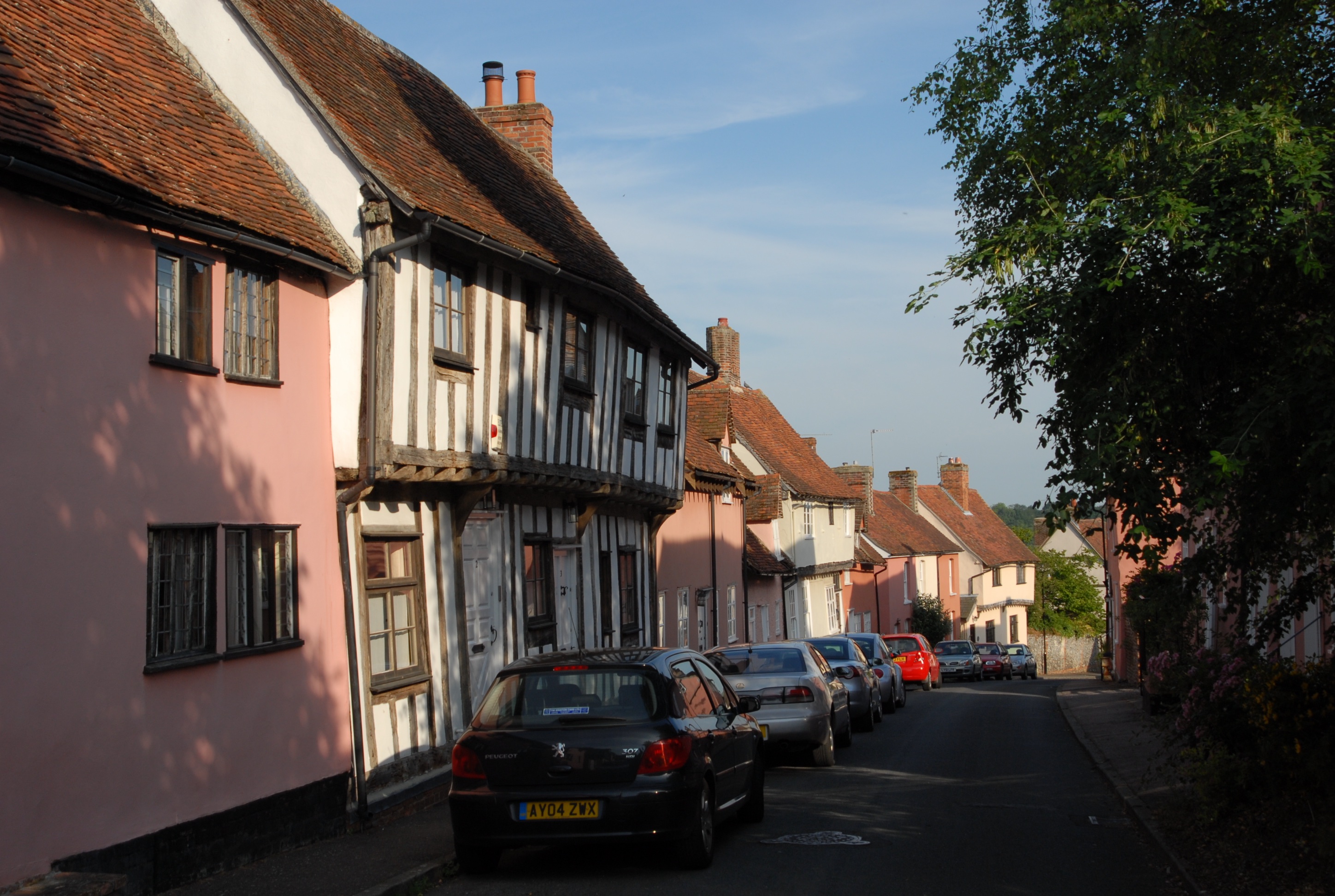 And to conclude this web page with a nice picture, No 89 High Street (Cordwainers) that escaped Pevsner but not the third edition: