Pictures of buildings mentioned in the second edition "Suffolk" volume of "The Buildings of England" series by Sir Nikolaus Pevsner.
After the church there are four entries, only two of which are covered here. He starts with Church Farmhouse of which he says "On one gable-end C15 buttress shafts and the sill of an oriel window with a shield, animals, and a small human figure. By the other gable late C17 re-managements; stuccoed rustication of the window surrounds, and a doorway with a scrolly pediment." Seen here: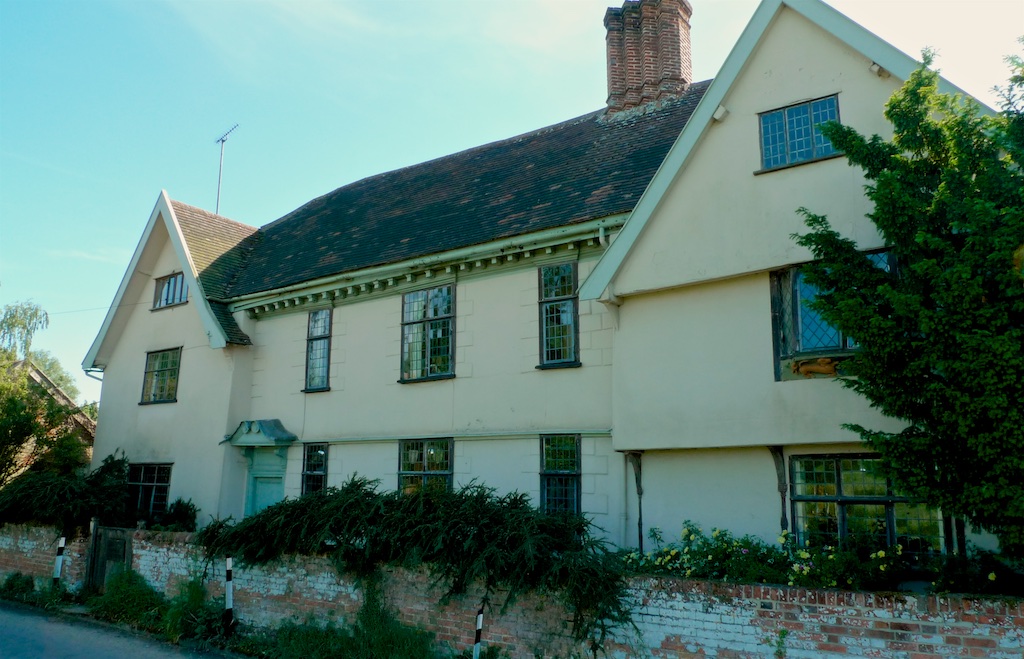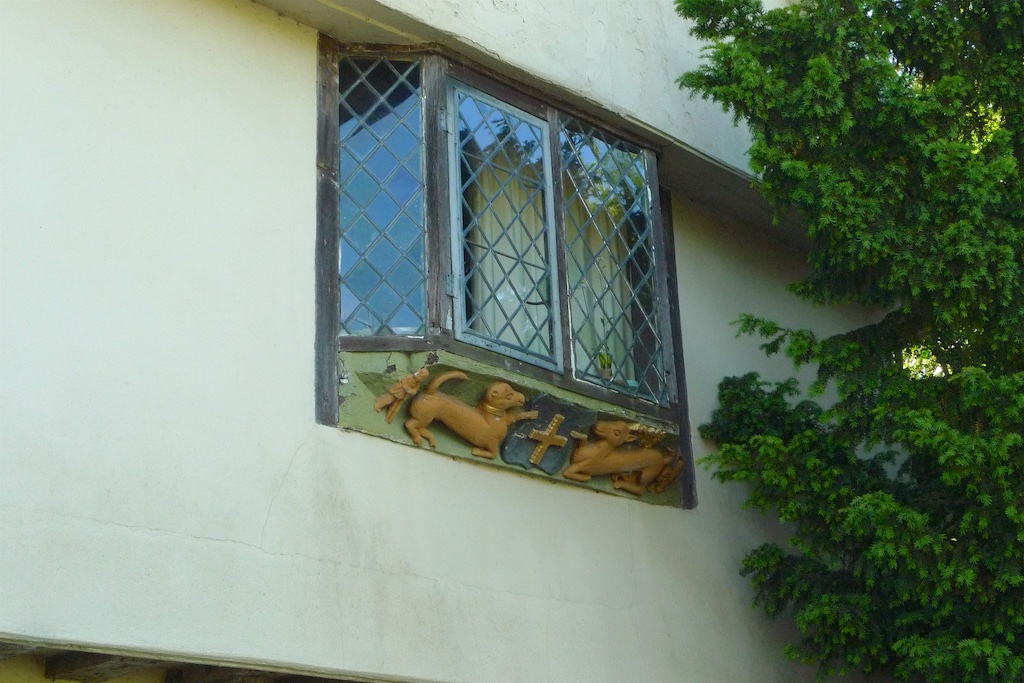 The next is Moat Hall (p391) but on page 41 in a description of late medieval houses, Moat Hall (early C16), gets special mention as "one of the most picturesque, thanks to its moat, but also thanks to the mixture of timber-framing and brickwork.". It is surely one of the finest houses in Suffolk, if a little unloved these days. Seen here: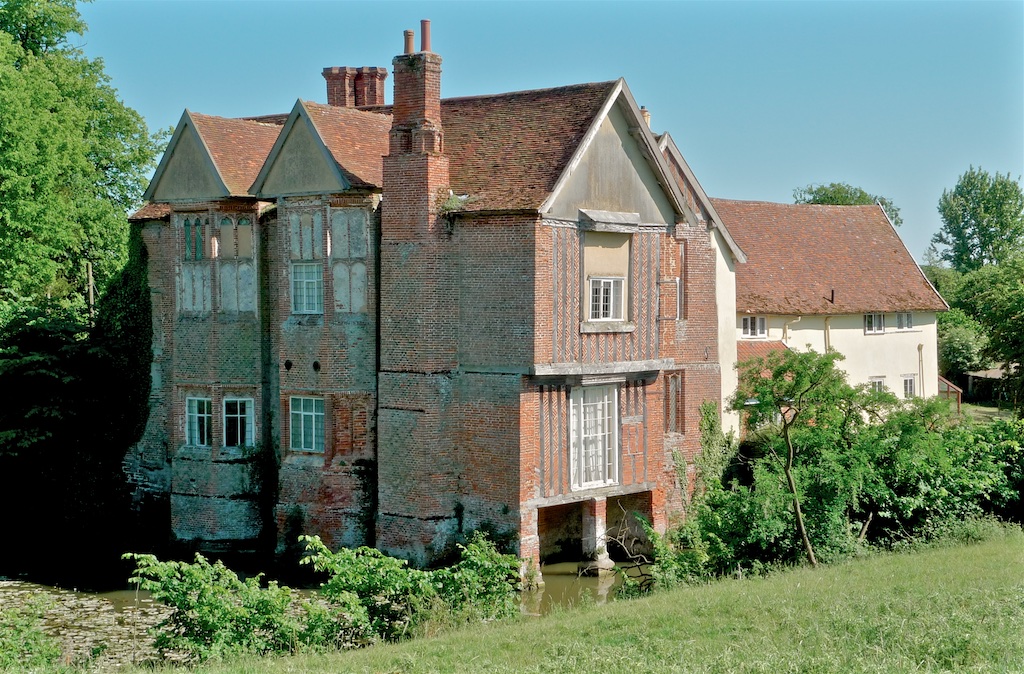 Pevsner describes it as follows: "A wonderful survival. A moated early C16 timber-framed house with substantial brick parts. To the N two canted bays immediately above the moat and traces of a third. They have two- and three-light windows with arched lights, rather low on the ground floor, tall and with transom on the first floor. To the W a fine gable with brick-nogging and a lower brick-faced one. To the S another tall brick window and the traces of a staircase."

Here is another view: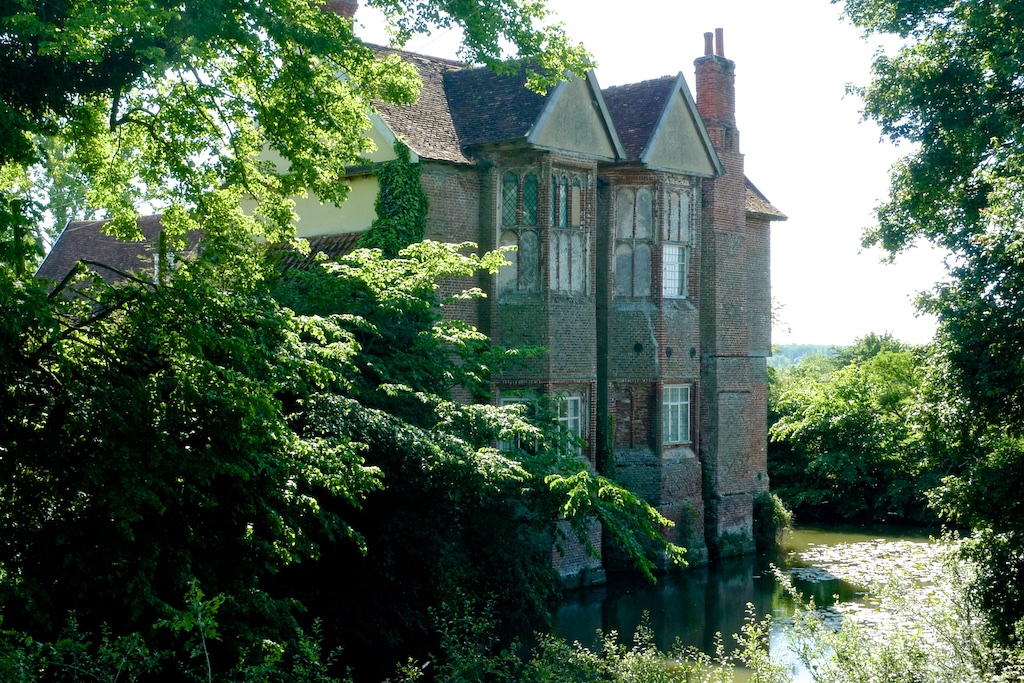 Pevsner concludes the entry for Moat Hall with: "In addition the Gateway with four-centred arch and two niches with Wild Men". Seen here: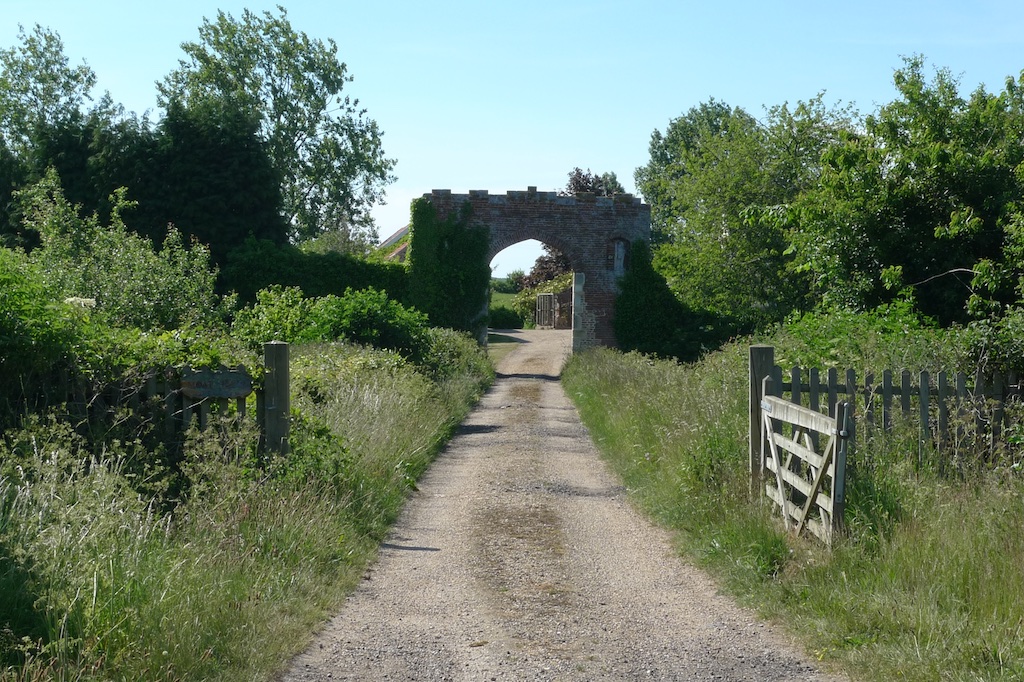 Moat Hall gets an extensive mention in Jane Wight's
Brick Buildings of England
, as follows:


"Moat Hall: Sometimes called Moat Farm.

Entrance across ornamental moat, through simple cut-down Tudor brick archway. This set in crumbly boundary wall, dark brick forming big diamonds. Stone jambs, but brick voussoirs to 4-centred arch. To l. and r. large brick niches with rectangular stone panels inside, each carved with shaggy club-bearing wodehouse (wild-man) in relief. House belonged to Willoughbys (who were still there during Civil War): for them and Wodehouse, see Belleu Hall (Lincs) entry. There was a more elaborate, main gateway, with half a dozen stone shields with Willoughby arms and those of Uffords (Earls of Suffolk), predecessors of manor. This sold and taken to the United States in 1926.

House partly timber-framed, partly red brick, early C16 in date. Now reduced to T-shape of which bar of T mostly brick-built, but S range plastered and later in date (including elaborate brick chimney). No defences. S side of older part retains brick windows, like those on N. E. and W sides (altered) have timber-framed gable ends, with diagonal brick-nogging in herringbones and lozenges. Where brick is used without timber uprights, it is decorated with smaller diamond diapers, with single header in middle of each diamond.

Most notable brickwork that of N facade. This has three large projections, all diapered (worn) rectangular chimney-stacks and two polygonal bay windows two storeys high. Base of chimney shaft ornamented with cusped arcading.
Windows moulded brick, rectangular but lights having arched heads. Only a few of lights are in original state: of the others, some have been blocked up with daub and some have had moulded mullions knocked out and casements inserted. Thus, not much trace of original cusping of heads, though spandrels mostly visible. Despite this destruction, main lines of brick bays are clear enough: central windows at both levels had three lights and side windows two lights. Ground-floor windows not large (and are the most altered), but those of first floor - divided into two sets of lights, fourteen in all to each bay - are 12ft high. House may be attributable to Sir Christopher Willoughby who was at Parham from 1498 to 1527. 'A creation of Tudor romanticism.....ghostly and faded' (Olive Cook). Olive Cook and Edwin Smith. English Country Cottages and Farmhouses, 1960 reprint, and The English House Through Seven Centuries."


Catherine Willoughby, later Duchess of Suffolk after marrying Charles Brandon, was born here and baptised at Ufford.

"Parham Old Hall had belonged to the Willoughby family since the days of Edward II, and Lord William Willoughby brought his Spanish bride, Maria de Salinas, home there in 1516 after their marriage in Greenwich.

Lord Willoughby, soldier and courtier, had fought for Henry 8 in early campaigns in France. His bride was the favourite lady-in-waiting to Henry's wife, Queen Catherine of Aragon, and her devotion to her royal mistress was the dominating force in her life until the day, more than twenty years later, when the unhappy queen, outcast and divorced, died in her arms.

At the time of Lord Willoughby's marriage to the queen's lady-in-waiting, Henry looked with favour on matches between his own subjects and those of his wife's native Spain. This was markedly so in the case of the Willoughbys. ... The king gave handsome proof of his pleasure in this particular wedding by a large grant of lands in Lincolnshire, including the reversion of the manor of Grimsthorpe, occupied by the dowager countess of Oxford, to come upon her death to Lord Willoughby and his wife Maria.

Henry also paid the new Lady Willoughby the signal compliment of naming one of his new ships after her, the Mary Willoughby.

Lord Willoughby and his young wife ... had a daughter in ... March (1519 or 1520) ... and was christened by the name of Catherine, the queen's name."

It is said that she was baptised in the beautiful fifteenth-century font at the church in Ufford (Suffolk), which was largely built by her Willoughby ancestors. She grew up at Parham.