Pictures of buildings mentioned in the second edition "Suffolk" volume of "The Buildings of England" series by Sir Nikolaus Pevsner.
The entry for Polstead has the church, Polstead Hall, the pond, Pond Farmhouse and a dovecote. Not all are accessible but unusually we will start with the church itself as it is important in the story of English and Suffolk brick. See also
Bricks
.
Pevsner says: "The bricks are most puzzling. They are in size 10 to 11 in. by 5 to 7 in. by 1.75 in. So they cannot be Roman: the Roman size is 18 by 12in. On the other hand the earliest accepted English Bricks, those at Coggeshall in Essex, are 12 by 6 by 1.75 in., and that would go well with Polstead. But Polstead is earlier in all probability, and that would give it the distinction of having the earliest surviving English bricks".
Jane Wight in
Brick Building in England
(pub. 1972) says: several authorities are convinced that Polstead bricks are English made. Date is late C12, perhaps 1160, and so earlier than those at Little Coggeshall (Essex). Some brick quoins to remodelled exterior of church, which Cautley thinks the same date as those inside". The listing of earliest brickwork (p224) is headed by Polstead which specifically mentions the arches.
James Bettley in the third edition of Pevsner ducks out and says "It seems futile to attempt to determine whether Polstead bricks are older than Coggeshall bricks, and bricks at Bradwell, also in Essex, may be yet older. A more interesting question is, what led the builders here to make and use brick?" Nevertheless, we can be fairly sure that these at Polstead are amongst the oldest if not the oldest English bricks.
So we'll start with some views of the church bricks, starting with some interior brick arches: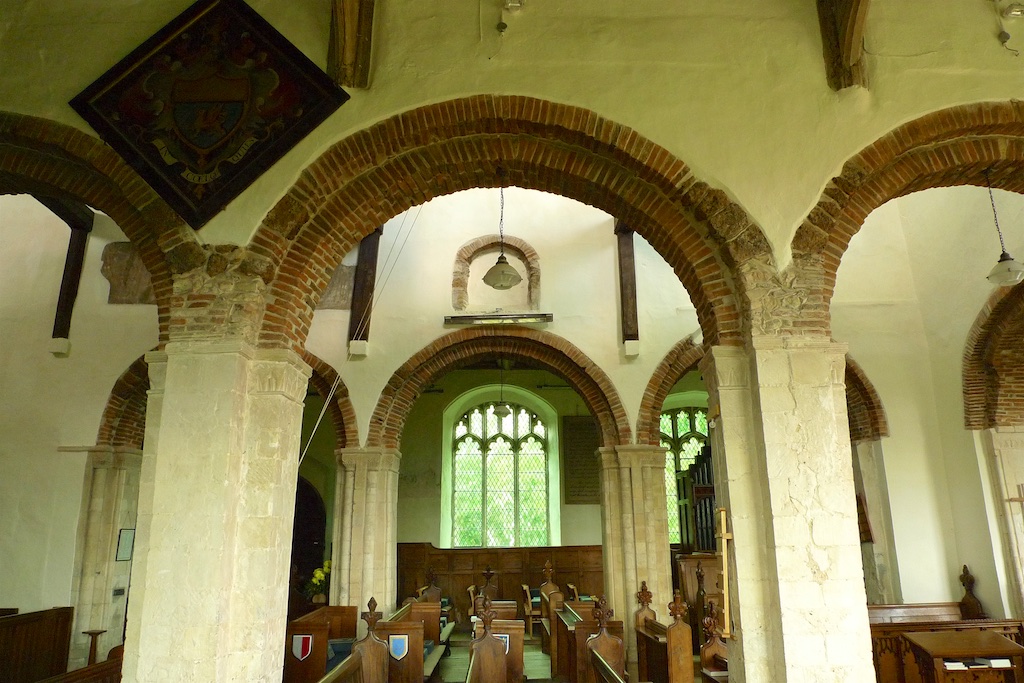 And here we can see some on the outside of the church: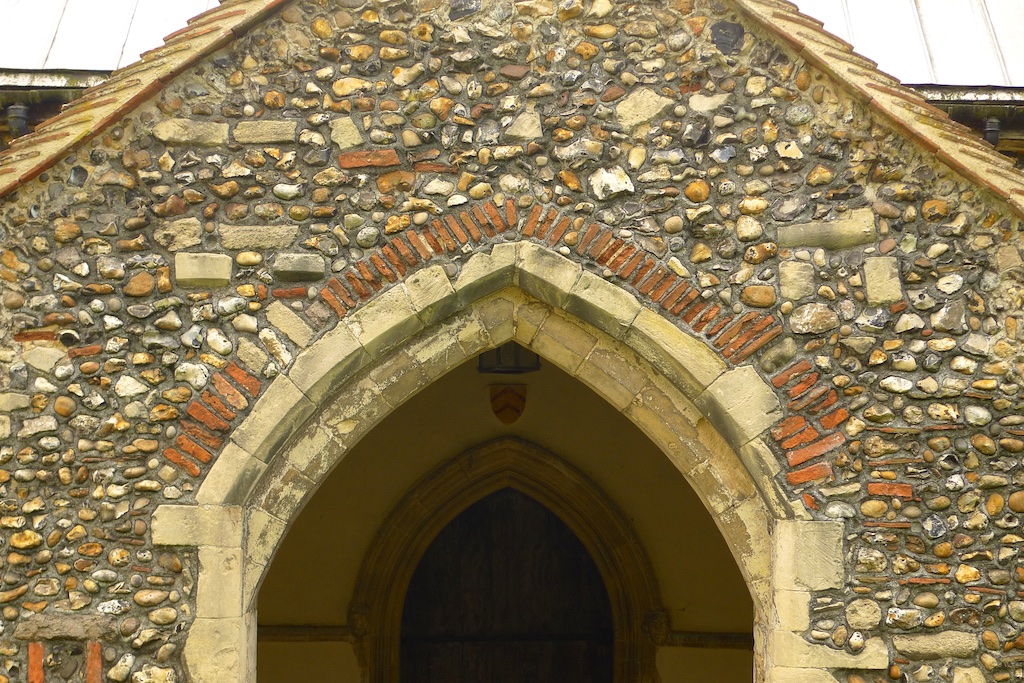 After the church, Pevsner moves on to Polstead Hall, of which he says: "Large, simple Georgian house of white brick. Front with one-storeyed porch in antis and two canted bay windows. Colvin mentions improvements of 1818-19 by W Pilkington. Timber-framed C16 work at the back". This is a view from the churchyard: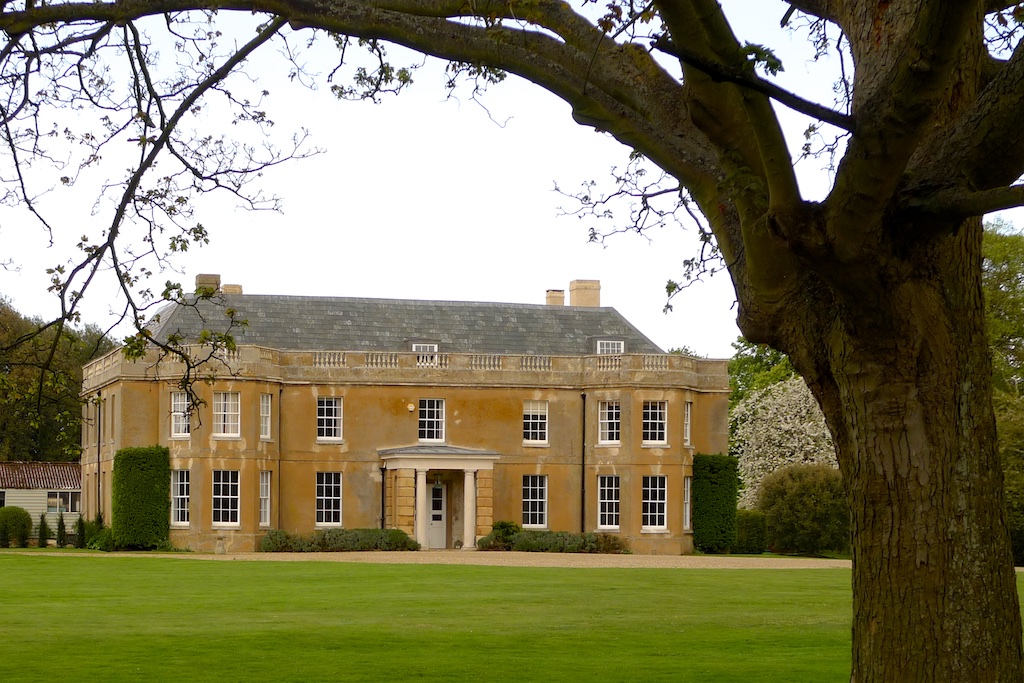 Pevsner continues: "At the foot of the rising lane that leads to Hall and church lies the pond". seen here: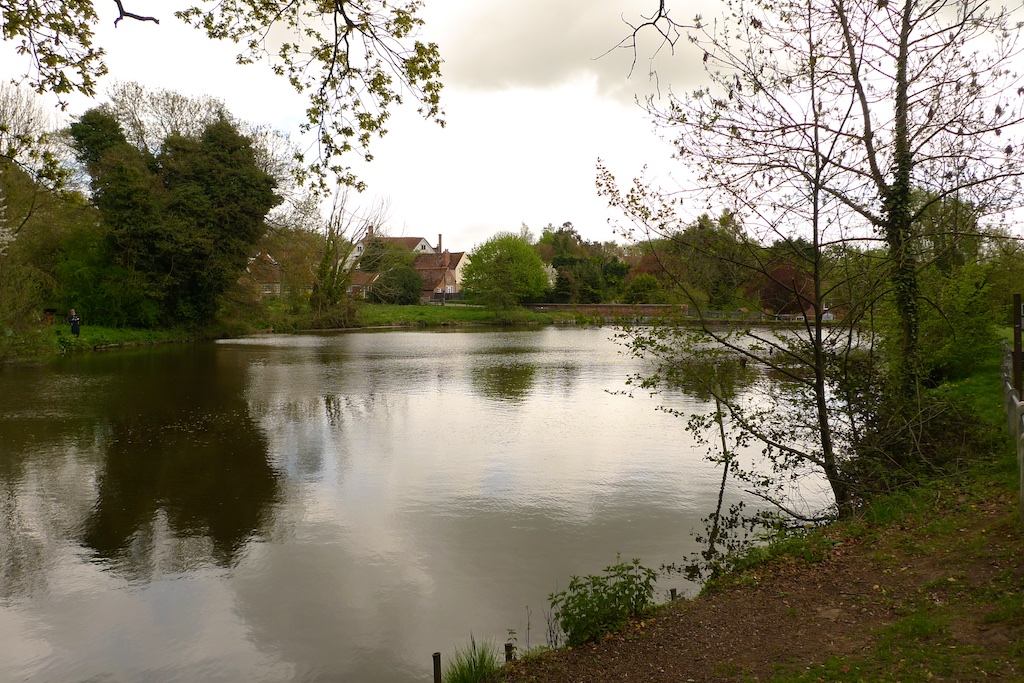 Then: "close to it Pond Farmhouse (not pictured here) and "A square dovecote close by". Seen here: