Pictures of buildings mentioned in the second edition "Suffolk" volume of "The Buildings of England" series by Sir Nikolaus Pevsner.
After the churches, Sudbury merits a "perambulation" (three in the third edition). Pevsner starts with: The hub of the town is the church of St. Peter. The town extends from there in all directions, but there is nothing of architectural interest to the NE. To the SW Market Hill slopes gently down. On it bronze statue of Gainsborough who was born at Sudbury."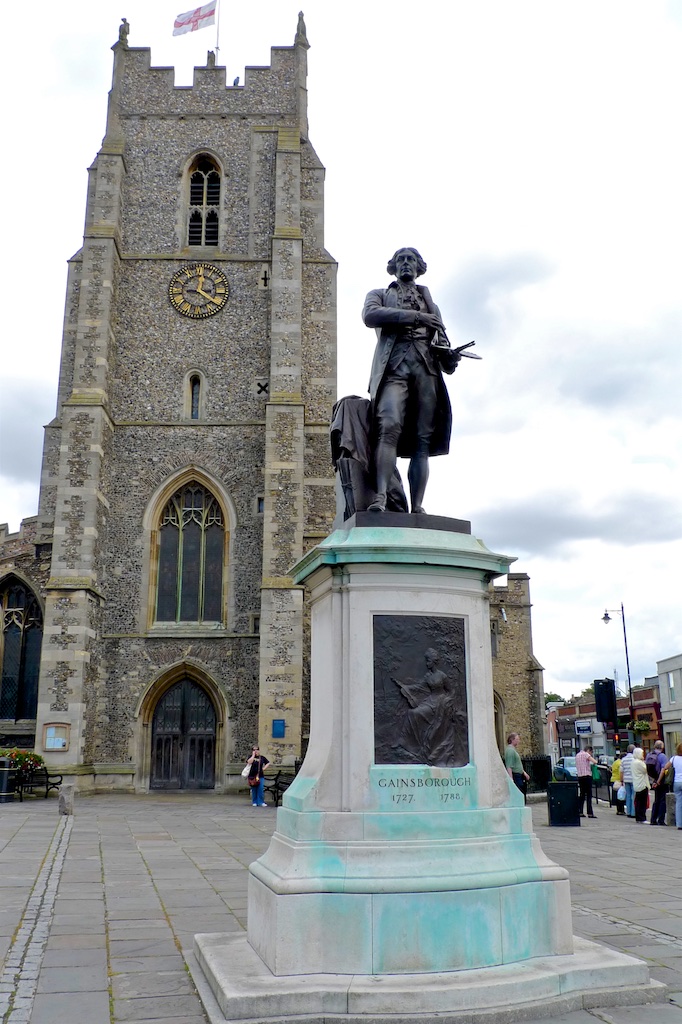 There then follows a series of buildings in the vicinity, some of which are noted below: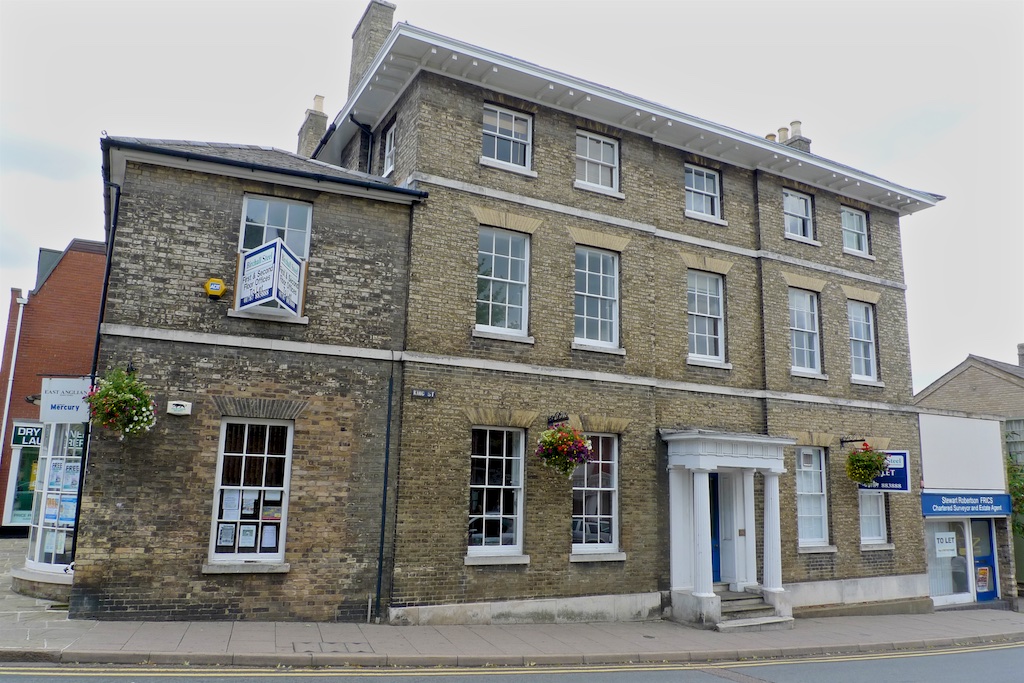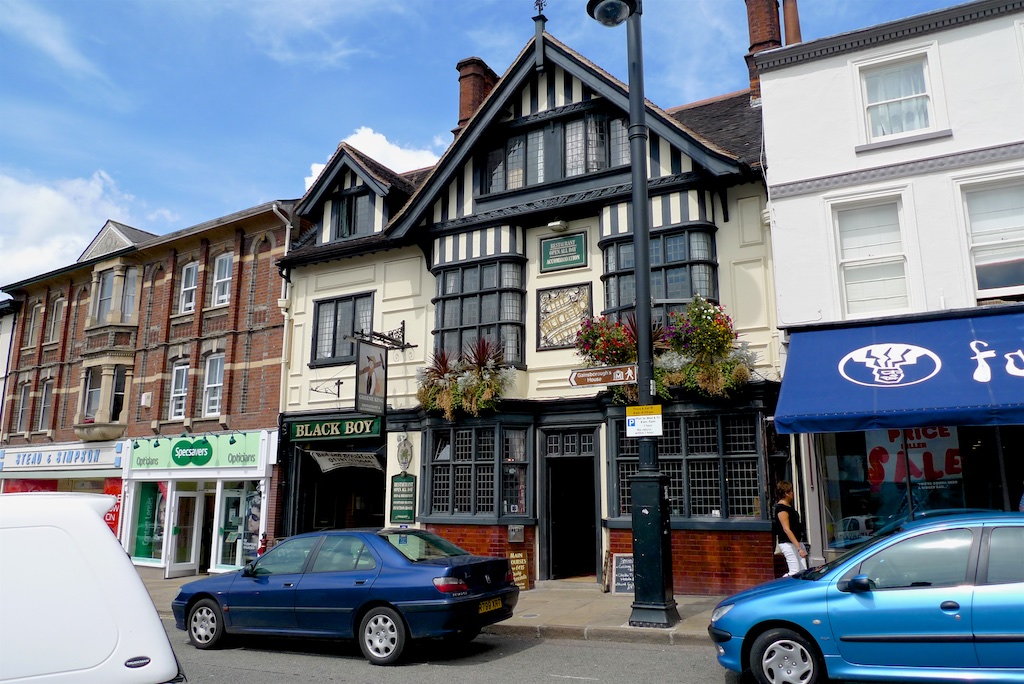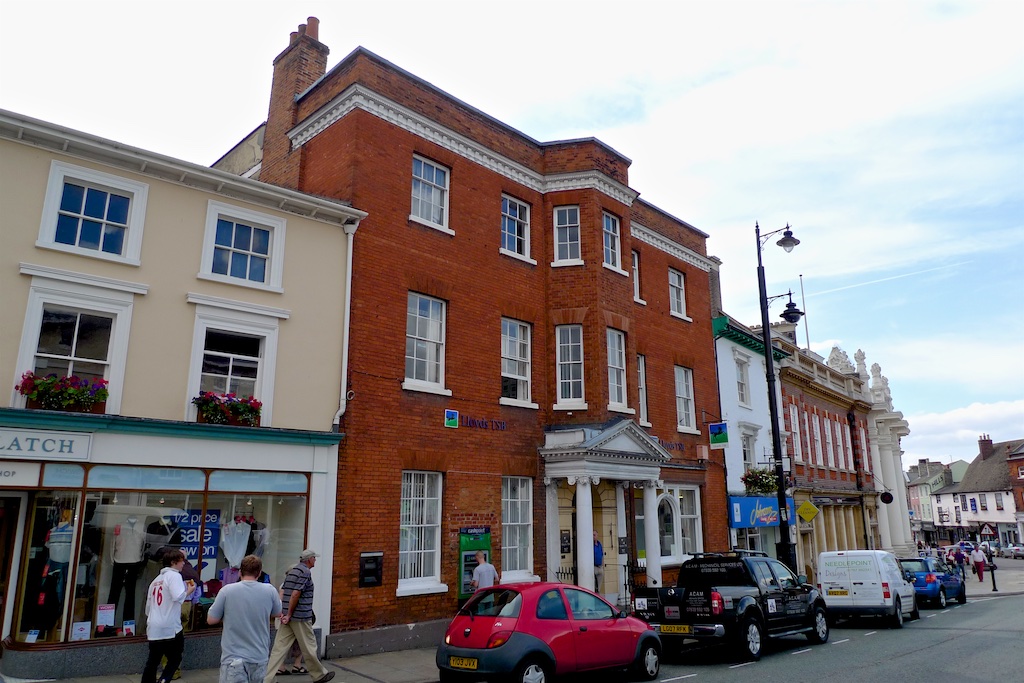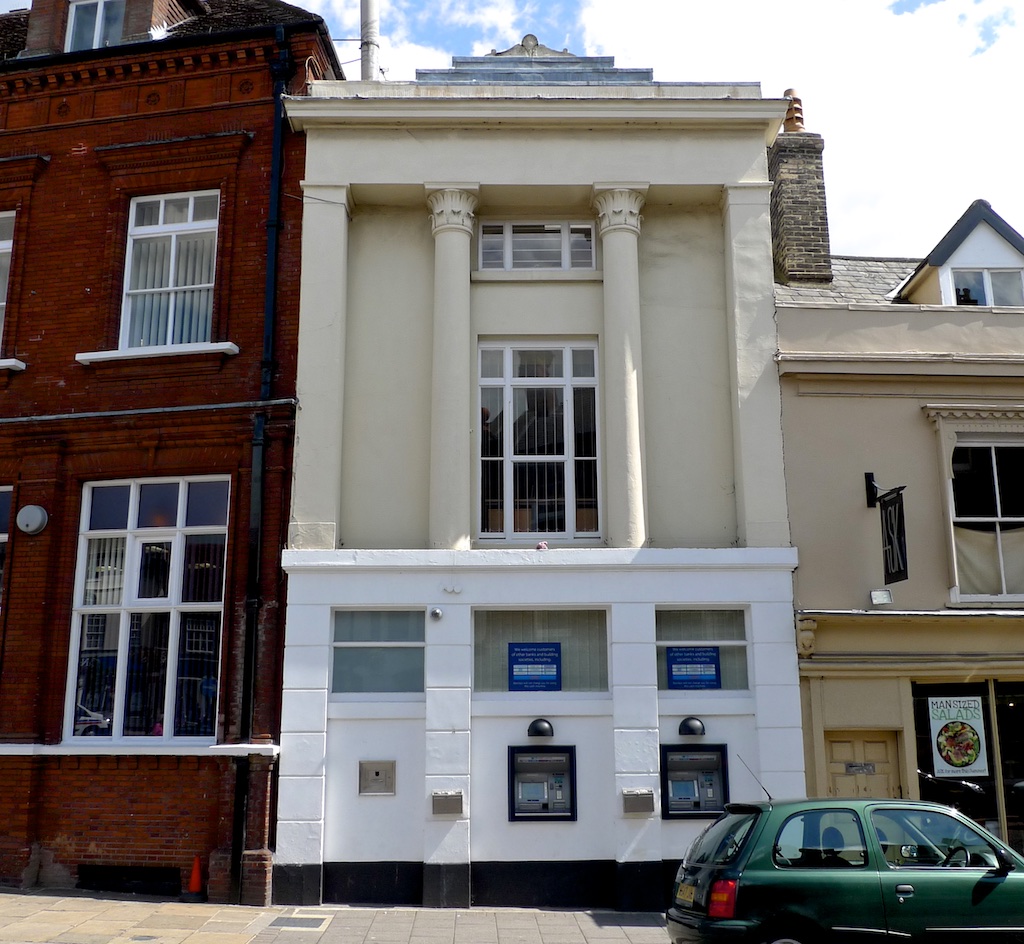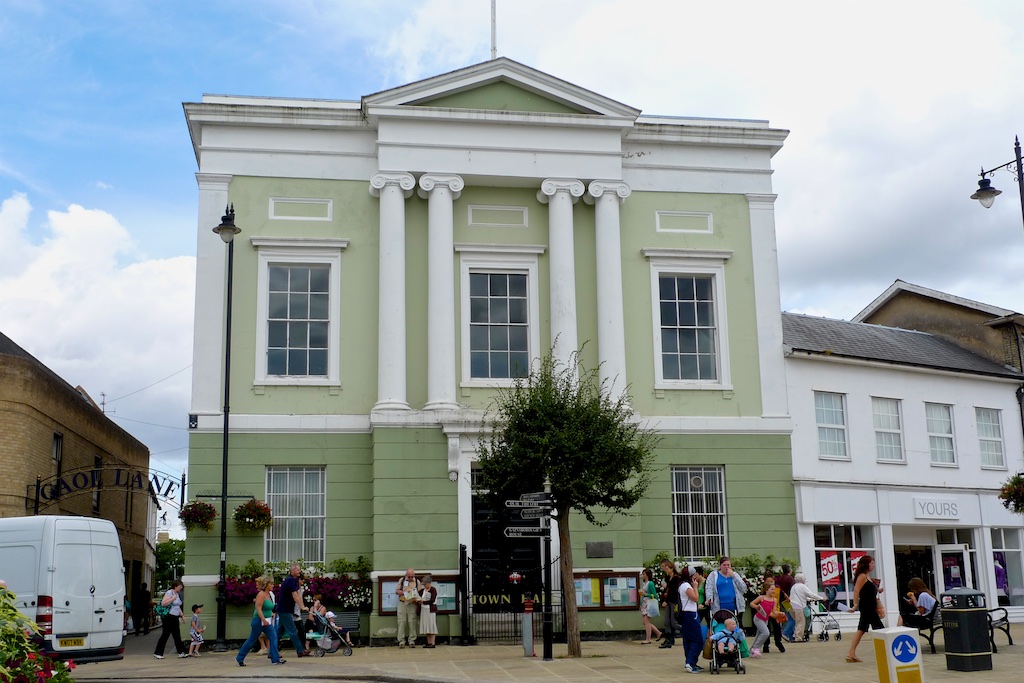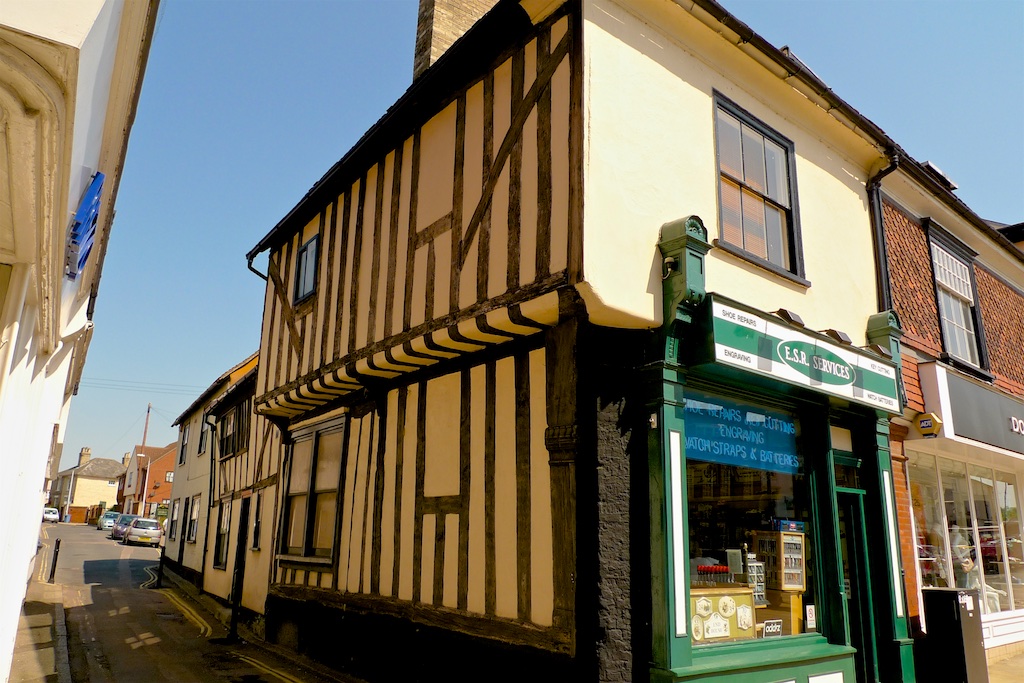 Corner (before) Weavers Lane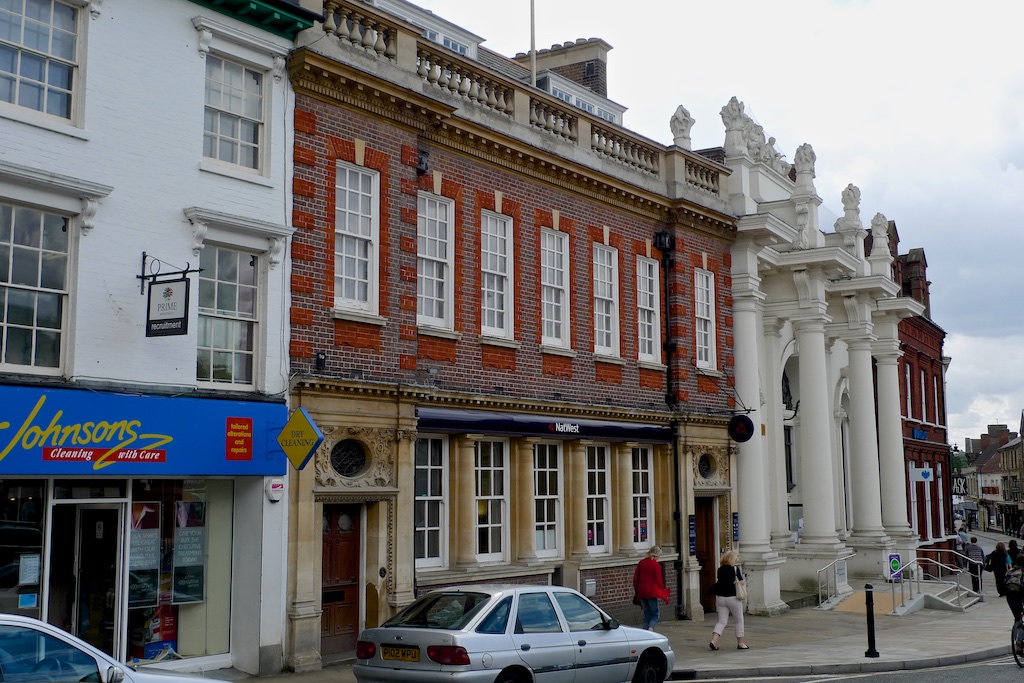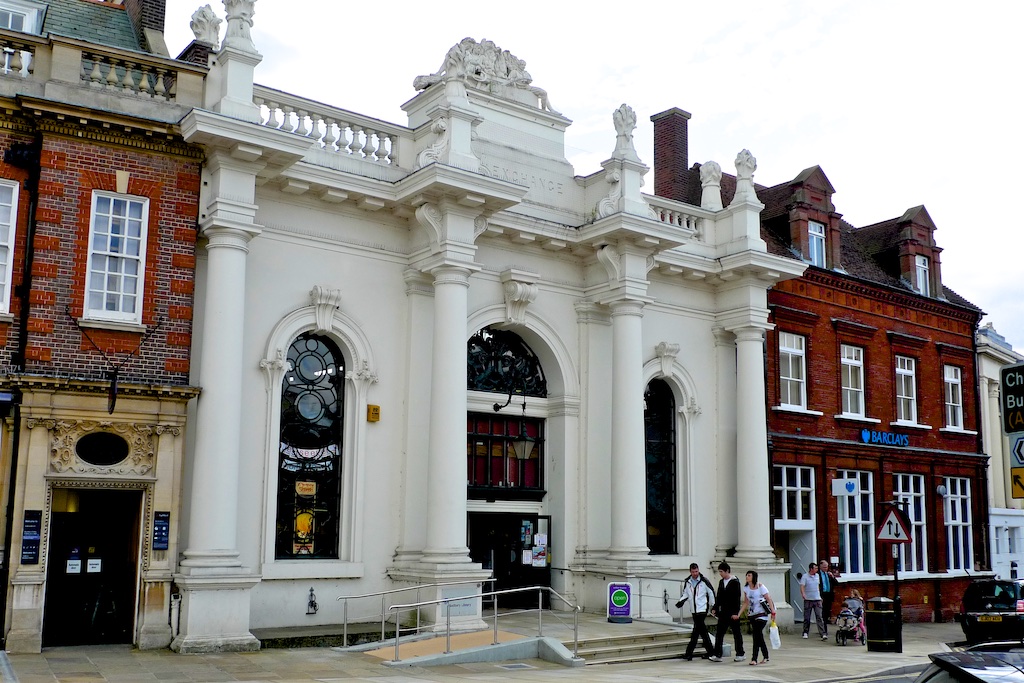 In Gainsborough Street the only memorable house is No 46 where Gainsborough was born. The family bought the house in 1725, and that must be about the date of the new building. Red brick (only headers) and rubbed red brick trim. Five bays, two storeys, parapet. Segment headed windows. Doorway with Doric pilasters and straight entablature. Seen here:
On to Stour Street with "Several attractive timber-framed houses (e.g. St. Mary's with an C18 doorway)". As seen here:
"the climax comes - with The Chantry and Salter's Hall, side by side. The Chantry is of the C15 and has a good corner post, carved with the figure of an angel, and thin buttress shafts." As here: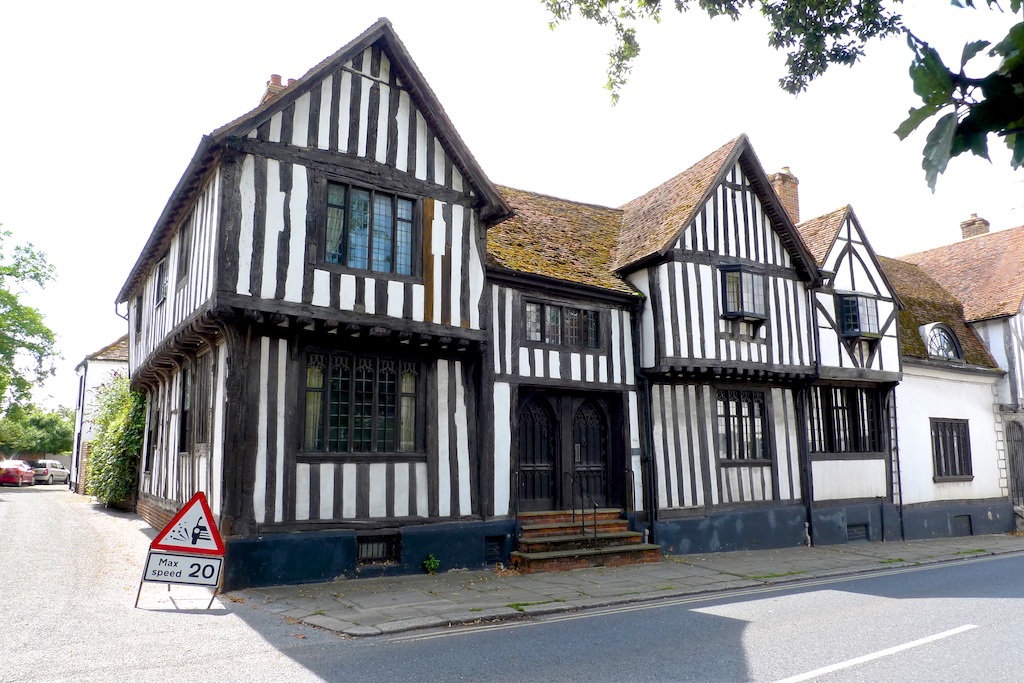 "Salter's Hall is yet finer. Built c1450, buttress shafts and a pretty oriel on a carved soffit with a man and some animals, windows with delightfully delicate tracery. Seen below: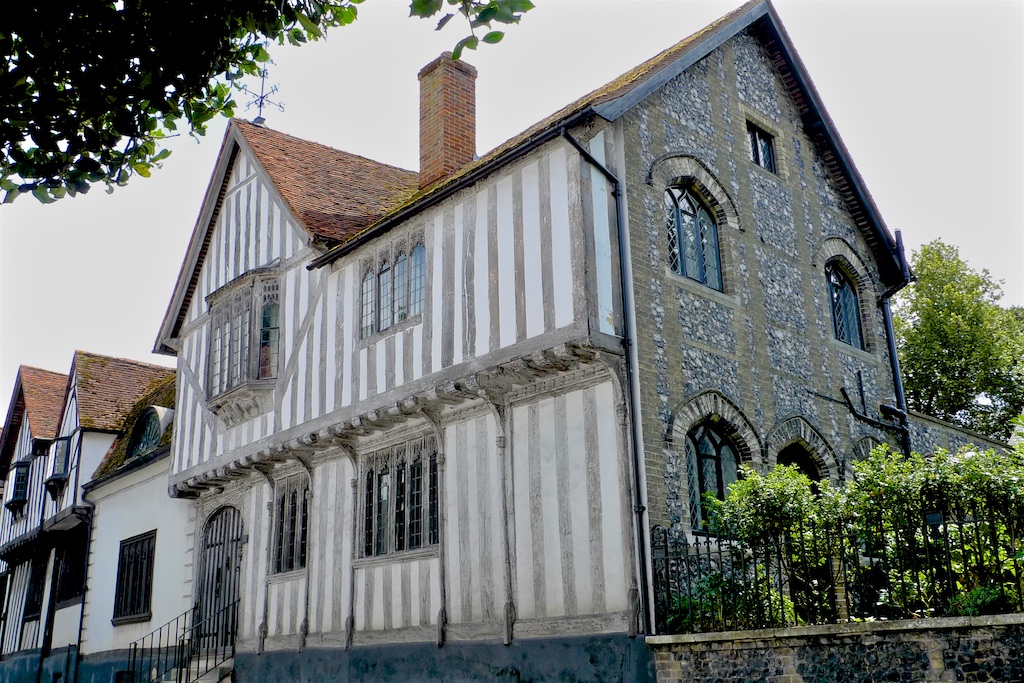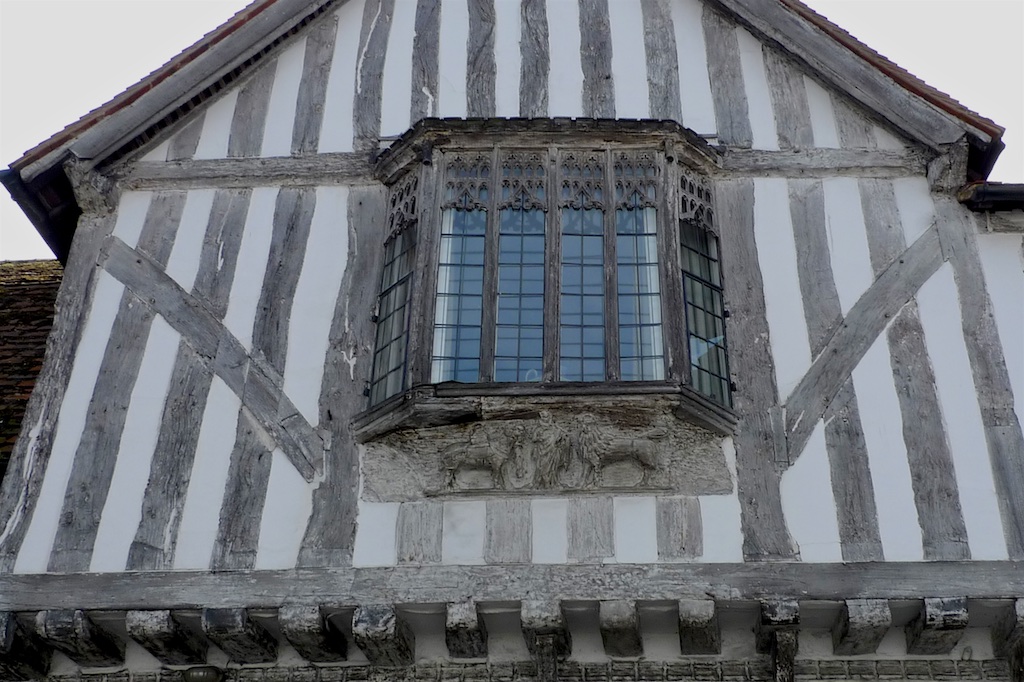 "Stour House, opposite, is later and also good." (Now Cleve Hall) Seen here: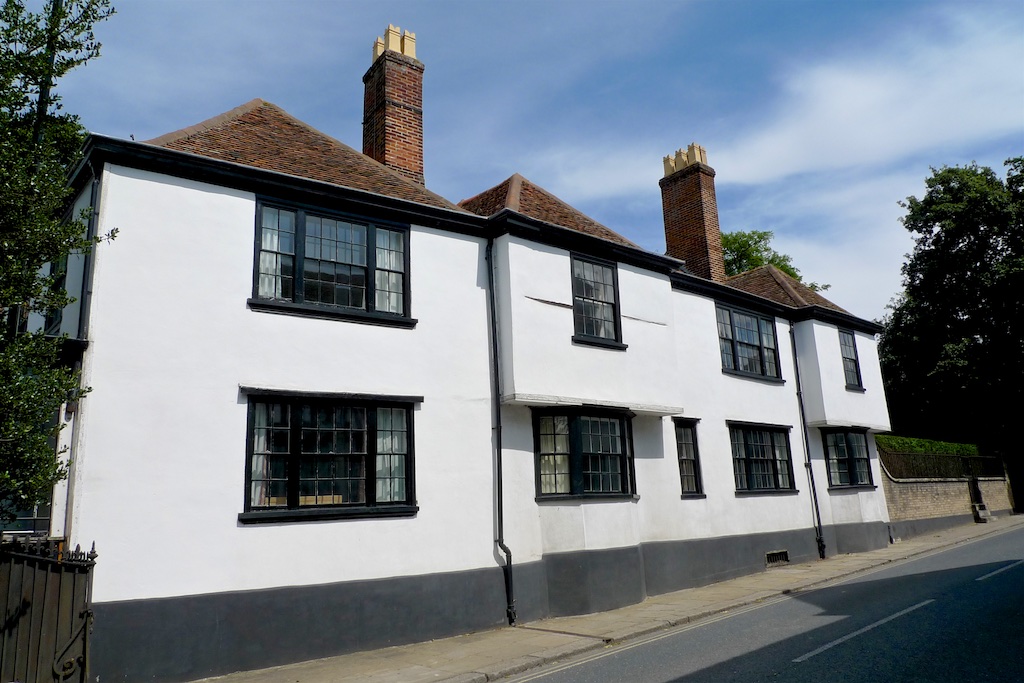 On then to Cross Street with the so called Old Moot Hall (the Moot Hall was in fact in Market Hill). This is another C15 house. Big gable on the l. with oversailing first floor below it. Handsome oriel window. Some original doorways." Seen here: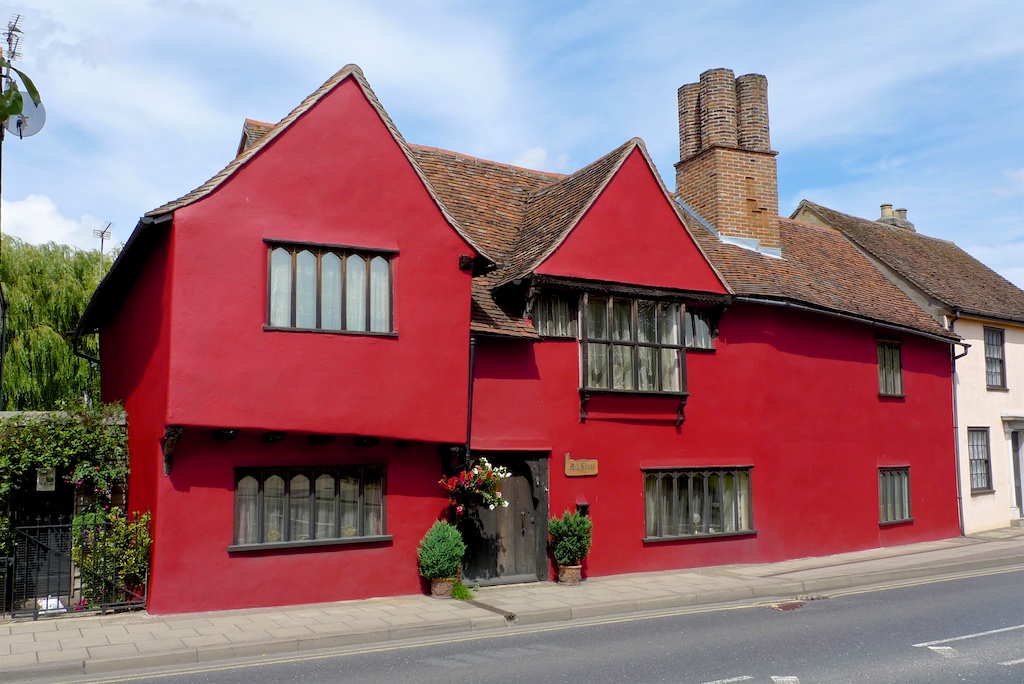 "Into Friar Street. Here on the r. some scanty and reused remains of the Blackfriars, the Dominican Priory founded before 1248. Archway and doorway of timber, probably from the gatehouse. Then several nice timber-framed (e.g. No 17) and Georgian houses (not the doorways of Nos 58 and 31)." A rare misprint for "note". Some of these follow: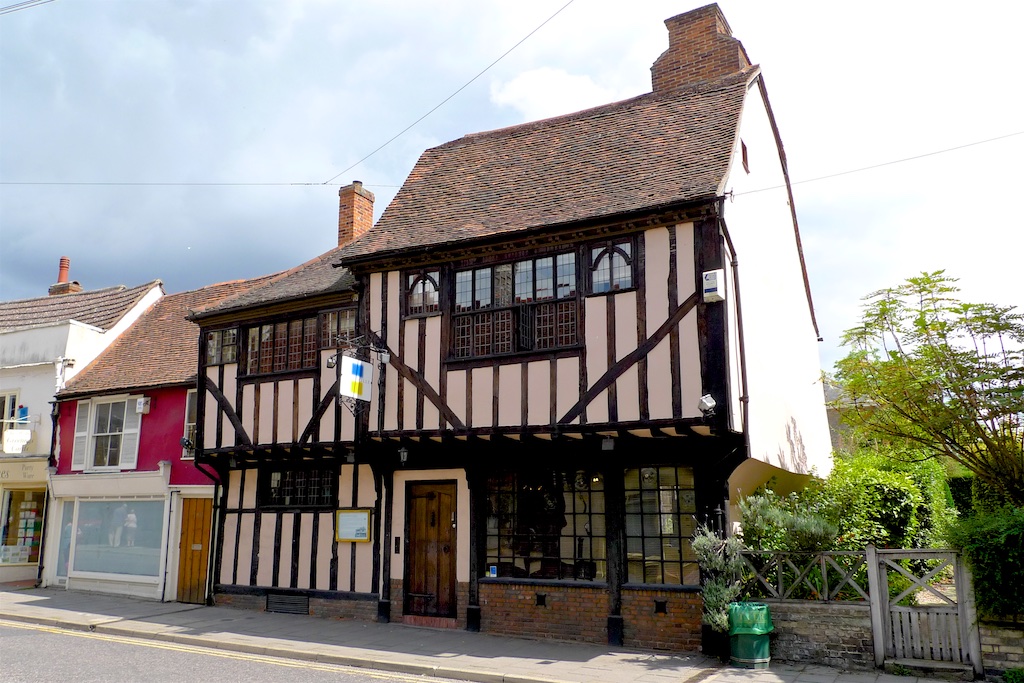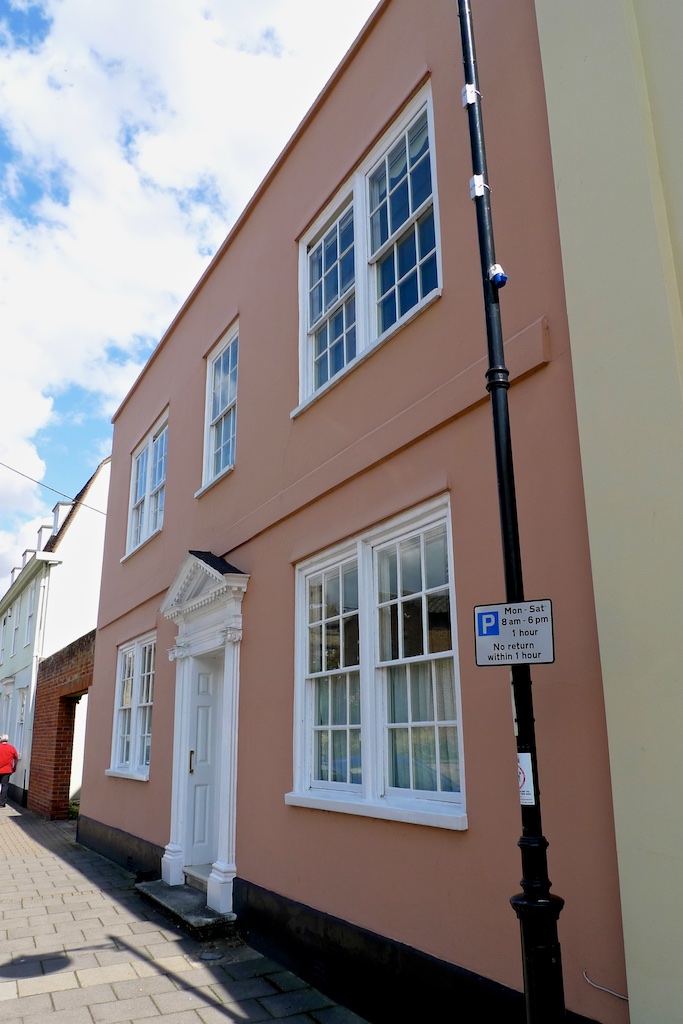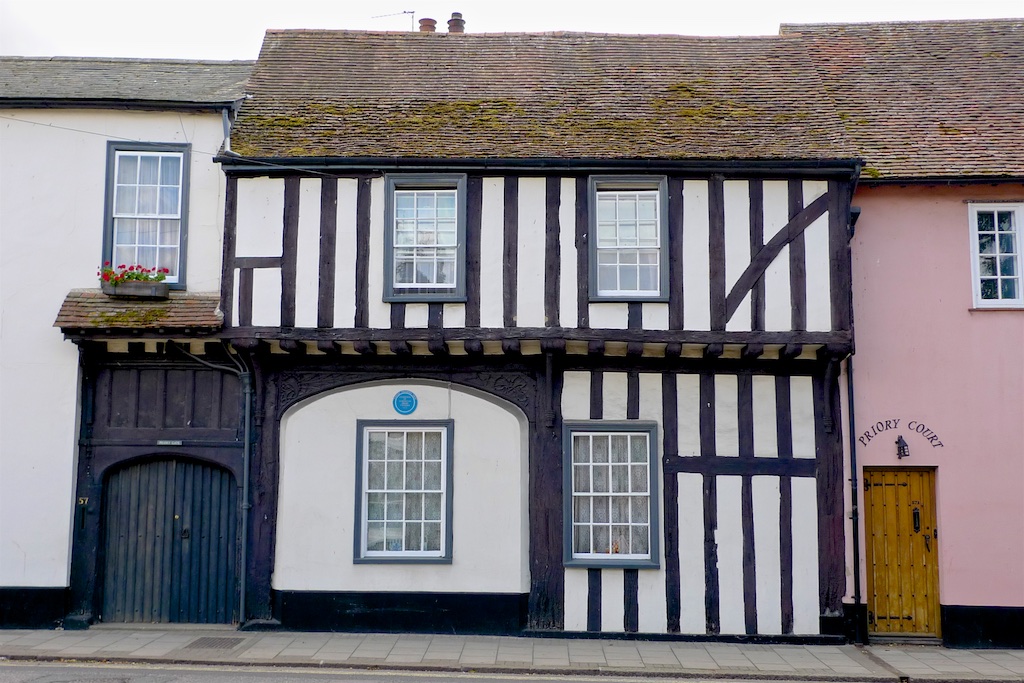 Reused remains of the Priory - archway and doorway of timber, probably from the Priory gatehouse.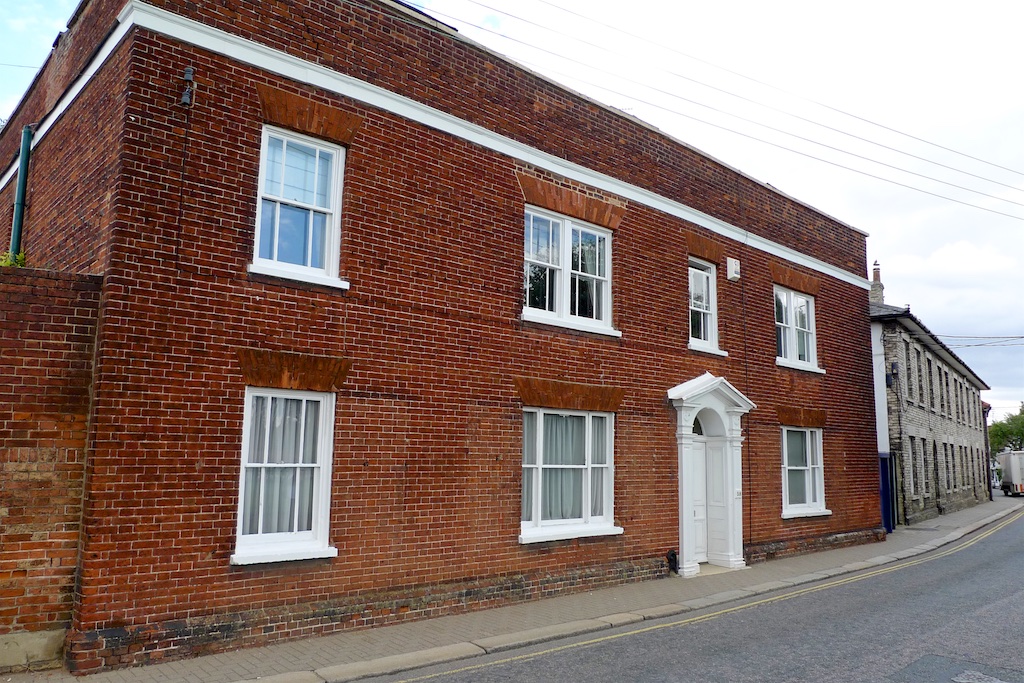 "down Bullock's Lane to the r. the Red House, the stateliest Georgian house in Sudbury: five bays, but a very wide centre with Venetian window (later widened) and pedimented gable." At this point Pevsner returned to Market Hill followed by a diversion to Ballingdon Hall. The third edition devotes the entire third "perambulation" to the hamlet of Ballingdon. The Red House is shown below: