Pictures of buildings mentioned in the second edition "Suffolk" volume of "The Buildings of England" series by Sir Nikolaus Pevsner.
Pevsner details two churches, the Friends Meeting House, the Congregational Church, the Baptist Chapel and the Methodist Church before his "Perambulation" where he notes that "Woodbridge is two separate things: the church with the Market Place … and the Thoroughfare, about a mile long."

Here are the Friends Meeting House (now a house), one view of the Congregational Church (taken before changes to it when it merged with the Baptists) and the Baptist Chapel (then for sale and also now a house):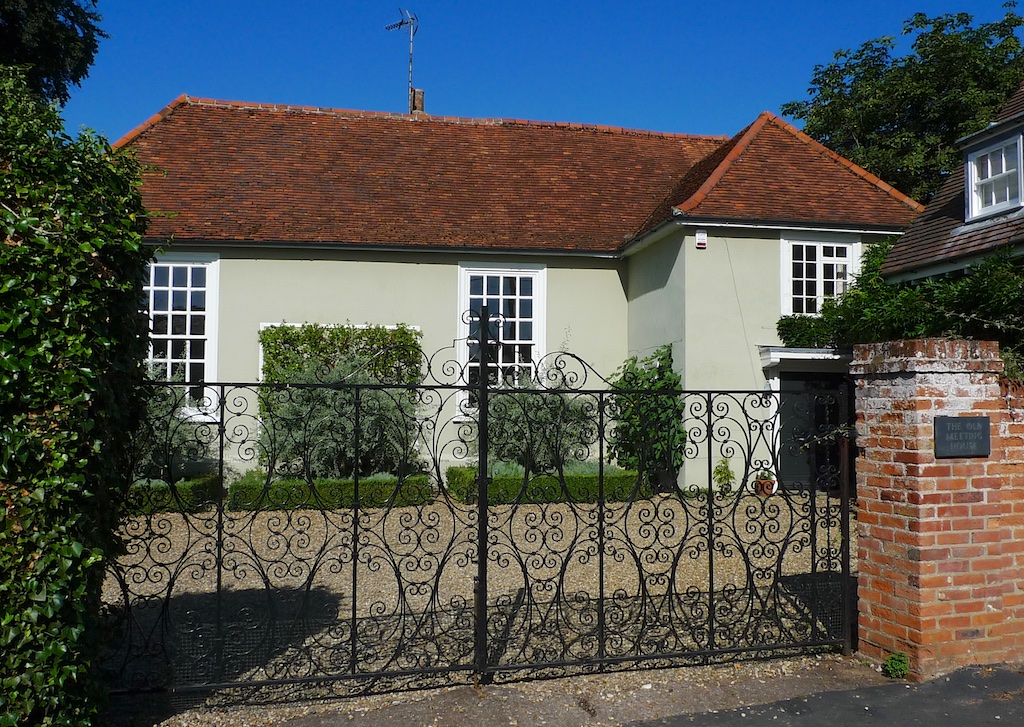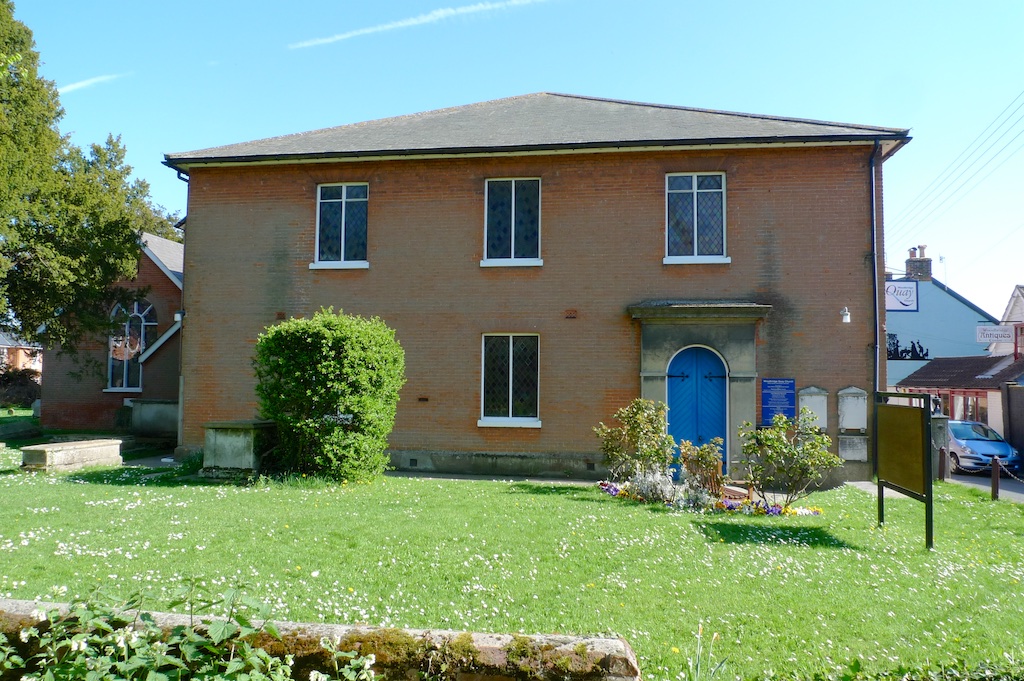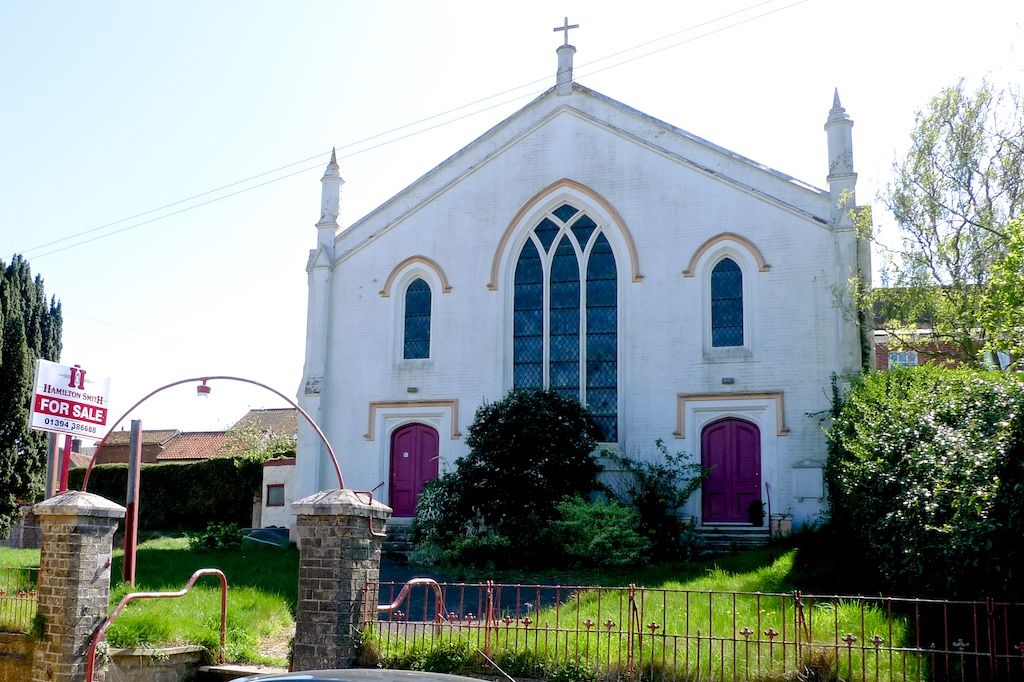 The "perambulation" starts in Market Hill which is dominated by the Shire Hall of which, Pevsner says: "given by Thomas Seckford and built, it is said, c1575. If that is true there must have been many changes. The building stands handsome and modestly proud in the middle of the triangular market space. It is of red brick." Seen here: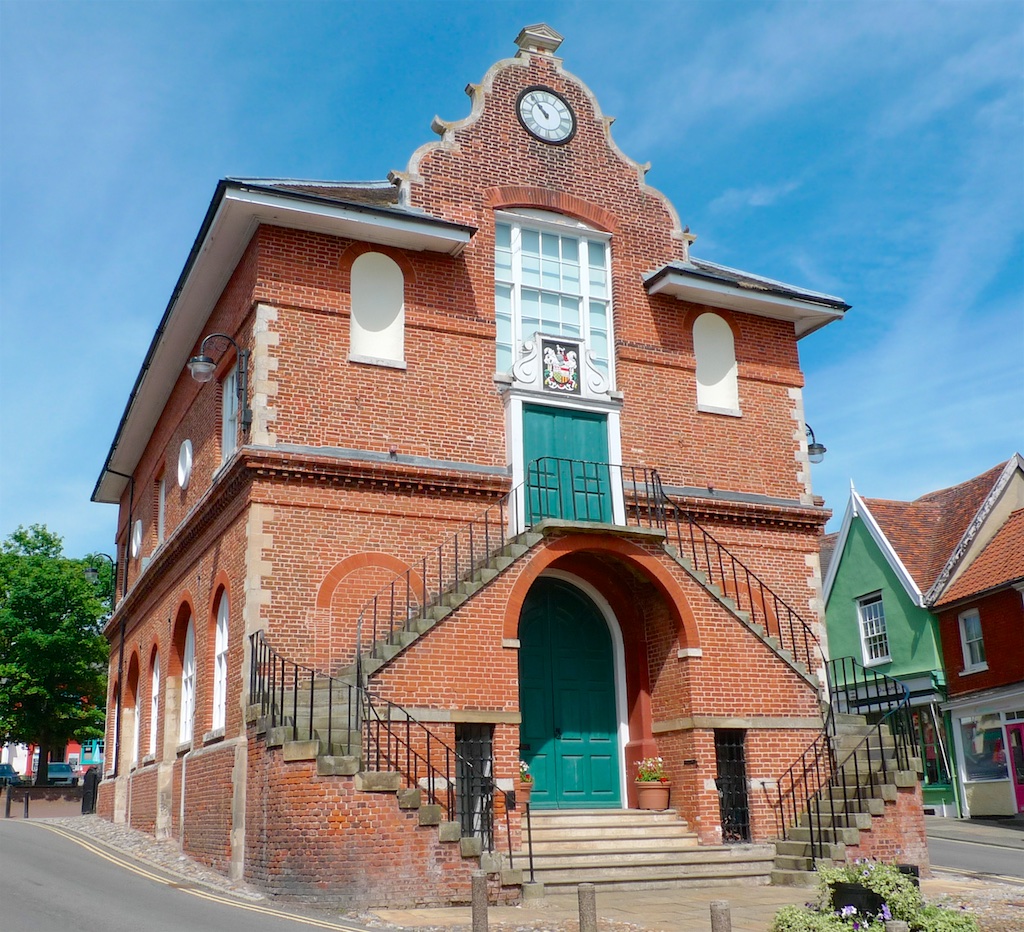 At the other end of the Shire Hall is the Market Hill Pump: "Gothic and a wheel pump. It dates from 1876." Seen here: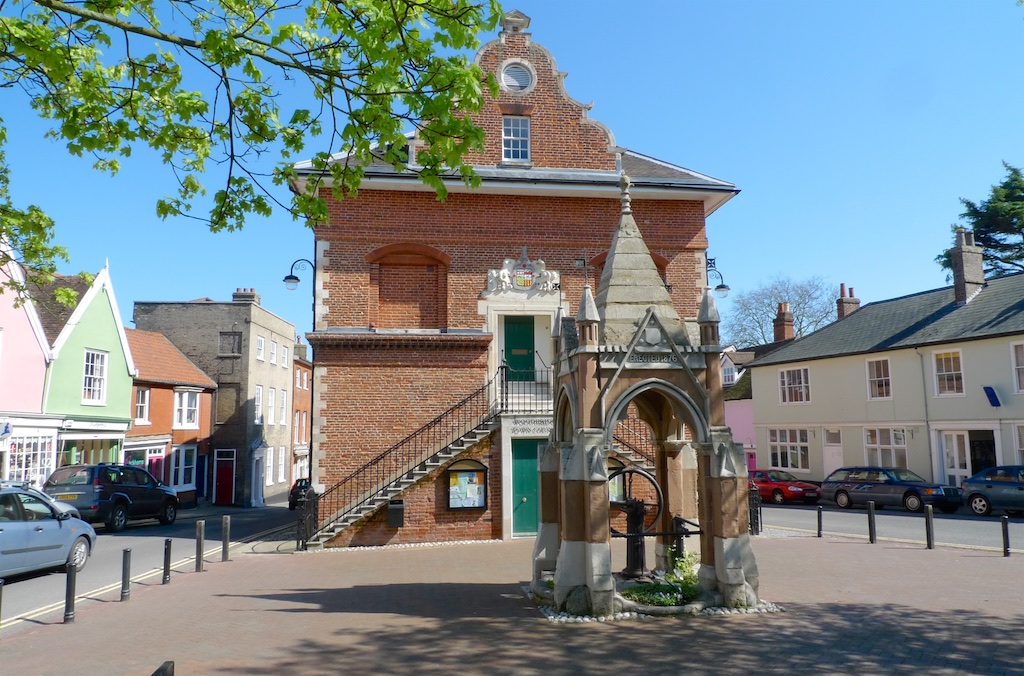 "On the W side the King's Head Inn, timber-framed with an overhanging upper floor to Seckford Street." Seen here (without apostrophe):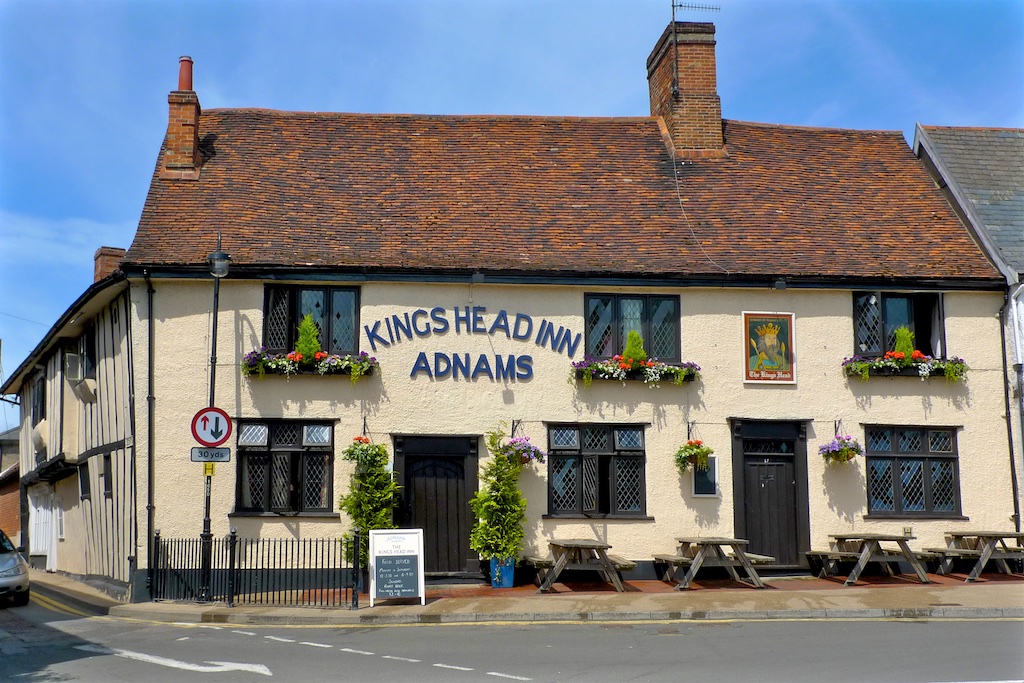 "On the N side No 32, timber-framed with three gables but Georgian shop fronts on the ground floor." Seen here: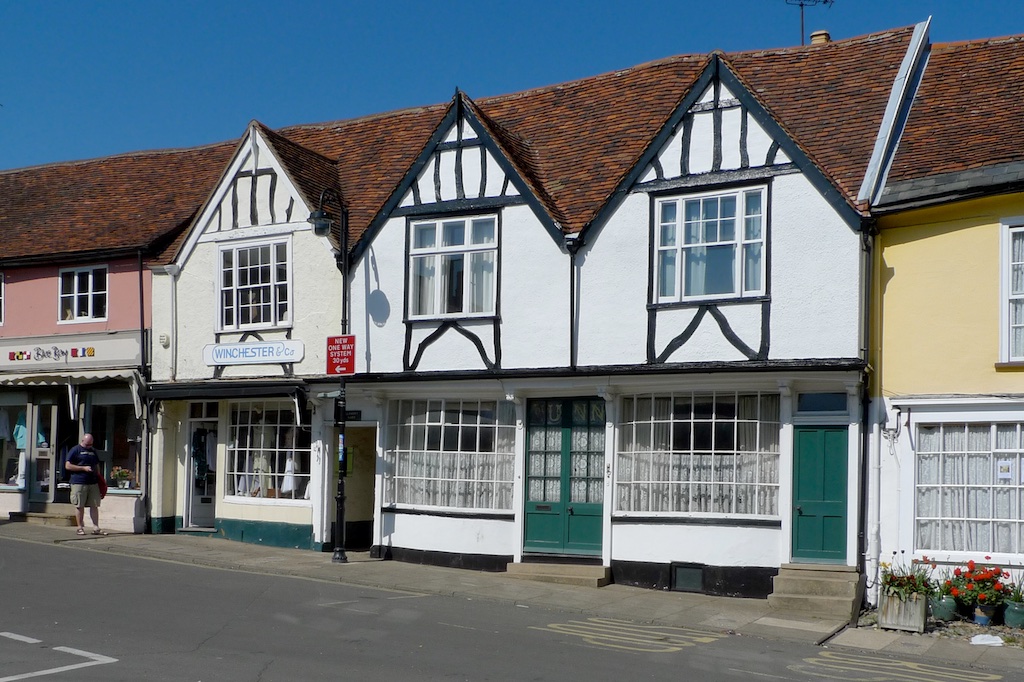 Next to Seckford Street for "28-32, with a pretty pargetted oval wreath. Also the Seckford Hospital, the design by C. R. Cockerell, 1834." The latter now housing. Seen here: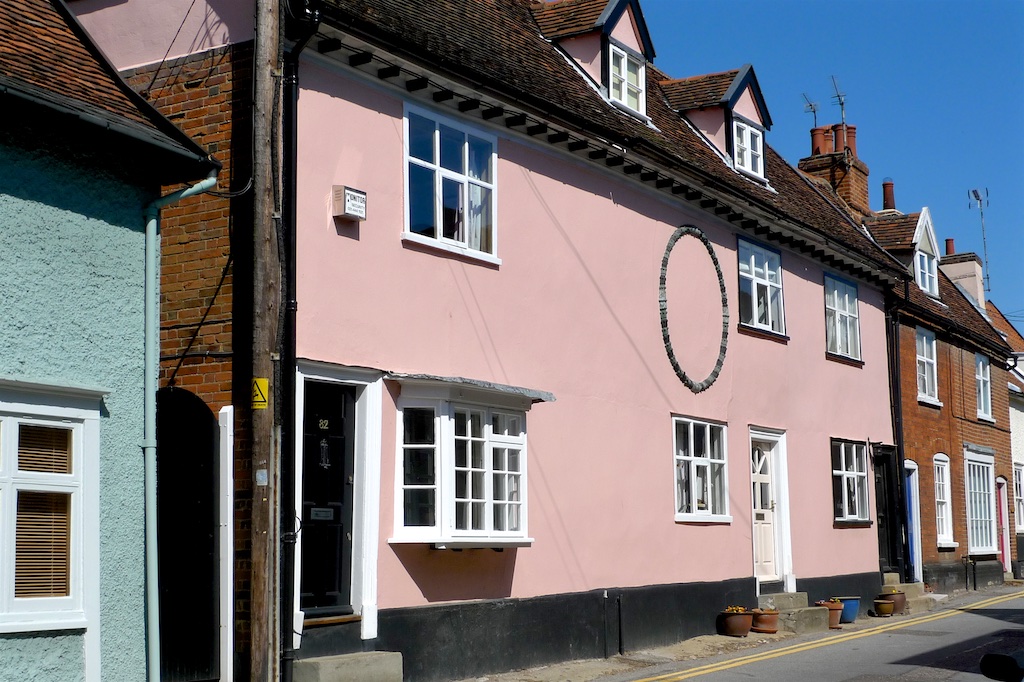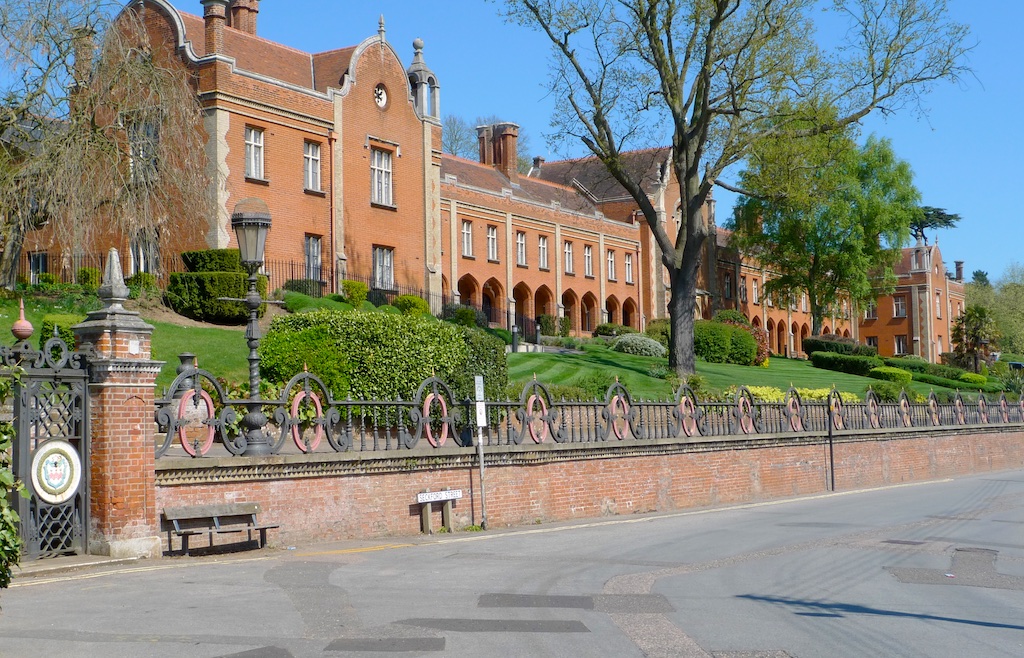 Market Hill "From the NW corner runs Theatre Street, where the principal building is the Angel Inn, timber framed, with an E gable with two overhangs and two carved bressumers." "On the other side, above the present archway four former window heads, four-centred arches. To the r. a little carved angel from the corner post." Seen below.
For more information and pictures on this one see
suffolkguildhalls.com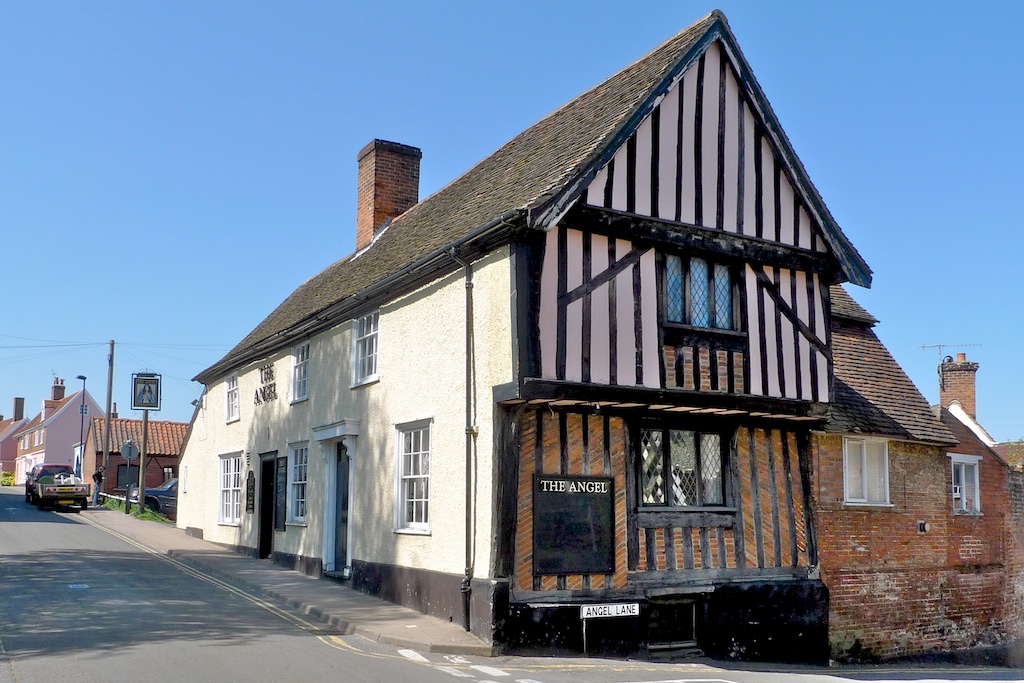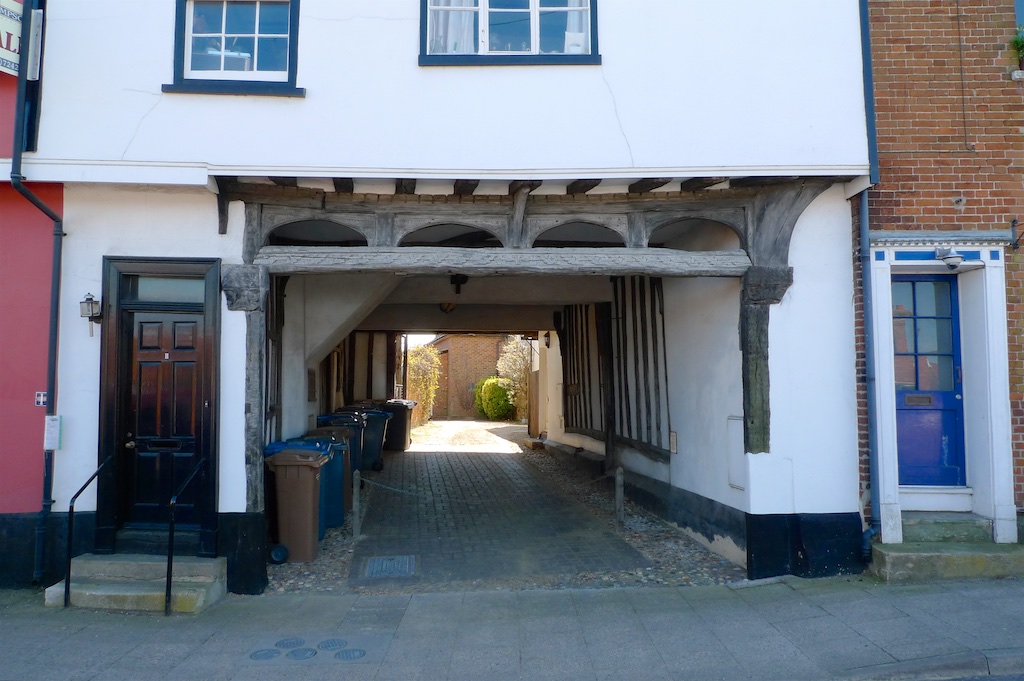 "Now down New Street, from the NE corner. The street was made in the early C16. Here the Bell Inn, with an overhang, buttress-posts, and four-centred arches,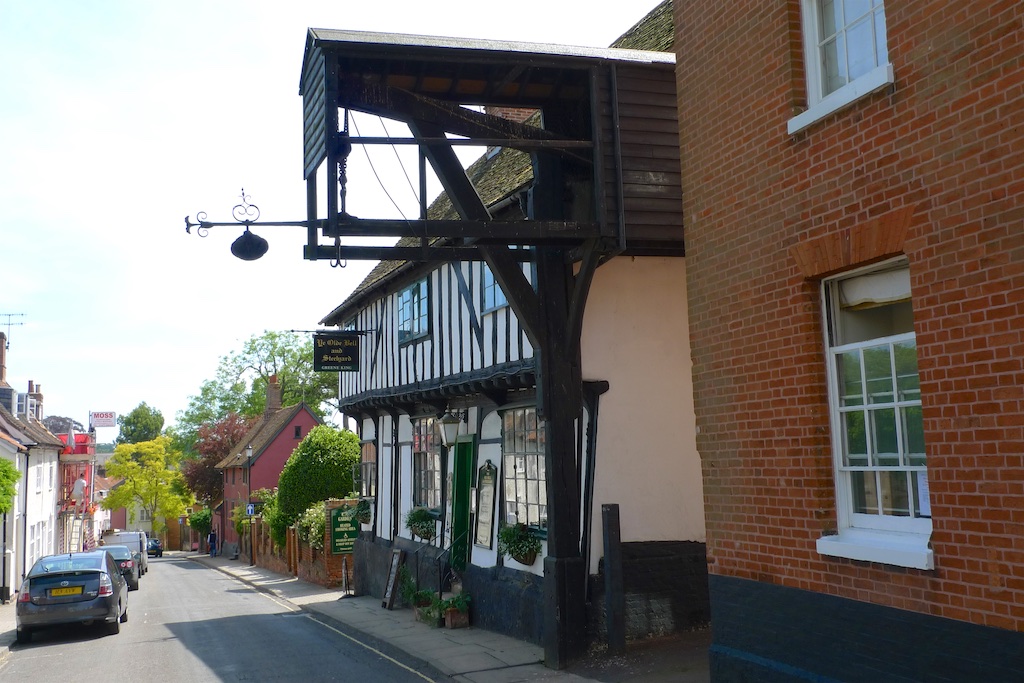 "The main street is called the Thoroughfare" now the main shopping area in which many buildings are described and then on to Cumberland Street: "Cumberland Street has the finest Georgian houses in Woodbridge", some seen below: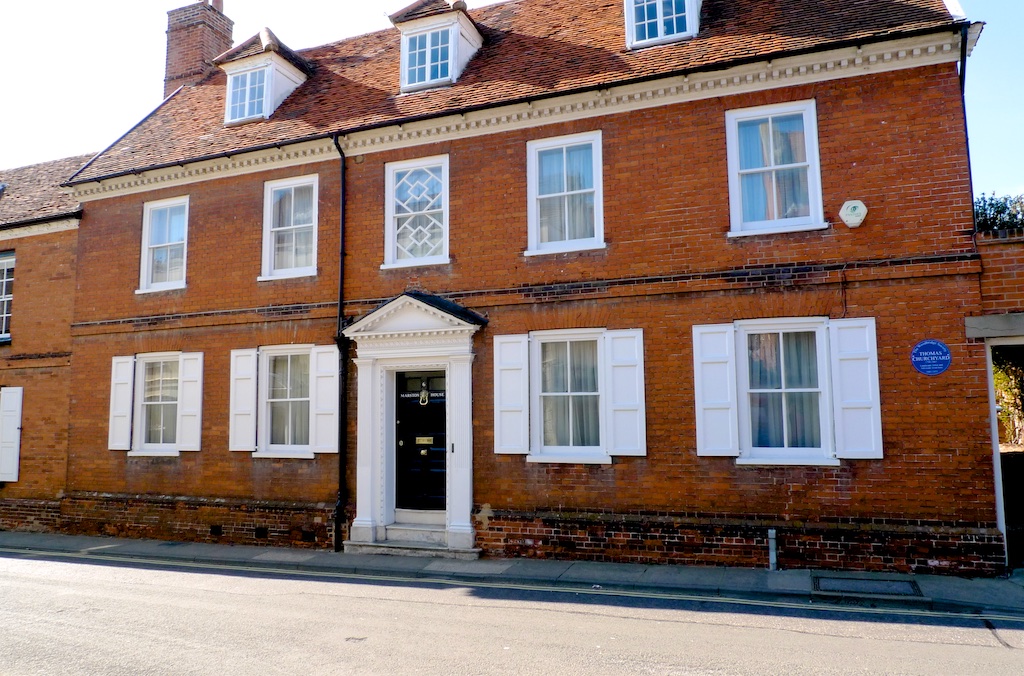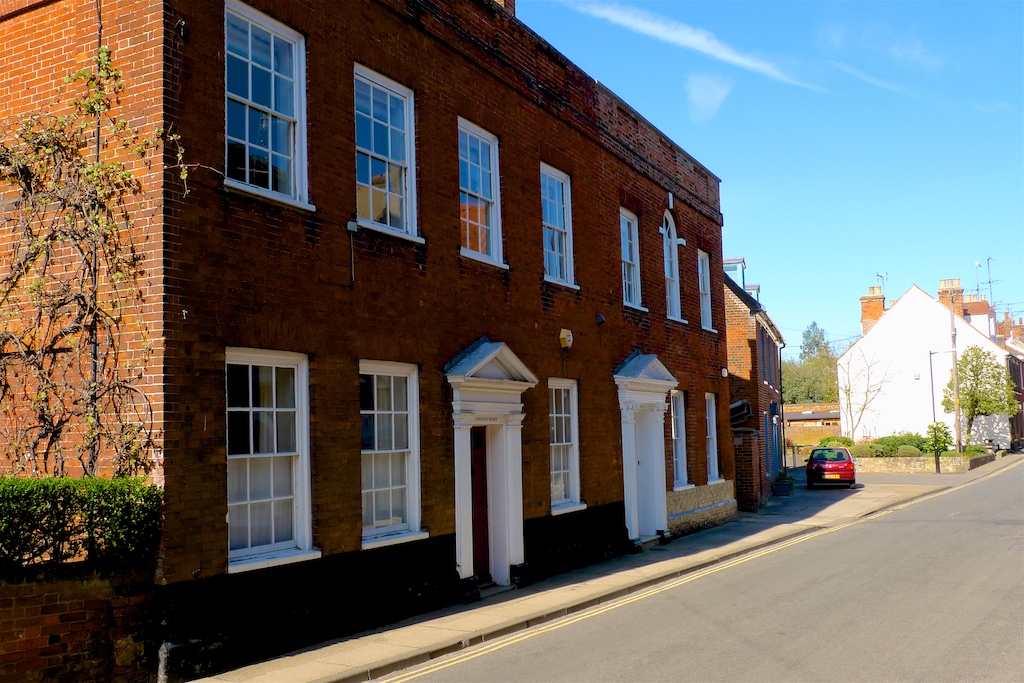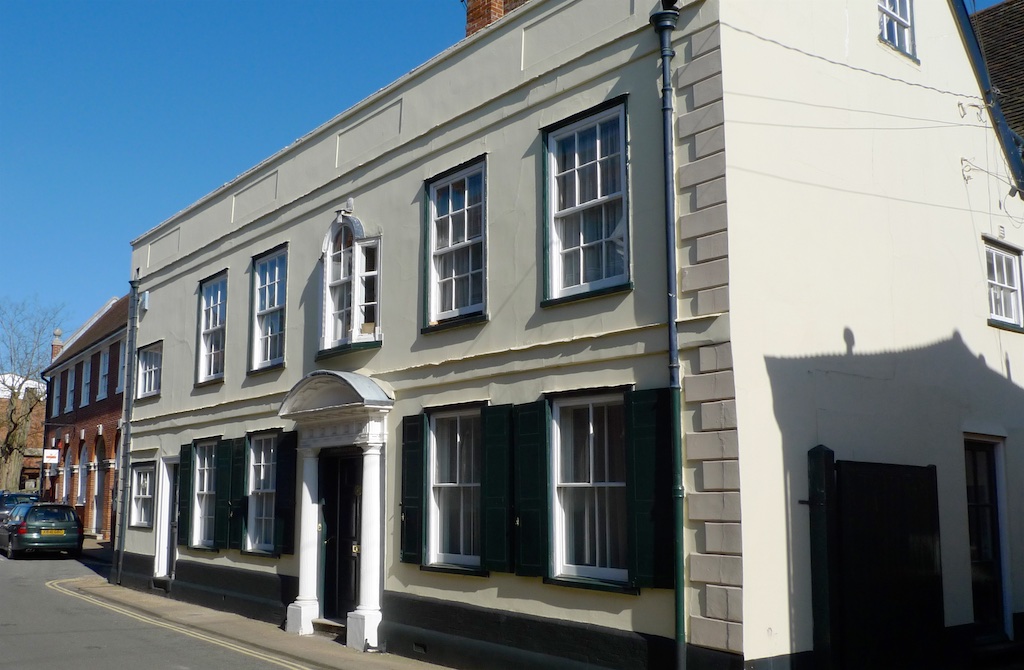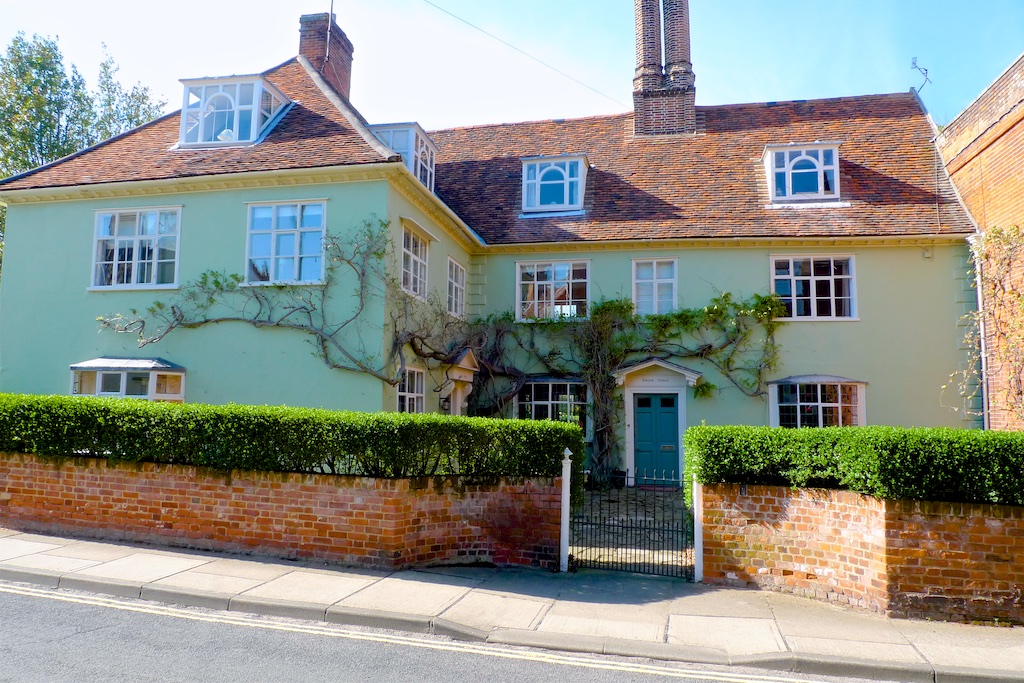 "No 44 is the finest of the lot. Early C18. Red brick, five bays, two storeys, a broad brick doorway with Tuscan pilasters and a segmental pediment. Top parapet and segmental pediments on the dormers". Seen here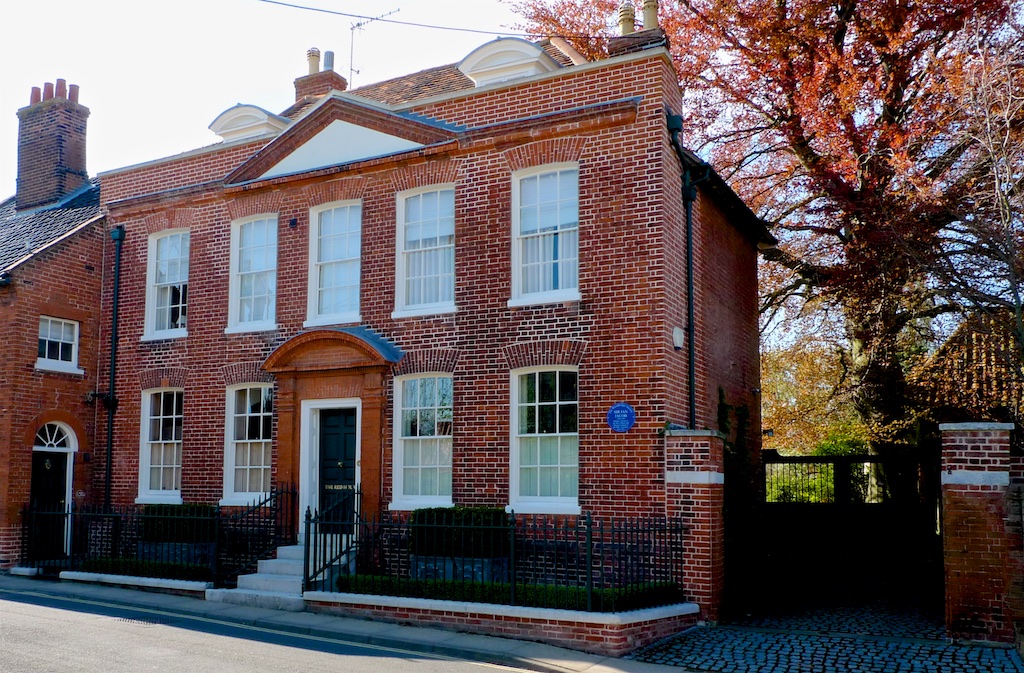 Down to the Quay where "the setting is undoubtedly lovely with the Tide Mill by the river and the quayside cottages. A tide mill in this place is first mentioned in 1170. The present mill, probably C17 in origin, was at work until 1956." A footnote suggests it was the last Tide Mill to work in the whole of Great Britain.
Slightly out of town we get Buttram's Mill built in 1816-17. Seen here: