Pictures of buildings mentioned in the second edition "Suffolk" volume of "The Buildings of England" series by Sir Nikolaus Pevsner.
The entry for Yaxley in the first and second editions only include the church, Yaxley Hall and a folly tower. Yaxley Hall is a bracketed entry implying Pevsner did not see it himself. Of it it says "A composite picture from the gardens. Three-bay range, castellated, with little wooden lantern, a pedimented doorway, and two curiosly fanciful Gothic windows. Attached on the r the end of an older range with mullioned and transomed windows and a pedimented gable".

In the photograph below, the two wings on the right of the brick section were once replicated on the left-hand side: they burnt down in 1922. Furthermore, the most right-hand wing dates from the 1500s so the original building may well have been of E-plan with subsequent in-filling. It can be seen here with some further detal below: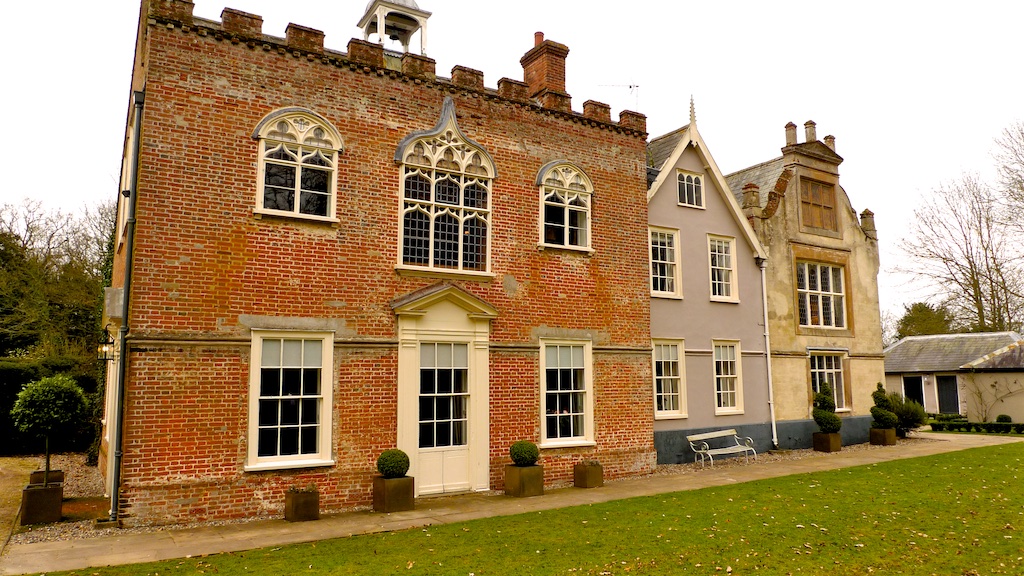 Taken from an "Invitation to View" leaflet:

"For some 300 years Yaxley Hall was in the hands of just two families. The first were the Yaxley's themselves, who were a Catholic family aligned with notable Norfolk Catholics such as the Howards and Bedingfields. The Hall was then acquired by the Fourth Earl of Scarsdale in the 18th century for his mistress and their illegitimate children. Miss Henrietta Nelson, the reputed ghost of Yaxley Hall, was a member of this family and her painting has recently been returned to the Hall after an absence of 100 years. The Hall remained in the hands of the Earl's descendants until the 20th century, when Lord Henniker acquired the property and added it to his substantial Suffolk land holdings. It was remodelled by Lord Henniker to serve as a basis for weekend guests and shooting parties.

Disaster struck in 1922 when two of the five wings were destroyed in a terrible fire which made the national press. A wayward Italian butler was blamed, but the exact circumstances remain unclear. The Hall, now reduced in size, passed into the hands of Blanche Broadwood (of the piano family) who lived here for forty years. The modernist architect Sir Basil Spence also lived here for a brief period in the 1970s."
For more details of the guildhall and information on gilds and gildhalls in general, see
suffolkguildhalls.com