Pictures of buildings mentioned in the second edition "Suffolk" volume of "The Buildings of England" series by Sir Nikolaus Pevsner.
A village with no public roads but fortunately some rights of way. Its most famous building, Little Wenham Hall, is largely hidden from view. The Hall was built c1270-80 and is, according to Pevsner, of "great historical importance", notable for being an early use of English brick and for being of the period where the transition from Castle to Manor House was in progress.

It is impossible to get public access and the most you can see is from the churchyard. This picture from my friend Peter Willis: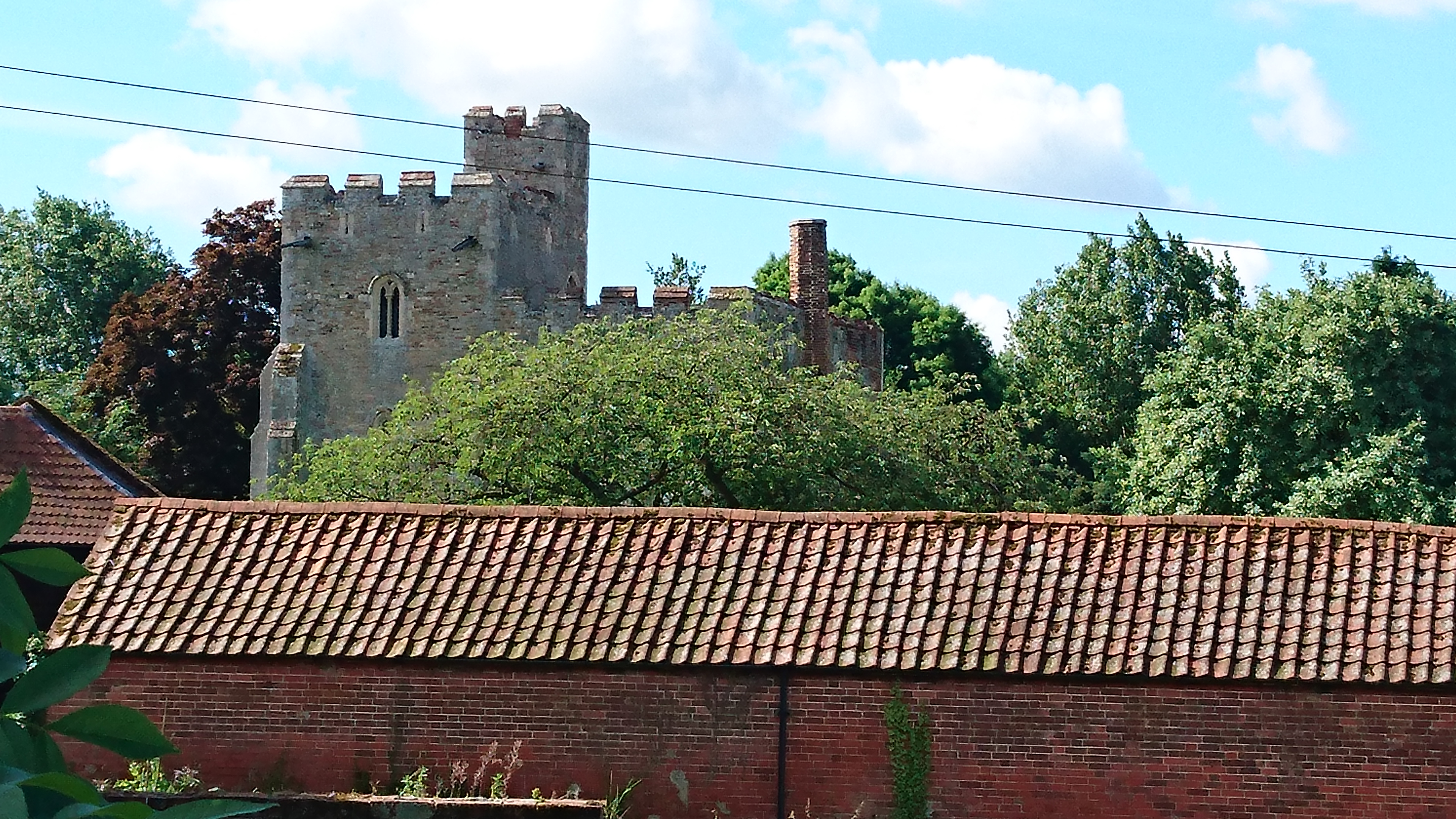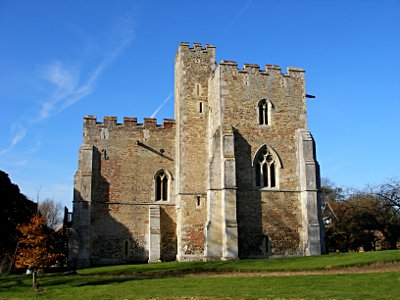 However, I put this rather better picture into a file some time ago from somewhere. If I'm transgressing a copyright please let me know and I'll attribute it or remove it.
Pevsner describes Little Wenham Hall at length of which some extracts follow: "The house was built c.1270 - 80, probably for Sir John de Vallibus and his successor Petronilla of Nerford. It is of great historical importance for two reasons. The first is that it is built of brick, and represents one of the earliest uses of home-made brick in England. Flint is used only for the base of the walls and stone for the much rebuilt buttresses and dressings. The second point of outstanding interest is that the house is a house and not a keep. It is fortified of course, but it is in its shape and appointment on the way from the fortress to the manor house and so ranks with Stokesay and Acton Burnell of about the same years as one of the incunabula of English domestic architecture." See also Polstead for early brick.

"The hall was unvaulted - the present ceiling is assigned to the C16 - but the chapel has a rib vault with a fine profile to the ribs. The vault rests on corbels, and of these the two earlier ones have stiff-leaf capitals. On the base St Petronilla is represented, and it has been emphasised in this context that Little Wenham was inherited by Petronilla of Nerford in 1287. So completion was perhaps only after that date."

"The roofs are embattled, and the different heights of hall range, chapel range, and stair turret create a picturesque skyline."

In Brick Building in England, by Jane A Wight she says "Once believed bricks must have been imported - via Ipswich, a major port - from Flanders. Certainly Flanders influence may be detected in small size of bricks, and Flemish craftsmen could have made them. (Flemings began to settle in East Anglia as early as C12, though peaks were later, in mid C14 and C15). Overwhelmingly probable that these yellow bricks were made of local comparatively chalky clay (gault). ... Important architecturally as well as for use of brick. ... Hall erected as house of a knight, not as a castle keep. ... Despite moat, thick walls - with more narrow lancets to ground floor - and battlements, essentially small dwelling. ... Protected but only battlements have any semblance of the aggressive (one recorded attack, though, took place during the Wars of Roses. Then owner, Gilbert Debenham, 'Lord of Little Wenham' , was notorious lawbreaker and extortioner. Debenhams had held manor from C14. Central boss of chapel vault represents St Petronilla, apocryphal 'little daughter' of St Peter. This dedication is extremely rare, but Whepsted Church (Suffolk) also has it. Little Wenham Hall attributed to Sir John de Vallibus, but manor inherited in 1287 by Petronilla of Nerford (or Narford), and chapel dedication suggests work was not complete by that date. ... Brick sizes vary. ... Colours vary too. ... Remarkable survival, and a reproach to repeaters of the legend of dearth of mediaeval bricks brick in England."

Pevsner also mentions "Little Wenham Hall Farm" of which he says "The house has a handsome C16 barn, timber-framed with brick-nogging and thatched roof". The roof is no longer thatched as can be seen here: